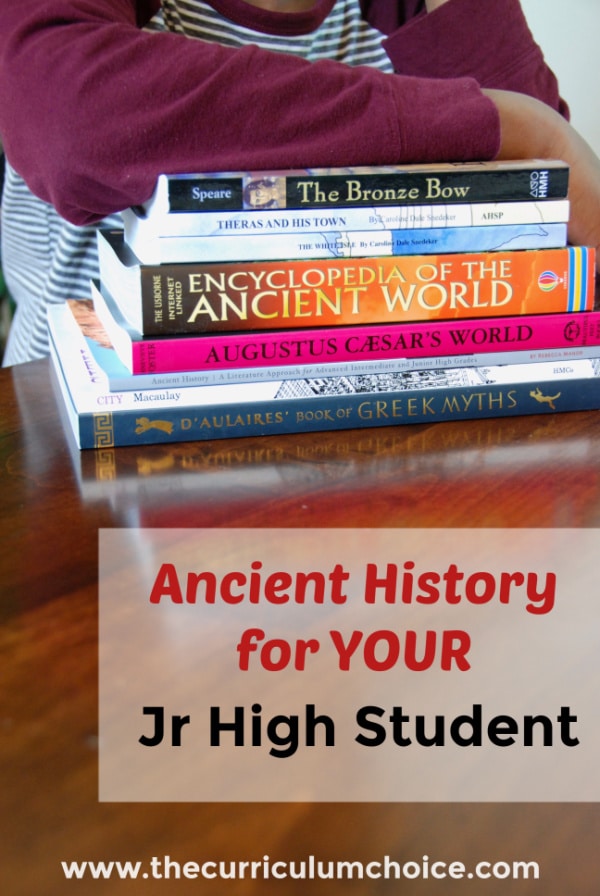 As a veteran homeschool Mom, I enjoy pulling together my own curriculum for study. 
Especially in history or science, I find the process exciting! The freedom of choice seems to win me over.
As a veteran homeschool Mom, I also really appreciate curriculum in a box ready to go! Sometimes I lack energy or time to search dozens of book titles and activity ideas.
I find this the number one benefit of companies such as Beautiful Feet Books.  When offered their NEW Ancient History homeschool curriculum for middle schoolers at no cost to our family, I wanted to check things out. I've never used Beautiful Feet curriculum before!  
While I was compensated to share this review, all opinions are my own.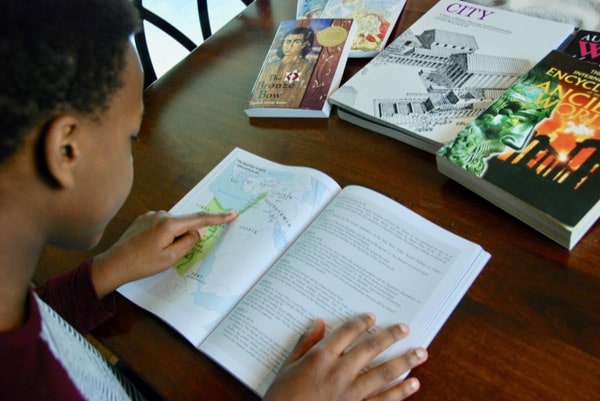 Ancient History Homeschool Charlotte Mason Style
Our homeschool is heavily influenced by the 19th century educator Charlotte Mason. She strongly advocated using living books (such as picture, chapter and informational books) versus textbooks alone. 
As a company, Beautiful Feet Books promotes this learning style. The  philosophy carries across all their curriculum offerings K-12th grades. 
Ancient history for Junior High includes:
13 living books (7 of which seems to be chapter or story books)
a study guide with 97 lessons & answer key
materials to assemble a timeline
The time period begins with ancient Mesopotamia and covers through the rise of Rome and the birth of Christianity. Beautiful Feet's website describes serving 5th to 8th grades best. 
I appreciate the reference and story books chosen for Ancient History!  After homeschooling 15 years, I sometimes see the same stories for history curriculum regardless of the company.
I feel Beautiful Feet stands out.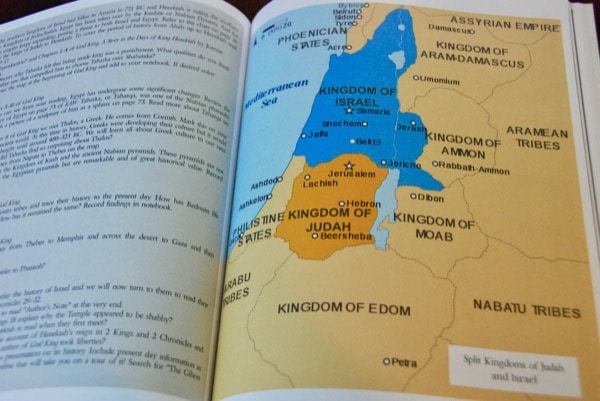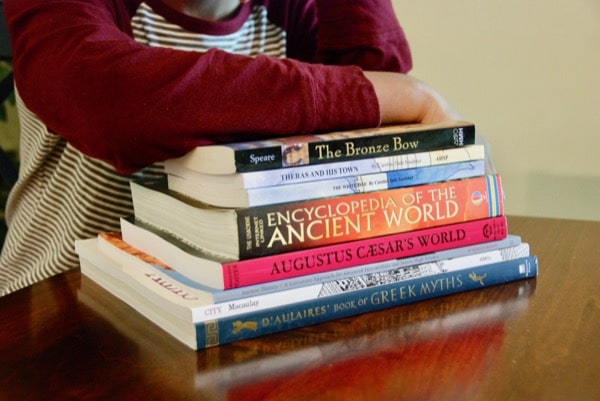 Ancient History Homeschool Study at Your Own Pace
To complete the entire curriculum in one school year, three lessons per week is the suggested pace.
The study guide allows for shifting this pace to fit your family needs. 
I found the literature guide adaptable to use with my younger children (4th-6th grades). This means I may read books aloud and skip deeper discussion questions or research questions. I would also include several hands-on activities suggested in the guide.
However, I feel my rising 8th grader can work mostly independently!  Check out sample lesson pages from Beautiful Feet to help you choose.
To better demonstrate the study guide and timeline, I created a short video:
Living Books, History and Homeschool — oh my!
Beautiful Feet Books offers a simplified yet rich curriculum for your ancient history studies. 
The books and materials you'll receive are completely ready to go. Preparation time centers mostly on getting familiar with the study guide. Let your children flip through the colorful reference books while you plan!
Want a chance to win a literature pack from Beautiful Feet?
Emails of each entry will be used by Beautiful Feet for followup promotional emails. It is your choice to opt out at any time. Giveaway ends 5/22/19 at 8PM Central and is only open to USA addresses.
a Rafflecopter giveaway