After trying many different writing programs, I am using a writing curriculum this year with my 4th and 6th grade sons that I KNOW I will continue using year after year.  I am absolutely thrilled with the writing curriculum I purchased from the Institute for Excellence in Writing.  More specifically, we are using Ancient History-Based Writing Lessons.  Ancient History-Based Writing Lessons is one of many theme-based writing programs available from IEW.  While this review will focus exclusively on Ancient History-Based Writing Lessons, the use of this curriculum assumes that the parent/teacher has attended (either live or via DVD) IEW's Basic Seminar on Teaching Writing Structure and Style.  An overview and review of IEW's Basic Seminar can also be found here at Curriculum Choice.
Basically, Ancient History-Based Writing Lessons takes the nine units of writing instruction covered in Teaching Writing:  Structure and Style and applies them to specific writing assignments that pertain directly to Ancient History topics. For example, three lessons cover IEW Units I and II (Note Making and Summarizing from Notes).  More specifically, three lessons focus on writing from key-word outlines using articles about ziggurats, the Sumerians, and "The Epic of Gilgamesh" story.  Within those three lessons, several aspects of writing style are practiced as well:
creating titles
sentence openers (starting with an -ly word and very short sentences)
appealing to five senses
A wide variety of writing assignments are given in this curriculum including:
Poems
Writing paragraphs from key-word outlines
Writing narrative stories
Writing critiques
Research reports
Formal essays and reports
Writing from pictures
Creative writing.
To learn more about the writing skills and history topics covered in Ancient History-Based Writing Lessons, the entire Table of Contents and the Scope and Sequence can be viewed.
The program consists of a Student Book and a Teacher Book.  Not only do I highly recommend purchasing both components, I highly recommend purchasing a Student Book for each student.  To make things even more convenient, it would be beneficial for the parent/teacher to have a copy of the Student Book as well.  Much of the material in the Student Book is simply not included in the Teacher Book.
Advantages
The program meshes very well with our history studies in Ancient History.  I adore that the boys' writing lessons are related to and reinforce the topics they are learning about in history.
Many of the assignments include a picture as part of the assignment.  This element particularly appeals to my artistic sons.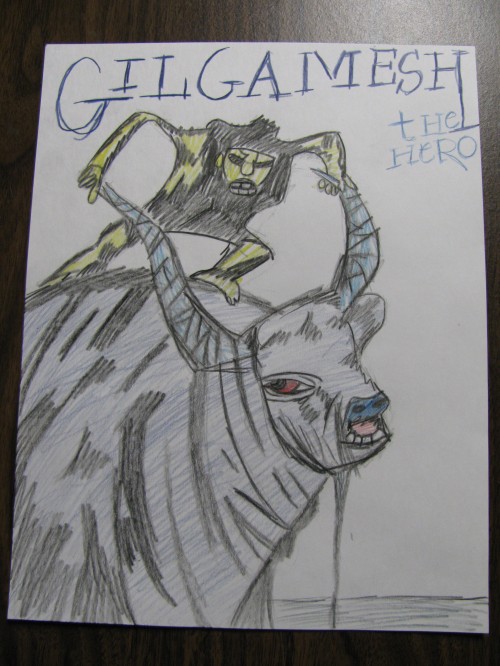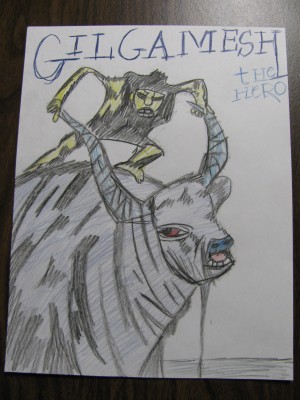 The expectations for the assignments are clearly given in Final Checklists.  My boys appreciate knowing exactly what they need to do to do well on their writing assignments.
Four vocabulary words are introduced almost every week.  The cardstock vocabulary cards with pictures on the front and definitions on the back are wonderful for learning the new words.   Since the program encourages the vocabulary words to be used in the writing projects and quizzes are included, my sons are internalizing the vocabulary words.
The program can easily be used with multiple grades at one time.  Instructions and suggestions are given for Level A students (3rd-5th grade) and Level B students (6th-8th grade).  As well, the lessons can be adjusted according to the readiness level of the child rather than the grade level.  For example, I am teaching this course to my 4th and 6th grade boys this year but they are both working at Level A.
The Student Book includes many very helpful pages in the Appendix including:  Stylistic techniques chart, Quality adjectives, Strong verbs, -ly words, Five-senses words, Proofreading marks, and Vocabulary words.
The program does require quite a bit of parent/teacher involvement but I am finding that the time investment is paying rich dividends in improved writing skills for my sons.  After years of searching for a writing program that is a perfect fit for our family, I feel confident that I've finally found a great fit with IEW's Theme Based Programs.
For the 2010-2011 school year Samantha is teaching her 4th, 6th, and 8th grade children at home.  Samantha writes about homeschooling and family life at To Be Busy At Home.  In addition to her own blog, she writes for The Homeschool Classroom, Curriculum Choice, and is a member of the TOS Review Crew.