Formal science is always a bit iffy around our place.  Sometimes it happens and sometimes it doesn't.  It's the experiments that get me–we read lots of science-related books–but science experiments can be troublesome.  There are all of those ingredients to gather; there is all of that mess to clean up.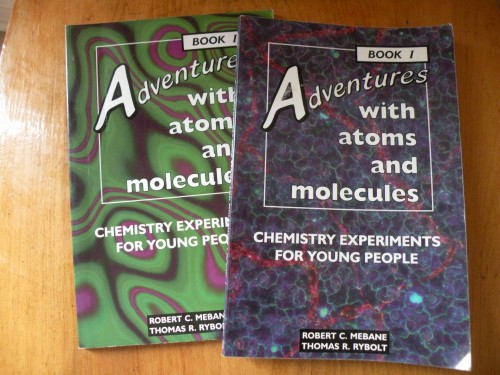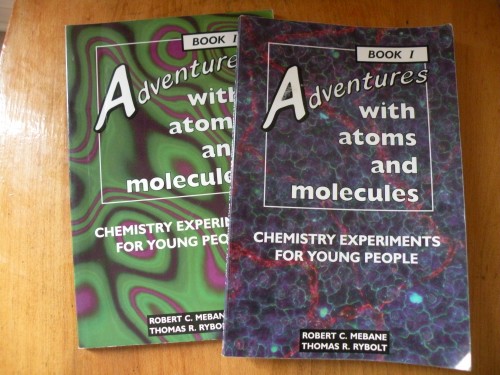 This year, thanks to Susan Wise Bauer and Jessie Wise and their well-trained minds, I have a solution:  Adventures with Atoms and Molecules by Robert C. Mebane and Thomas R. Rybolt.
We have two volumes of this series.  There are thirty experiments in each, which are titled with a question.
For example, Volume 1 asks . . .
Do hot molecules move faster than cold molecules?
Are gas molecules farther apart than liquid molecules?
Can molecules be broken into smaller molecules?
And Volume 2 asks . . .
Do like charges attract or repel?
Can salt remove water from the air?
Can molecules move through a membrane?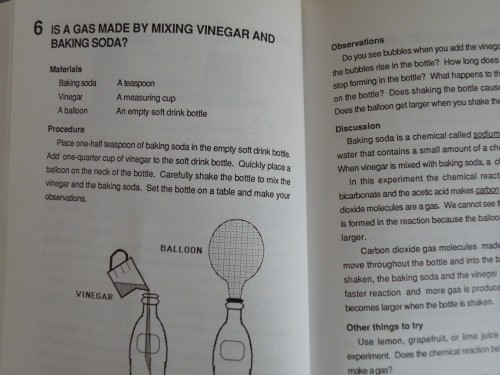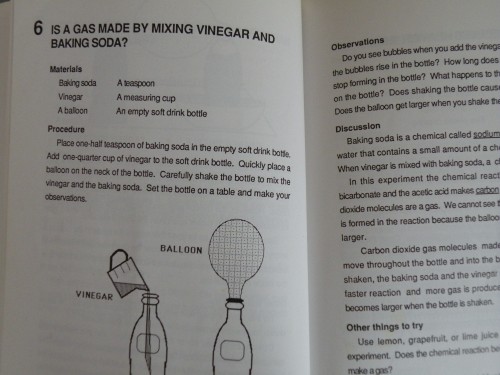 The title question is followed by:
a list of materials, most of which are easy to gather in your home (yes, really, they are easy to gather in your home)
a procedure to follow
questions for observation
an explanation, which they call the discussion.
There are also variations of the experiment to try for further study.
When we asked the question "Do molecules move?" we used a glass of water and food coloring to reveal that, yes, molecules do move, as evidenced by "the collection of food coloring molecules spread(ing) throughout the glass of water" (7).  We also got to play with food coloring.
When we asked the question "Are rubber molecules less bouncy when cold?" we used two identical rubber balls and the freezer.  It was easy to see that the answer was yes, since the flexible polymers in the rubber "changed from being flexible and stretchy to being stiff and rigid" (38) due to the cold.  We also got to play with bouncy balls.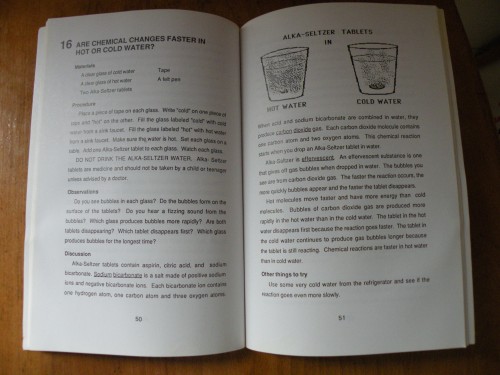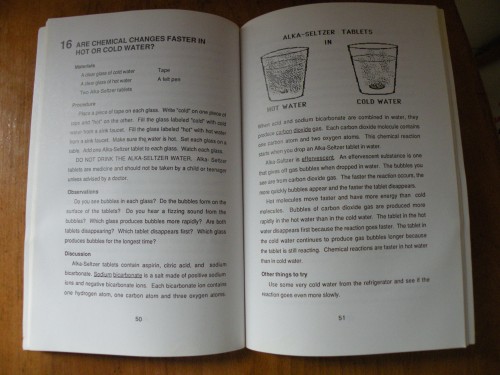 There are many questions and many answers to be found in these wonderful little books.
We are studying chemistry in our home school using a method of experimentation and discussion.  It has been a treat to ask a science question, prompted by Mr. Mebane and Mr. Rybolt, and to follow their simple instructions to find the answer.  The ingredients have been easy to find–lots of vinegar and baking soda and fruit–and the clean up has been a breeze.  Best of all, the kids and I have learned about the properties of atoms and molecules!
There are five volumes in the series, each named Adventures with Atoms and Molecules followed by a volume number.  We are using volumes I and II, completing simple home-made experiment pages, reading science-y books, and having fun!
Susan is a homeschooling mom of three—a preschooler, a first grader, and a third grader.  They spend their days reading on the couch, playing with numbers, and making big, fun messes in a Spirit-led, Well-Trained Mind-inspired classical-Charlotte Mason-traditional model of home education.