We Christian homeschoolers can teach our kids almost anything, and we do.  The one thing we have issues with, however, is sex education and that is because, as Christians, most of us are unaware of what the world out there is actually like these days. And unless you've seen the enemy, you don't know what your kids are up against or how to help them. Sex Education with Jonathan McKee is a wonderful resource for parents.

Jonathan McKee has written two great books to help parents with this.  More than Just the Talk gives parents an idea of what is going on in our culture and teaches us how to talk to our teens.   Sex Matters talks to teens themselves about the two big questions:  "Why wait?" and "How far?"  The two books go together, and parents should read both.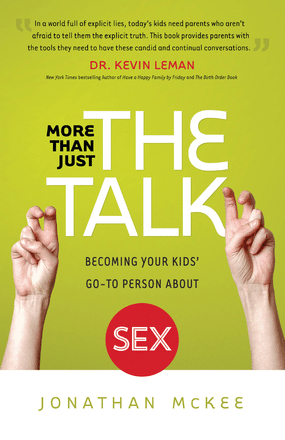 More than Just the Talk: Becoming Your Kids' Go-To Person about Sex
This book is best described by Dr. Kevin Leman's endorsement, "In a world full of explicit lies, today's kids need parents who aren't afraid to tell them the explicit truth.  This book provides parents with the tools they need to have these candid and continual conversations."
Beginning with an introduction to the culture for parents (and beware, for many of us stay-at-home, homeschooling Christian moms this will be a shock), McKee discusses how we can open the door to communication with our children and keep it open.  He gives parents helpful talking points in the two chapters about "Why wait?" and "How far can I go?"  He gives insight into the differences between daughters and sons and how we should (and should not) view them.  He discusses the importance and practical aspects of fleeing sexual sin, and ends the book by answering tough questions on a wide variety of important topics.
McKee's basis is the Bible, and he constantly refers to its wisdom.  He also reminds parents of the comfort of the gospel they can present to teens who have sinned and who have been sinned against.
All parents should read this book.  It would also be good for homeschool, church, and public libraries.
(For more information, you can read my detailed review.)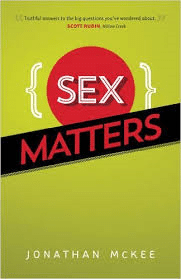 Sex Matters
Once young people know 'the facts of life' and have experienced any attraction, the two big questions are, according to McKee, "Why wait?" and "How far?"
Sex Matters, a short and forthright book parents can hand to their teens, presents truthful answers to the big questions they have wondered about.  Using the Bible, stories, and research, McKee speaks candidly to teens about the questions they have, the culture they live in, and the temptations they may face.  He openly addresses issues such as porn, masturbation, homosexuality, and abuse, and he does so well.  McKee is brutally open and honest when he needs to be, but he is also sensitive, understanding, and wise.  Above all, he points teens to the comfort of the gospel if they have sinned or been sinned against.
I do not know if all teens should read this book, but I suspect most of them should. Certainly it is for any teen who has access to the internet, listens to modern music, or watches movies and videos.
(For more information, you can read my detailed review.)
One more point:  These two books are written mostly for Christian families.  That means that prayer, Bible reading, and godly family life are assumed as a background.  Never forget that, unless we parents work on these in our individual circumstances, we cannot expect to raise teens who understand God's design for sexuality.  May God bless our families, the 'living houses' we are working to build and guard.   Remember,
Unless the LORD builds the house, its builders labor in vain.
Unless the LORD watches over the city, the watchmen stand guard in vain.  (Psalm 127: 1,2)
—
Jonathan McKee, a youth worker, speaker, and author, has written many books for teens and parents and offers many free resources, including a Christian perspective on 2015's top music hits, at The Source 4 Parents.
Disclosure:  I received review copies of both of these books from Graf-Martin Communications Inc.
-originally published January 2016