For some kids, getting out in nature is fun and exciting. Others may need a bit of coaxing to head outside to do some exploring. And what if you want your family's "outdoor time" to be educational as well as enjoyable, but don't want to spend hours planning?
Utilize an existing nature study.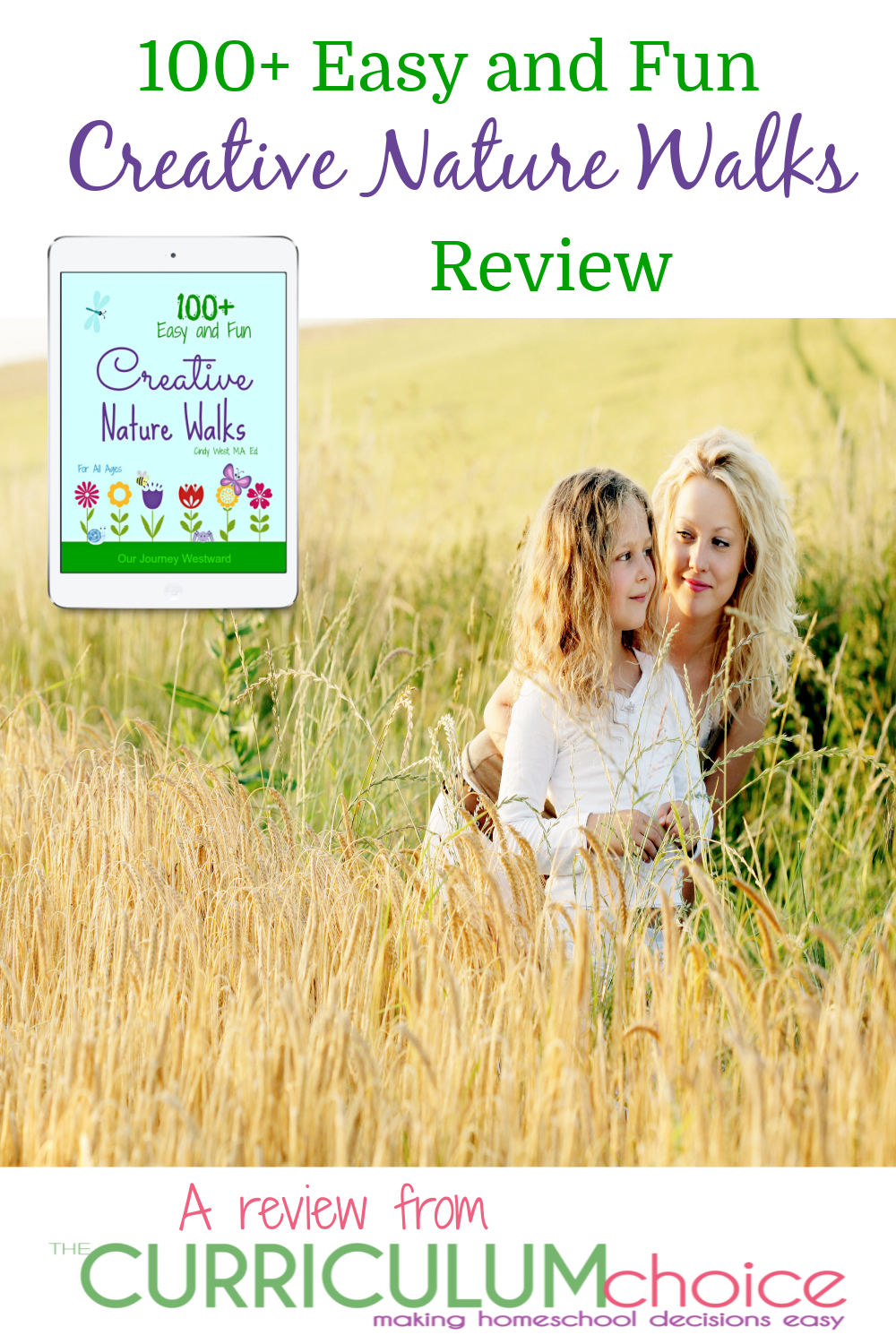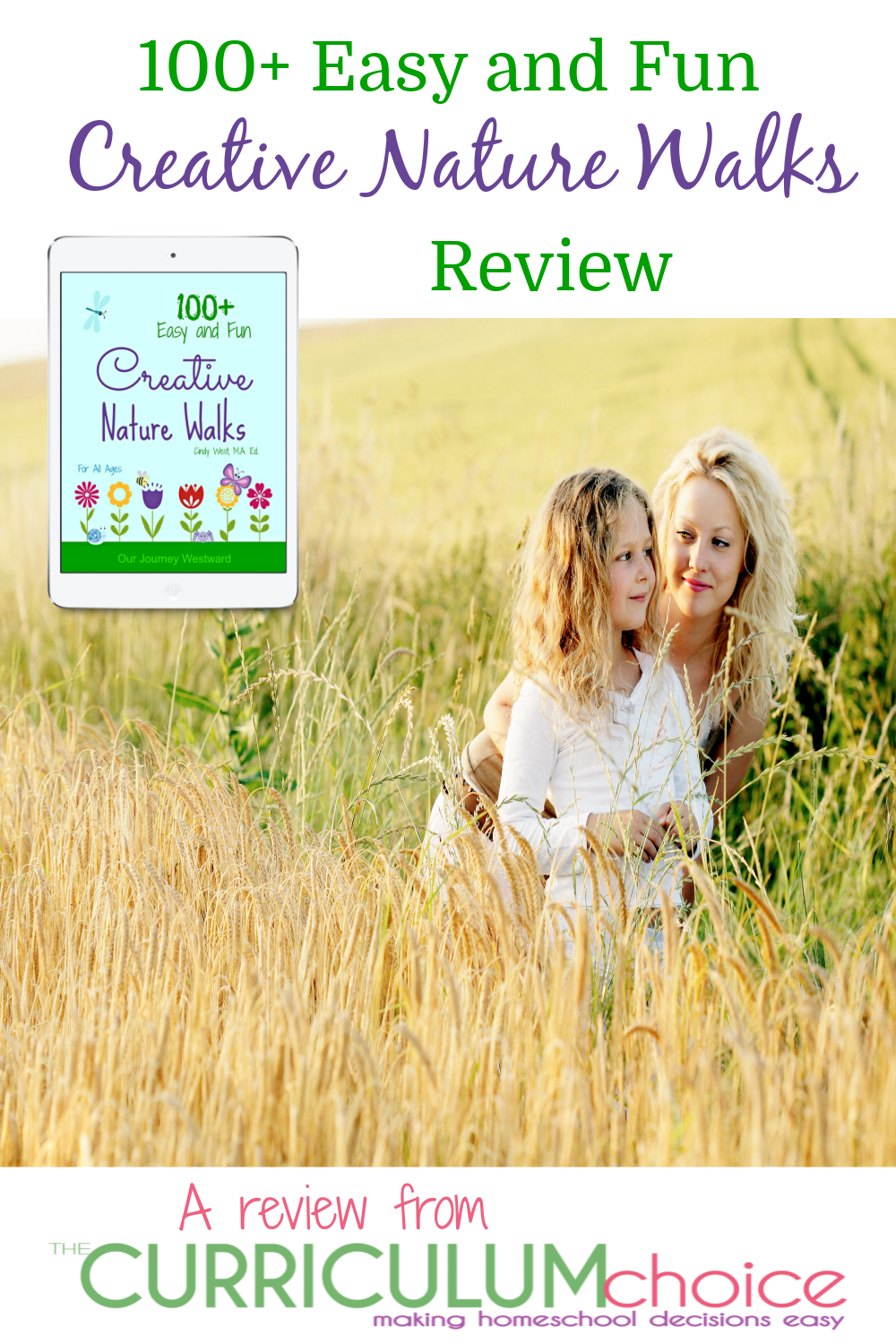 Affiliate links are used on this website. Please see our disclosure policy for more details.
When you use a nature study, it's easier for you to keep everyone engaged and learning by providing a framework for your outdoor adventures.
Pick an idea and go for a nature walk.
100+ Easy and Fun Creative Nature Walks
One of my absolute favorite resources is 100+ Easy and Fun Creative Nature Walks by Cindy West. I regularly refer to it when I want to add some focus to our time outside.
In this downloadable tool, you'll find over 100 simple ideas that you can implement without a ton of preparation. For the most part, all you have to do is flip through, find something that catches your eye, and head outside.
Regardless of what part of nature you want to study further (flowers, insects, trees, ponds, etc.), there's a plan for it. It also covers all of the seasons, so whenever you enjoy being out in nature, you'll find fun ideas to use.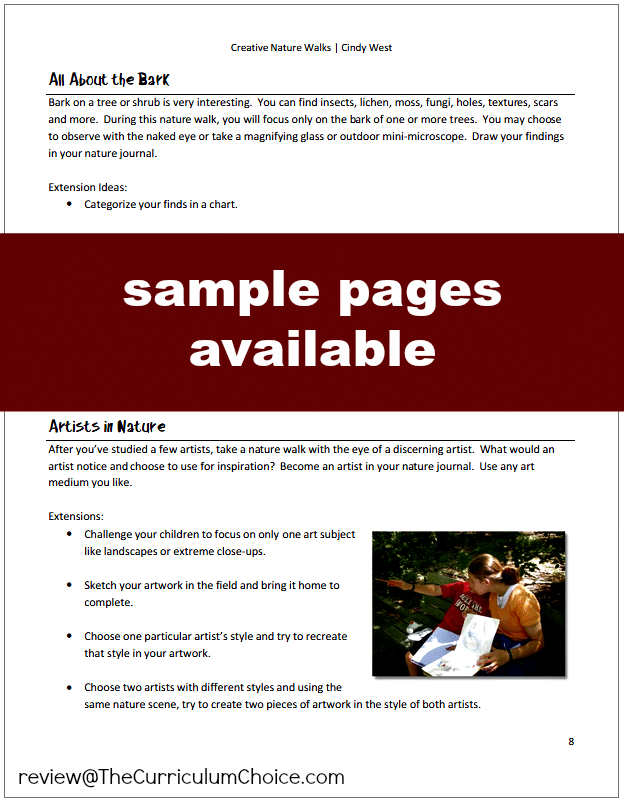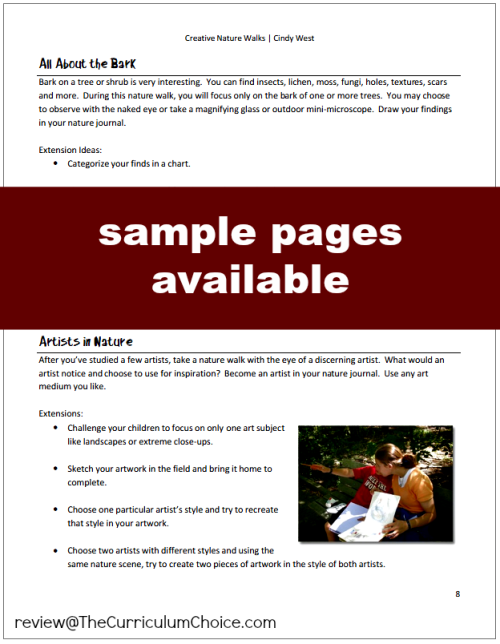 I love the flexibility this book offers.
The nature walks can be done with small children, older kids or a combination of the two. For example, with an ABC walk, your little ones can search for simple things like bark and flower while your teens can use a field guide and search based on scientific names. The creative ideas included in this eBook can be adapted to meet the needs of your particular family.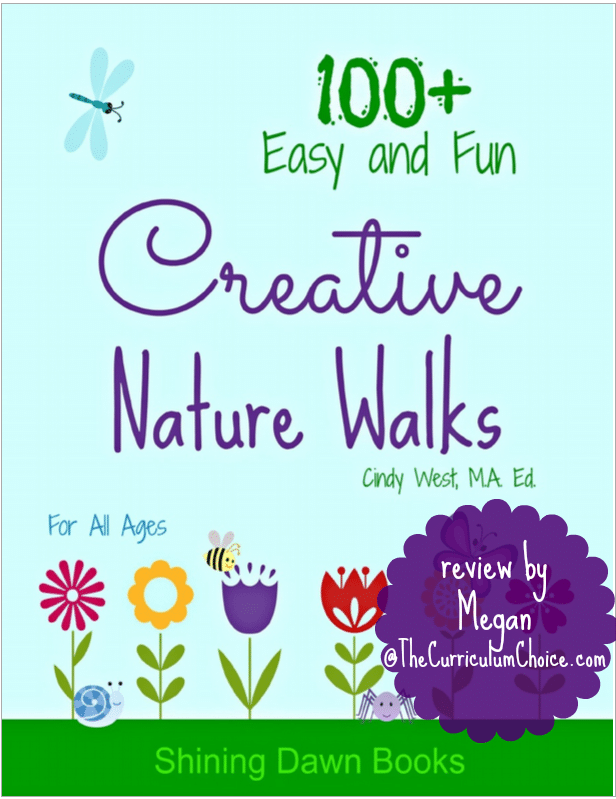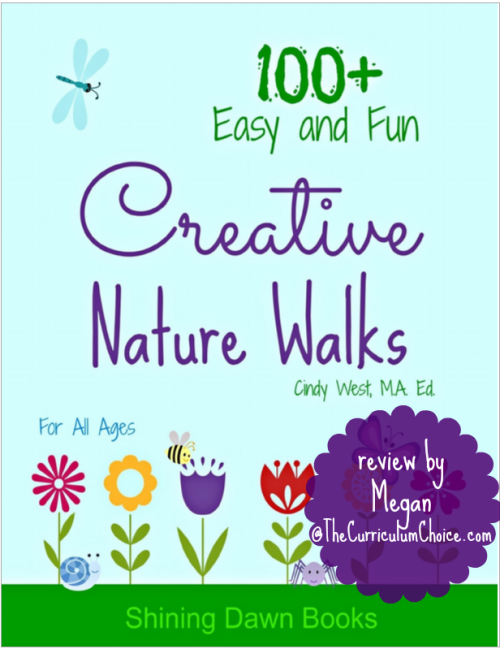 Not only do you get a ton of unique suggestions, but each nature walk also lists a variety of extension ideas that you can use to take the lessons further with your children. Through these additional plans, you'll discover simple ways to add art, language arts, science, journaling, math, and more to your nature walk.
A few of our favorite walks have been:
Adjectives Abound – One day before we headed out to Epcot's Flower & Garden Festival, I had the girls make a list of 10 adjectives they could use to describe plants and flowers. I explained that the lists they made were now a scavenger hunt and they needed to find objects that they felt fit each adjective and take a picture of them. Once we were home, they turned their scavenger hunts into Keynote presentations.
Camouflaged – This is one that we enjoy doing when we visit butterfly gardens. As we walk around, the girls point out caterpillars and butterflies that they see blending into their surroundings. Then they share why they think the animal has been given that particular type of camouflage.
Dissect It – When we were studying botany, we frequently used this idea from Cindy to get a closer look at the flowers we were studying. By separating the parts of the flower, it was easy to see what we had been reading about. My kids preserved their findings in their nature journals.


If you have been looking for a way to get your family outside, I would highly recommend checking out 100+ Easy and Fun Creative Nature Walks. It's the perfect tool for making your time outdoors fun and educational, without requiring a ton of planning.
This is only one of the many nature related resources that Cindy West offers. If you're looking for a nature study that focuses on one subject, like butterflies or ponds, you can find them all at Our Journey Westward.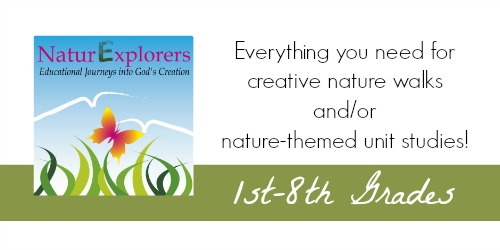 More Nature Study Resources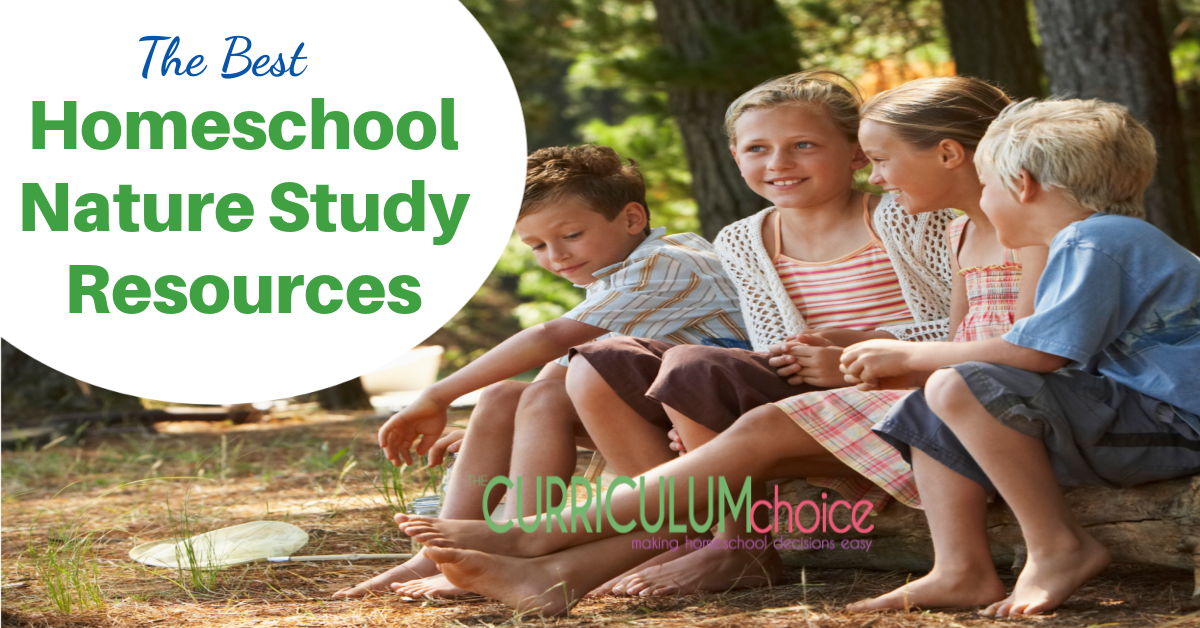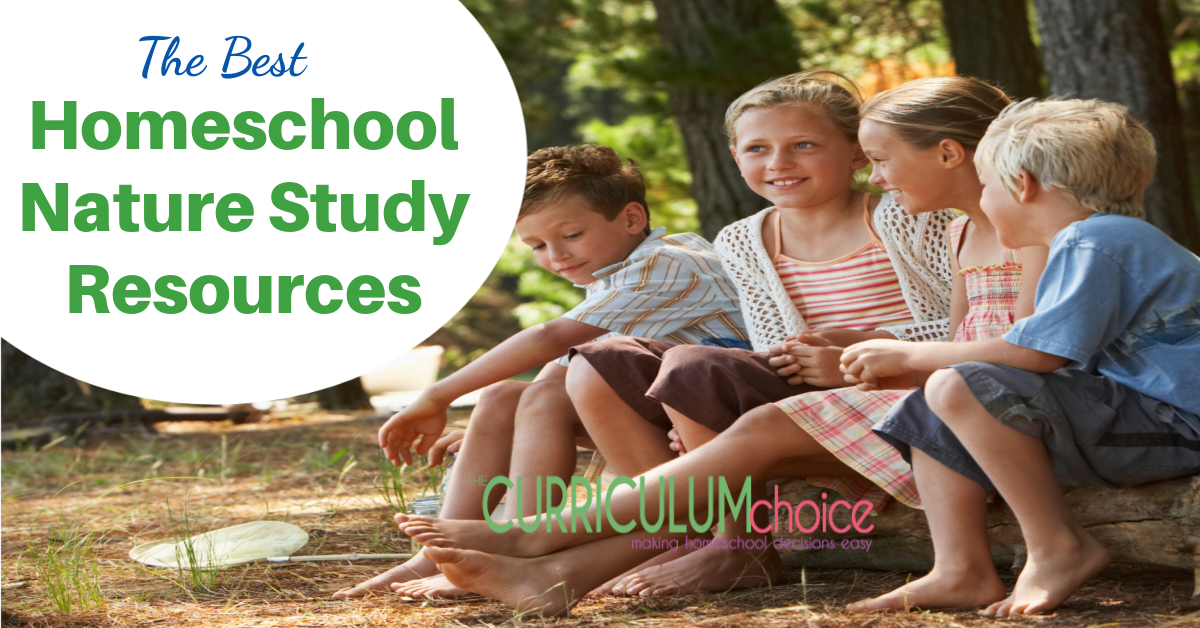 The Best Homeschool Nature Study Resources – is a collection of unit studies, full curriculum and reference books for homeschool nature study.
Homeschool Nature Study Membership – Check out the NEW Homeschool Nature Study website and membership! Where the Handbook of Nature Study is brought to life!
Everything You Wanted to Know About The Handbook of Nature Study for Homeschool – What it is, how to use it, reviews, resources and more!
Nature Study Made Easy with NaturExplorers Nature Unit Studies – 19 different, complete nature based science studies for 1st – 8th grades.
~ Originally published May 2015, written by Megan