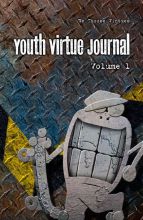 The Youth Virtue Journal is a slim ring-bound workbook with a huge goal:  to help teens choose virtues.  Working with a mentor, teens will learn how to be attentive, content, forgiving, gentle, helpful, honest, obedient, perseverant and respectful.  The booklet contains a form for parental input as well.
Each of the nine chapters contains a moment to dream and a chance to see how virtues could help achieve dreams.  In fact, the booklet states that " …though you add virtue to your life because it is the right thing to do, it will also tremendously improve your ability to live your dreams."
Each virtue is defined in a very personal way.  For example, Attentive is defined as
I am attentive: I watch and listen carefully.
I am not …forgetful, distracted or distracting and I don't ignore or interrupt.
Teens are asked to discuss a list of questions about this virtue in themselves and are given a chance to rate themselves on a scale from 1 to 10.  Then they are asked questions that show how this virtue, in themselves or others, has affected their relationships, either because it was practiced or ignored.   Quotes from various sources highlight the virtue being discussed. Then the teens are given an opportunity to relate the virtue to their dreams, write down thoughts about this virtue in their lives, and sign a resolution to 'take a stand for what is right'.
This whole process is meant to guided by a caring mentor and supported by parents at home.
How we used it:  I quickly realized that the Youth Virtue Journal would be suitable for all ages, so we began to discuss it after lunch time, question by question.  We covered a lot of ground besides virtues.
The children shared thoughts, criticisms, hopes, and frustrations.  We laughed a lot.  We discovered some things we needed to change.  We talked about what virtues were and discussed whether or not this journal was right in its definitions and why.  These were very valuable discussions, and I plan to continue them using the insightful questions in this book.
Obviously, this is not how the book was meant to be used, but this is how it worked for our family.  It is very versatile, and its lists of questions can be used in many ways.
Our thoughts:
1.With a bit of tweaking, the Youth Virtue Journal can be a valuable tool in a homeschooling family.
2.In this study, written by Christians, I was startled to find no references to sin, salvation, and our inability to become virtuous on our own.  When I contacted the author, Heather McMillan, about this, she wrote (and I added the bold face type):
This particular tool was written at the request of a government truancy court in Nampa, Idaho. In writing this Youth Journal I was fighting against the very philosophy that there is no such a thing as right and wrong, that we do nice things because it benefits ME instead of because it is RIGHT, that obedience to authority is dangerous (I know, seems extreme, but it is the prevailing thought of our day when it comes to raising children), and that correction is to be avoided instead of embraced.  
We Choose Virtues is a tool that is not the complete story. For Christians and non-Christians alike, it sets a standard of truth for people who have no biblical standard operating in their lives or who simply need a way to explain it to their children. It forces children and youth to face their true character.  So many of us walk around believing that we have no sin because we live in a lawless generation. Parents are afraid to set a consistent standard because their own parents rejected authority. Once a true standard is set before us and we compare our lives to it, then we have a place from which to repent.  If anything, perhaps repentance will come when the true condition of a young person's heart is revealed through this journal. Beyond that, I hope (no, actually I pray) that when this tool is in the hands of Christian parents and youth pastors, the true power behind the transformation of a heart will be explained. As you stated, there is no way we can change ourselves. It is the power of the Holy Spirit that transforms us, and that only by the work of the cross. (quoted with permission)
In this sense, then, this booklet shows people what is in their hearts.  In the hands of a Christian parent or mentor, it could be a tool to show us and our children our sinful nature and our need for redemption.  That is something we can never understand deeply enough.
3. If you want a resource to promote open discussions, the Youth Virtue Journal has excellent lists of questions.
In summary:  Our family benefitted from our time with the Youth Virtue Journal and will continue to use it.  Although it was written for a different audience, it can be a valuable resource for Christian homeschoolers.
The Youth Virtue Journal is available from We Choose Virtues.  Similar products for younger children are also available.
Disclosure:  I received a review copy of the Youth Virtue Journal from We Choose Virtues in order to share my honest opinions.
–Written by Annie Kate, a Christian homeschooling mom of five, who reviews and blogs at Tea Time with Annie Kate.