Our family LOVES books on tape.  I greatly enjoy reading wonderful literature aloud to my children, but quite honestly, I don't have as much time to read aloud as I used to.  Our library has a huge assortment of classic literature on tape and CD.  Several years ago, we started checking out a new book every couple of  weeks to listen to as we drive here, there and everywhere.  I can't even tell you what a treasure this time together has been!  (Not to mention the amount of great literature I've been able to check off the "to read before my children leave home" list!)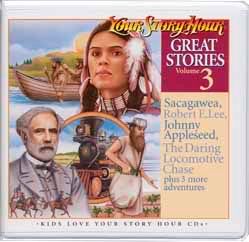 For many years now, I've heard how wonderful the Your Story Hour CD's are.  I'm glad to say that I've finally had the opportunity to listen to Great Stories Volume #3 and I agree – they are wonderful!
In Volume #3, there are six CD's that total about six hours of listening time.  Written with the feel of an old-time radio show, the stories are full of historically accurate and adventurous tales of early American history.  They're full of sound effects and professional voices that bring the characters, settings and storylines  to life.  Topics on this particular set include:
Robert E. Lee: Hero of the South
Johnny Appleseed: Story of John Chapman
The Daring Locomotive: Tale from the Civil War
Sacagawea: One Little Indian Girl
Sacagawea: Indian Guide
The Girl Astronomer: Story of a Little Quaker Girl Who Grew up to Discover a Comet
Precious Burdens – not early American history, but a true tale that's very precious
Part-time Indians
The sets are a bit pricey, but very comparable to other books on CD.  And if your children are like mine and ask to listen over and over again, the price is worth it.  With really long books on CD, it's hard to say 'yes' to listening again and again.  The Your Story Hour stories are a reasonable length, making re"reads" enjoyable rather than drudgery.
There are 24 different CD sets available at Your Story Hour!  Topics include a vast variety of Bible and history stories.  And, although I haven't seen them, there are even four activity guides to go along with four of the history sets.
I love the mission statement located on their website:
"We believe that children are an invaluable and precious component of families, communities and nations.  In today's world, right role models portraying beneficial decision making strategies are scarce.  Children can be inspired to make sound choices by exposure to dramatized stories evidencing the positive results of developing character traits such as honesty, integrity, courage and faith.  Your Story Hour exists to provide children with this exposure."
To that I say "Amen and Thank you"!  Enjoy reading – er, listening!