Teaching writing in homeschool can definitely be overwhelming. However, Apologia's Debra Bell has a brand new curriculum, Writers in Residence, to help with just that. This fantastic resource is not only a homeschool writing resource but a writing focused language arts curriculum. No more overwhelm!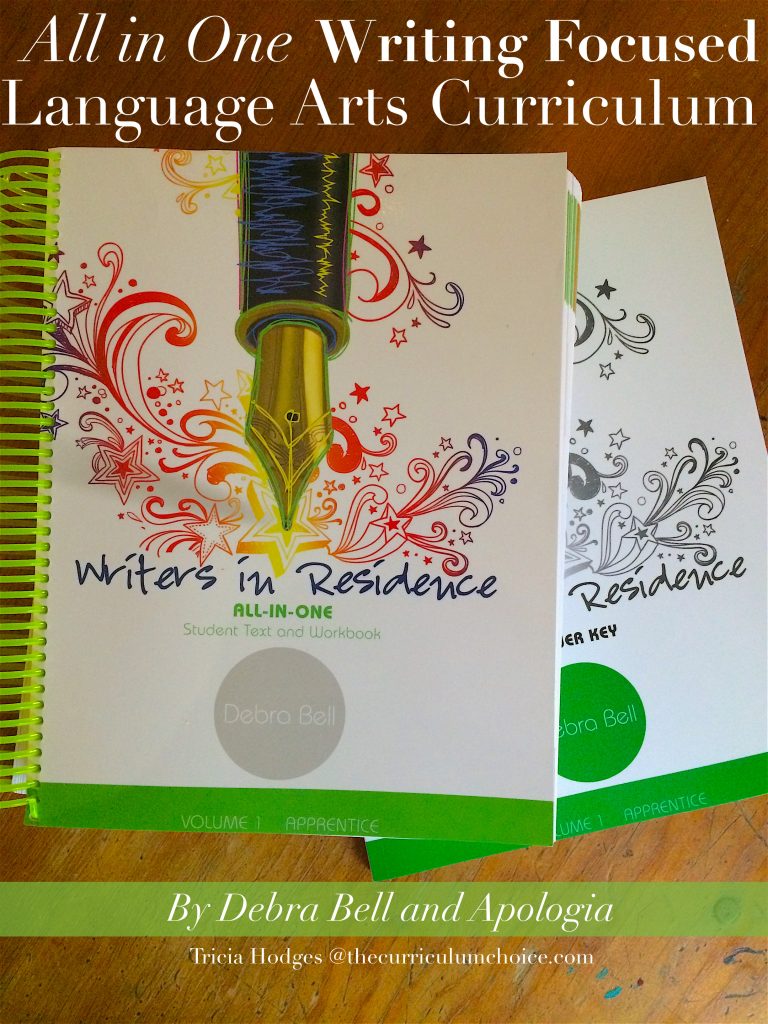 ~Don't miss the giveaway at the end! We received this Writers in Residence curriculum in exchange for an honest review. All opinions are our own and we love the benefits and blessings we are continuing to see from this all in one language arts study. Please see our disclosure policy.
We've been exploring this new resource since before the end of last homeschool year. Here are some reactions I've recorded from my rising 5th and 9th graders.
"It's the textbook and the notebook in one?! That's great!"
"Wait! I get to do a comic book?"
"After reading this I feel like I know how to write a better book."
How Writers in Residence is Unique
I know from homeschooling high school that there are traditional forms of writing (personal, expository, comparative, narrative, persuasive, etc.) that students must learn for graduation and college prep. But, I also know, as an adult, I regularly use basic writing skills for every day life. What is unique about writers in residence it that this worktext combines all of those writing forms, styles and practices. Writers in Residence also brings in professional, expert Christian authors who share a particular writing model, examples and encouragement.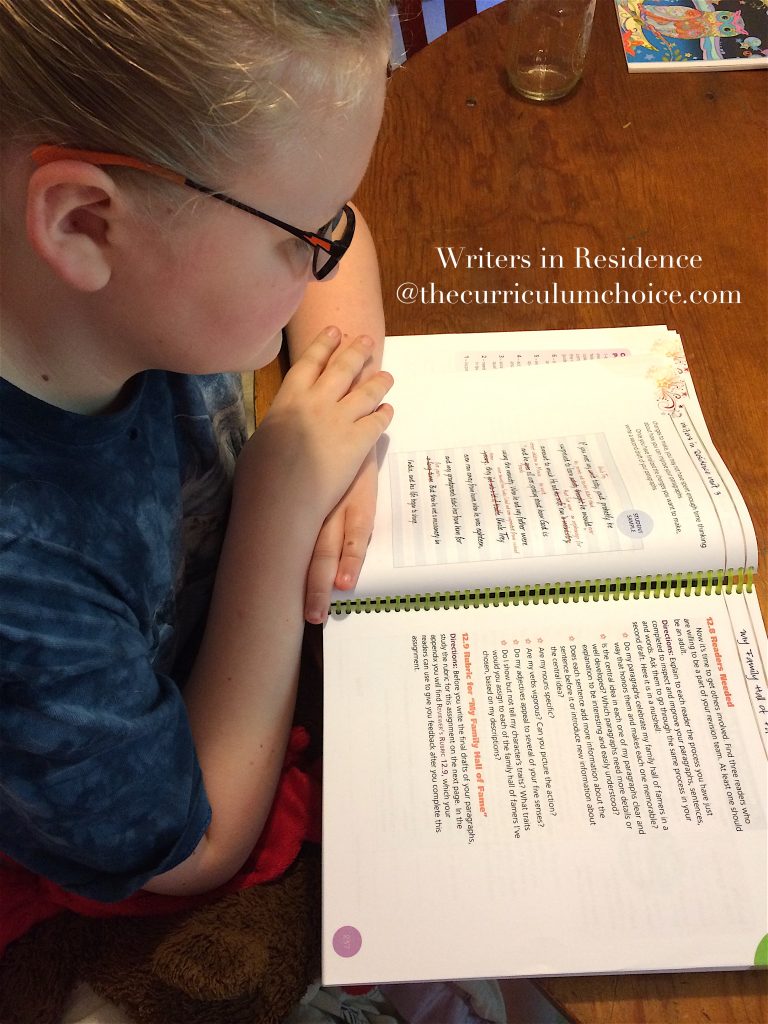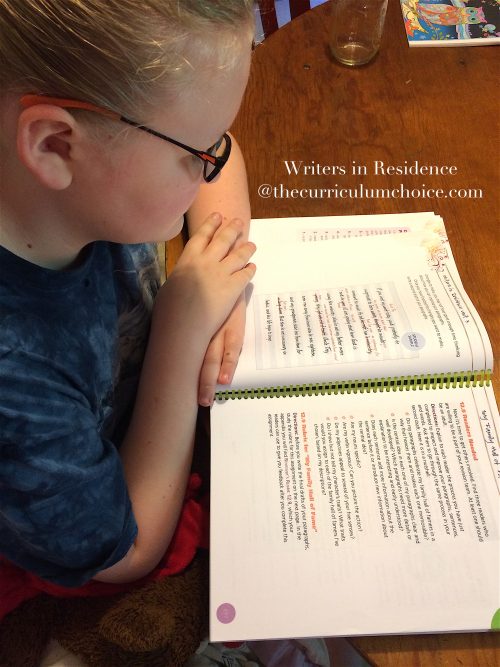 From all of these, your student crafts writing assignments. So your student need not start from scratch but follows a model and writing prompts – after studying examples. The use of the student worktext channels ideas and helps your student work from draft to finish. Your student draws on their own experiences and memories. There is plenty of opportunity for creative writing and imagination as well!
Your student will draw from and develop:
Memories
Imagination
Research/Investigation
Thinking Skills
"Writers ponder, write, retract, discuss, meditate, pray, rewrite, rethink, revise, stew, walk away, return, throw away, start again, eat chocolate, rewrite… and onward." ~ Debra Bell

Writers in Residence for the Student
Writing assignments teach the development of the six traits of great writing. This is done in a step by step manner, including: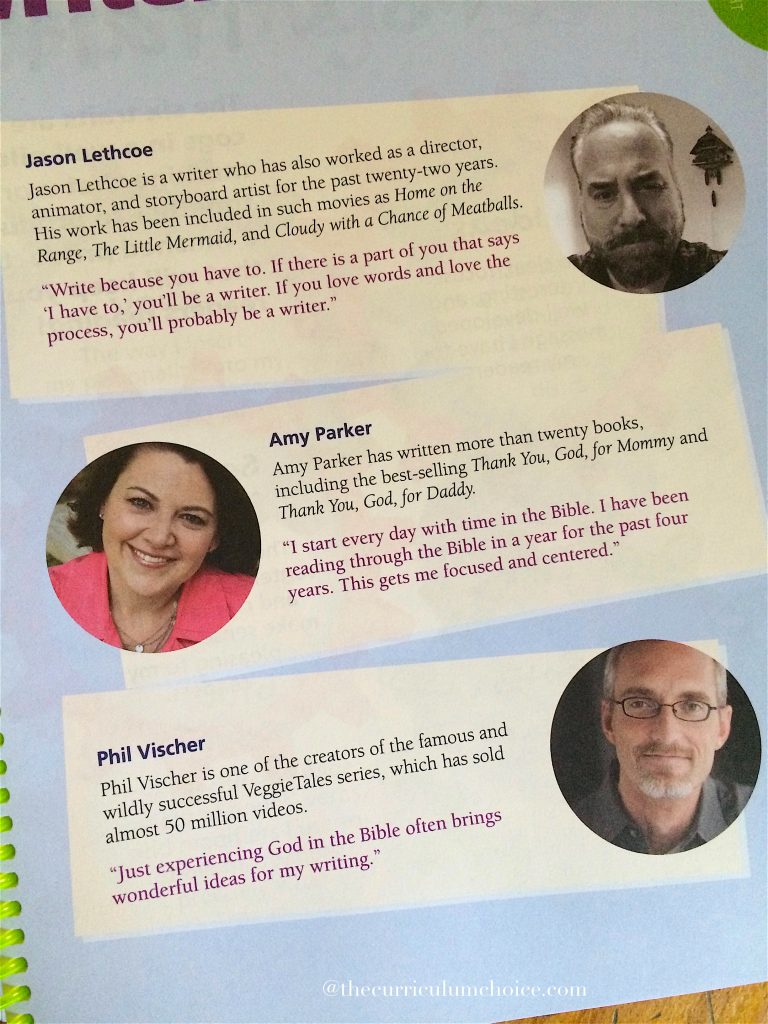 Excerpts from children's books serve as models of great writing.
Interviews of Christian authors offer techniques, tips and encouragement from professionals.
Conversational style written directly to the student.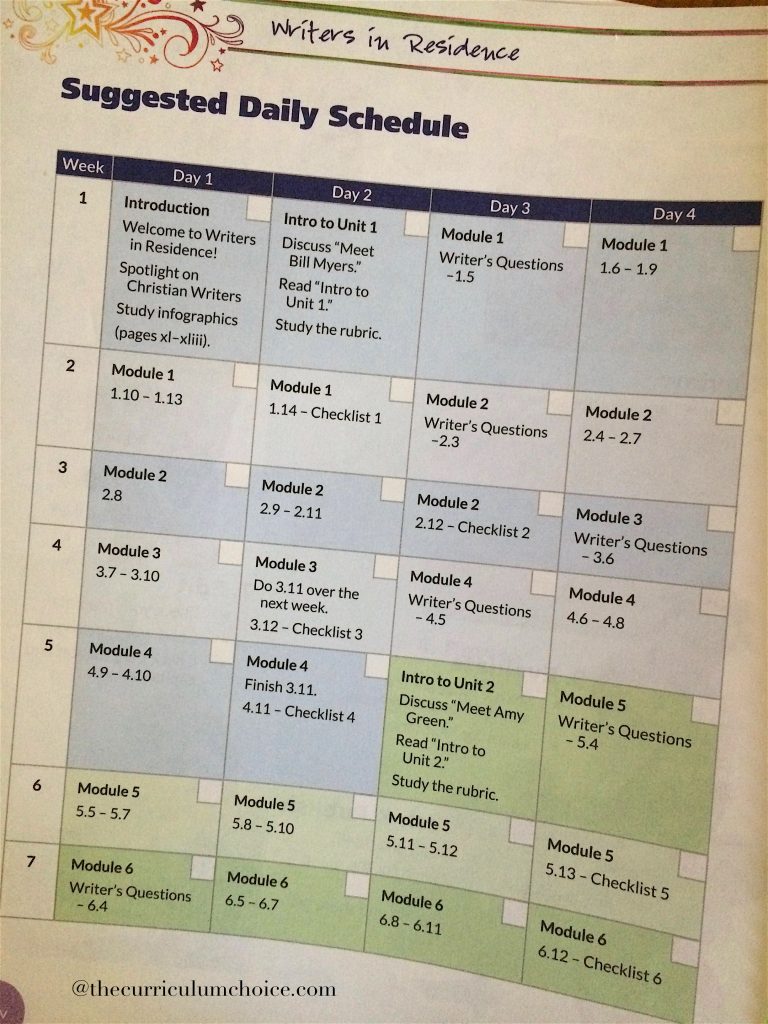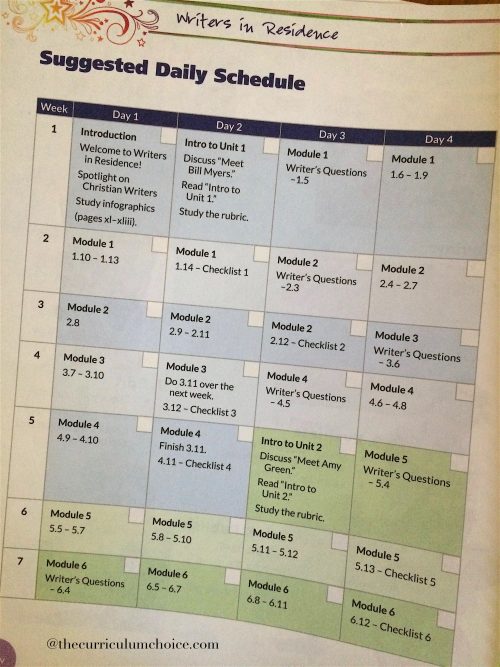 Suggested schedule included!
Writers in Residence for the Teacher
The Answer Key for the teacher makes it very easy to teach your children to write. Also included are: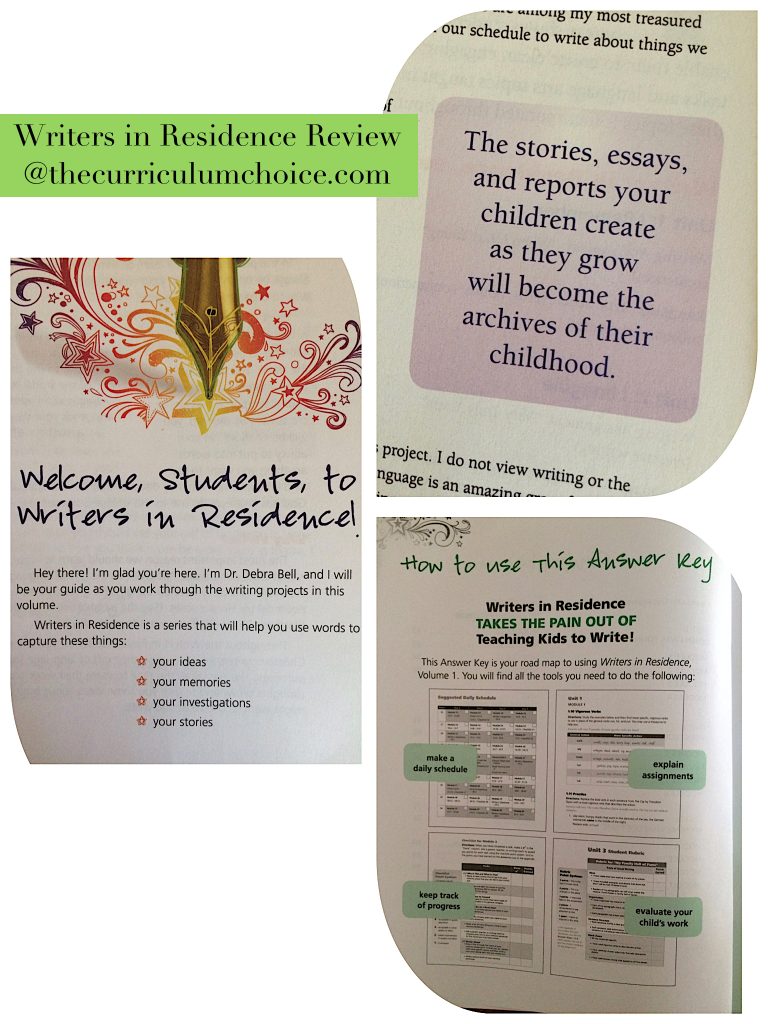 Visuals
step by step instructions
rubrics
scoring
checklists
guidelines
suggested schedule
examples and more equal SIMPLE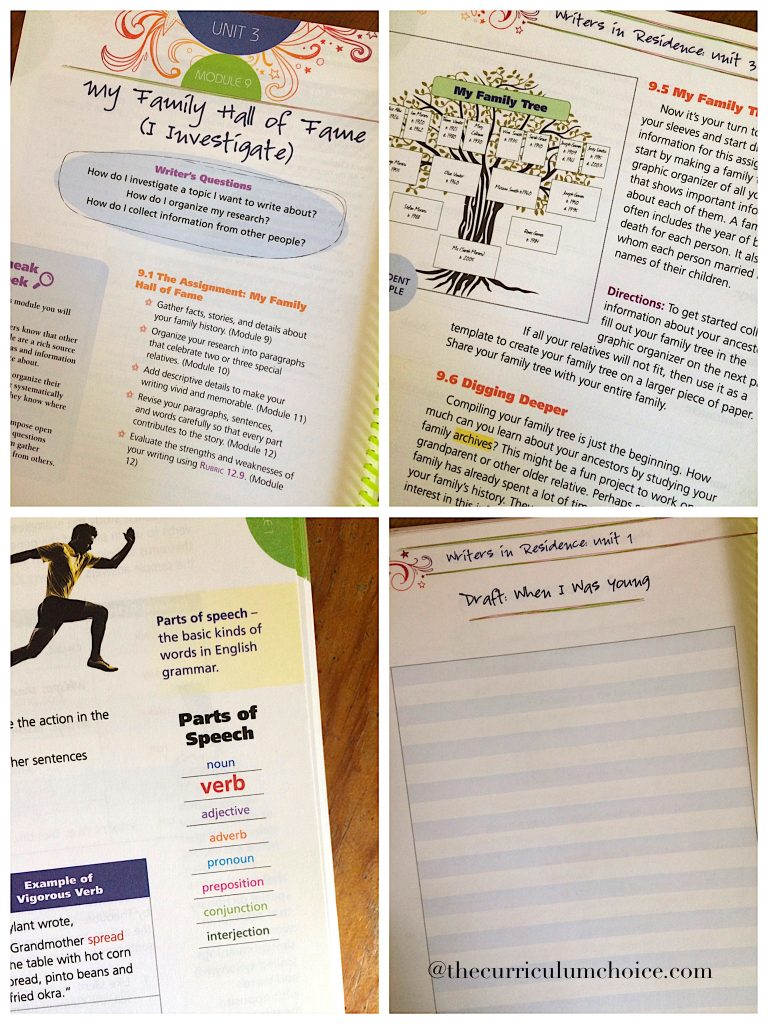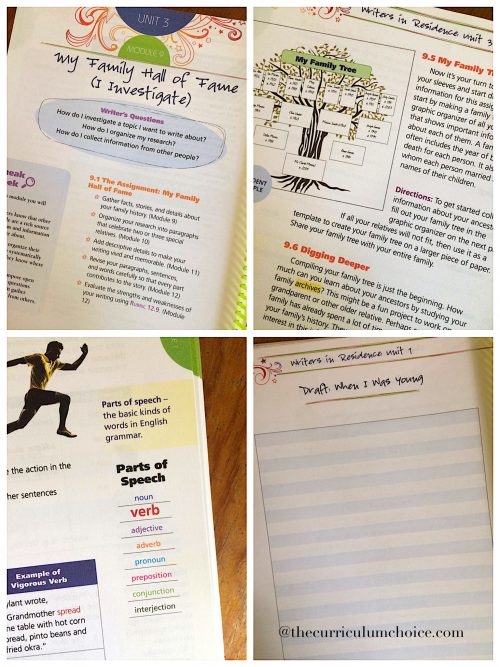 What are the Contents of this Writing Focused Language Arts Curriculum?
HIGHLY suggested
—>> View the extensive contents and detailed list of assignments and more
by downloading a free sample
. Summer is the perfect time to try it out!

**Note how BIG that all-in-one spiral notebook is!
What Age/Grade is Writers in Residence Designed for?
Writers in Residence is aimed at fourth through eighth grades but is basically for fourth grade and up. This is absolutely perfect for my fifth grade budding writer. She has actually been searching for a resource like this!
And my 9th grader thrives on a spiral-bound notebooking type resource. She has always been a hands on, project-based, kinesthetic, spread-it-all-out learner (as pictured above)! Do you have one of those?
How We Use Writers in Residence in Our Homeschool
We have been using Writers in Residence through the summer simply for pleasure. In fact, my rising fifth grader has been carrying it around with her when we go for appointments or around town errands. But come August, both my 5th and 9th graders will each be using their own spiral copy for creative writing and language arts in addition to the Rod and Staff English that we use. Because we are that impressed – and why not?
In summary, Writers in Residence sets you and your students up for success! We highly recommend it.
Where Can You Find Writers in Residence?
Find Writers in Residence directly from Apologia. There you can download a sample and can download a frequently asked questions document as well.
SALE! The Writers in Residence set is regularly $89.00 but you can purchase it for 20% off. Hurry ends 7/6/16!
Now For the Giveaway!
Apologia is offering one (1) Writers in Residence set – Student Text & Workbook plus Answer Key valued at $89.00 to one Curriculum Choice reader.
Simply follow the instructions in the rafflecopter widget below…
a Rafflecopter giveaway

You know I will be sharing updates of how much we enjoy this curriculum throughout the homeschool year via Instagram. And be sure to watch for Stef's review of this same resource – you will see that it is a great resource for boys as well!
Save
Save
Save
Save
Save
Save
Save
Save
Save
Save
Save
Save
Save