Being able to communicate effectively in writing is one of our priority homeschool goals. My 6th grade daughter loves the creative aspect of writing, but not the organization and editing. She writes copiously: multi-chapter stories, lengthy narrations, frequent letters to friends. Her stories and letters are written in her free time, so we don't edit them with a fine-toothed comb. For her narrations in history, science, or literature I focus on the content, so again I don't edit heavily for grammar or structure.
Adding in a formal writing curriculum assuages my worries about teaching valuable skills to improve her compositions. After our positive experience with the Junior D curriculum from WriteShop, I jumped at the chance to review their middle and high school program.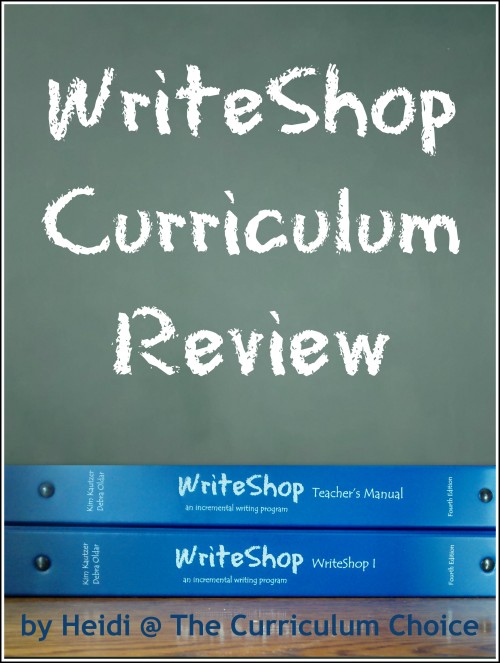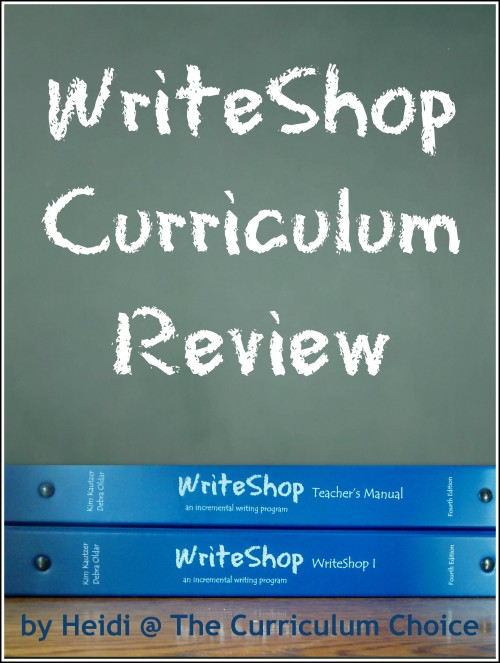 Disclosure: I received the WriteShop teacher's manual and level one student binder free for review. After using it in our home for several months, these are my honest opinions.
What is WriteShop?
The WriteShop basic set includes two binders: a teacher's manual that covers levels I and II, and a student binder that covers a single level. It is a formal writing curriculum that requires one-on-one instruction. WriteShop I, recommended for grades 6-10, covers descriptive, narrative, and informative writing. Writeshop II is designed for grades 8-12, and along with narrative writing styles it also covers essays in-depth, including timed essays (a helpful skill to practice for college entrance exams).
The lesson schedule is very flexible, from 1-3 weeks per lesson with a total of 14-16 lessons in each level. Each lesson has a predictable flow:
You teach key writing skills like sentence variation or misplaced modifiers using activities like reading examples of writing, discussions and follow-up worksheets.
Then you brainstorm and write a practice paragraph together.
Then your child brainstorms, writes a sloppy copy, and performs a first revision.
One last edit with you and a final draft is written. Evaluation checklists for grading purposes are included.
Students are constantly building upon what they've learned. Once they are introduced to a concept they are expected to use it in their writing going forward. Expectations increase from one paragraph in length to longer compositions, and working on a practice paragraph together is phased out (though not until WriteShop II).
WriteShop In Our Home
I use a combination of WriteShop lessons and the methods recommended by Charlotte Mason and Ruth Beechick.  WriteShop works well for us alongside those philosophies. We work on a lesson, then pause between lessons if school assignments or personal writing are taking up a lot of time, then we pick it up again.
I've already mentioned that this curriculum does require one-on-one teaching time. Throughout the lessons there will be times you work together with your student, or at least get them started on their work for the day (for example, learning about paired adjectives, then having them do a worksheet on that topic).
I found it helpful as the teacher to make a checklist for each lesson on paper because of the need to find certain things in the teacher or student binder, and needing to flip back and forth between different sections of both binders.
What I Like About WriteShop
In addition to lesson plans and instructions, necessary worksheets, brainstorming sheets, and checklists, both binders are full of helpful information. My daughter liked the descriptive word lists so much that we removed them from the student binder and placed them in a small folder so she could have easy access to use them in her independent projects. Two things I really enjoyed from the teacher's manual are samples of actual student writing, both the first revisions and teacher edits and final drafts, and wonderful ideas for writing across the curriculum (tweaking the assignment to go along with other subjects like history or science).
The concept of working on one paragraph at a time works well. It is a manageable piece of writing where we can really focus on every skill and sentence.
We also use a small handbook with literature selections for copywork and dictation for each lesson that correspond with the lesson focus.
Like the Junior program which I happily saved for my son, I anticipate using this with him in later years. I can see how it could work with a less enthusiastic writer. Beginning with one paragraph doesn't overwhelm or engender a hatred of writing because too much is required and it can be done in short lessons. Working on a practice paragraph together provides a lot of direction before the child is expected to brainstorm and write on his own. And you know, we find writing a paragraph together to be a lot of fun!
Where can you find WriteShop?
You can visit their website for more information about WriteShop, including the scope and sequence and sample lessons.
Heidi homeschools her two children in Maine using an eclectic mix including Charlotte Mason's ideas, quality literature and hands-on learning. She strives to show her children that learning is an exciting, life long adventure. She shares their experiences on her blog, Home Schoolroom.