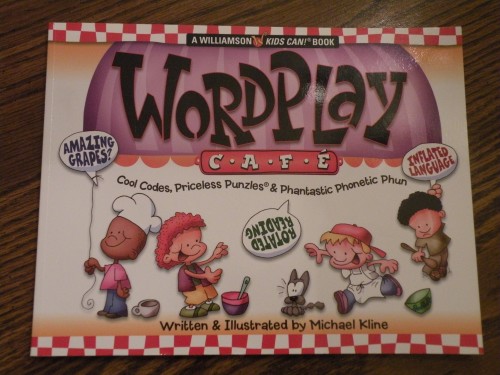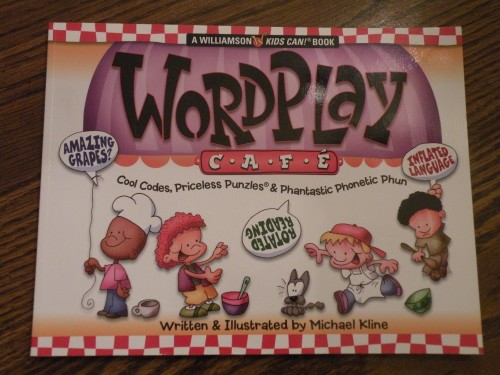 Wordplay Café by Michael Kline is a set of grammar and vocabulary lessons disguised as a book of games.  Truth be told, there are a few lessons that cover logic and Greek and Latin in there, too.
The set up of the book itself mimics a menu at a café.  There are recipes for games, brain candy (interesting word and language facts), unfortunate cookies (made up but funny definitions for words), keyword kabobs that connect the reader to the internet, taste tests that preview word games and ideas, and Punzles© (puzzles made with puns).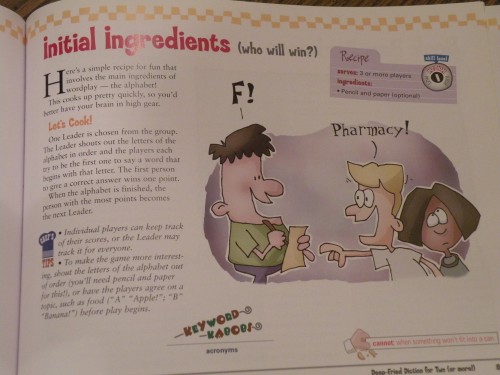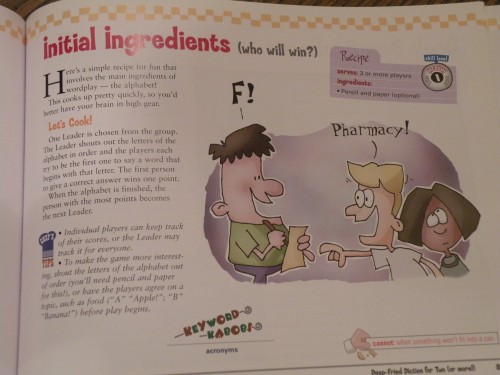 There are six chapters, each named with a pun.
Chapter Won:  Word Nutrition is part history, with its discussion of the beginning of language, Greek and Latin roots, and the alphabet, and part game, proven by the inclusion of "Orange Origin Juice," a game that asks players to create Latin-sounding words for household objects.
Chapter Too:  Comfort Food contains the old standbys in language games:  anagrams, palindromes, acrostic, and such.
Chapter Free:  Dinner for One is filled with games that can have a one-player option.  Of course, more can play, too.  There is "Homonym Grits," a game that asks players to alter a nursery rhyme using homonyms and "Spaced-Out Spread," in which players change familiar speeches, songs, and other writings by combining all of the words into one very long word and then re-spacing the letters into different words and almost words.
Chapter Fore:  Deep-Fried Diction for Two (Or More!) has more games, but these are for a group.  "Knock, Knockwurst" asks players to write their own knock-knock jokes based on puns.  "Bizz Buzz Biscuits" mixes words and numbers as players are challenged to count, but replace multiples of 5 with the word "bizz" and multiples of seven with the word "buzz."
Chapter 5ive:  PC Pancakes focuses on games that involve the computer.  "Typo Tea and Biscuits," for example, leads players in scouring internet pages for errors, while "Translation Toast" uses translation software to discover odd wording resulting from repeatedly translating a selection of text.
Chapter Sicks: Put Words to Work in Your Kitchen teaches players about mnemonics and the phonetic alphabet.
Wordplay Cafe, written for kids ages ate to fore-teen, is sure to delight wordsmiths and grammar non-enthusiasts, alike.
It can be found for free in PDF format on Michael Kline's website or you can purchase a paper copy on Amazon.
Susan S. is a homeschooling mama of three little ones who get bigger and livelier every day. They delight in living books and hands-on math, and are nurturing a love for God and the amazing world that He created.