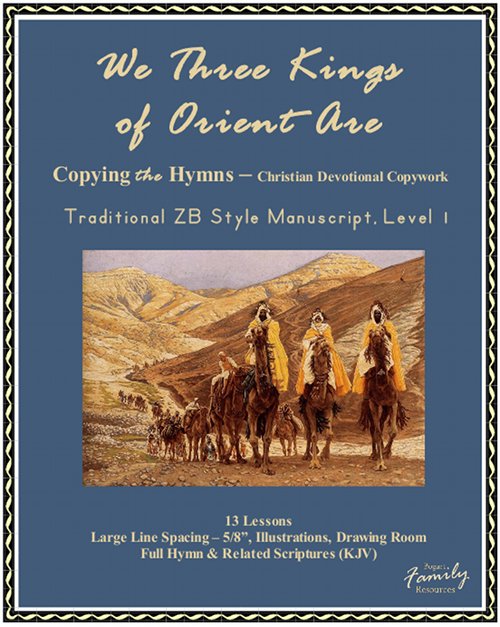 We use copywork in our home since I have two boys that don't like to write. I try to find many ways to enhance their writing experience and help with their penmanship.
I am picky though on what I will allow them to use. I don't just want them to copy words on a paper. I want them to learn something as they learn to write and read better. 
When I looked through this wonderful curriculum by Bogart Family Resources-called 'We Three Kings of Orient Are – Traditional ZB Style Manuscript Level 1', I knew this would be a wonderful addition to our homeschooling. Anything that glorifies the Lord, and helps my children learn more about Him, is a winner in my house. 
Bogart Family Resources uses 'We Three Kings' by John H. Hopkins Jr. to help enhance our son's handwriting skills while building a foundation in our Faith. This curriculum includes the full text of the classic hymn and scripture (KJV) which highlight the spiritual themes of the hymn. 
One sentence is introduced per lesson, totalling 13 lessons. I love how they use the same approach to handwriting as does Peterson Handwriting, which we've had the opportunity to use in our homeschooling this year to teach cursive to both of my boys.
This curriculum is written for the beginning writer that is familiar with forming the alphabet letters. Line spacing of 5/8", and a traditional-style Zaner Bloser manuscript font is used. 
Copywork Lessons 1 and 2 are opening verses that focus on the
account of the wise men coming to visit Jesus, while Lesson 13 provides the closing scripture verse that shows the spiritual truth of the hymn. Lessons 3 – 12 include the entire text of the hymn and is set up for easy copying. 
At the beginning of the lesson there is a copy of the Manuscript upper and lower case alphabet chart as well as a number chart for easy reference for the beginning writer.
What I loved about each lesson is the empty frames for my boys to draw and illustrate what they've learned in that days lesson. My children are very hands on and this will help them to enjoy their writing experience and encourage their creativity.  
This wonderful product and handwriting resource is only $2.95 and available as an instant download.