Big Brainz is giving away a deluxe version of Timez Attack multiplication and division, valued at  $59.99, to one Curriculum Choice reader – don't miss it at the end!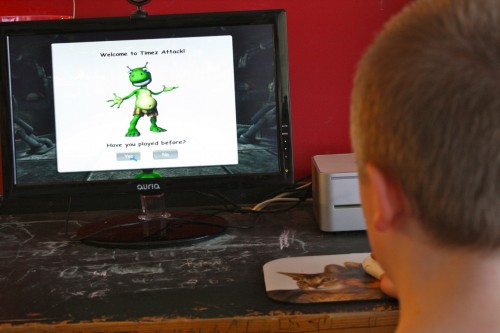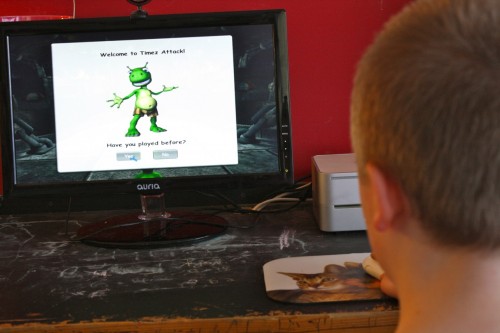 We've enjoyed Timez Attack by the Big Brainz company in our homeschool for several years now. These fun, multiplication games were recommended to us by my friends and fellow homeschool moms. It's one of those resources we turn to when we know we need a little boost in multiplication practice. And, wow, how Timez Attack has improved since we first learned about it. See, we'd tucked it away because there was some space there between our older children and our middle girl. But now, she's the one that needs that encouragement in times table memorization and division practice.
Enjoy this video for a quick start overview in a minute and a half:

"The most powerful multiplication games ever created."
Three of my children practice with the Big Brainz game – three different ages/grades. And what better way to practice than with a fun computer game?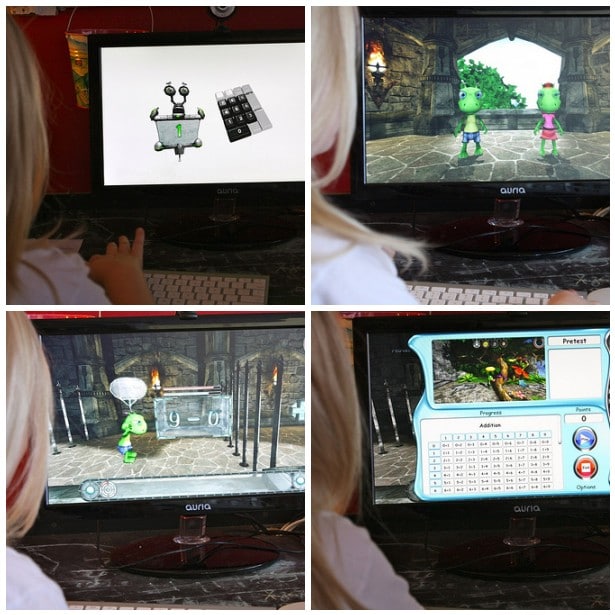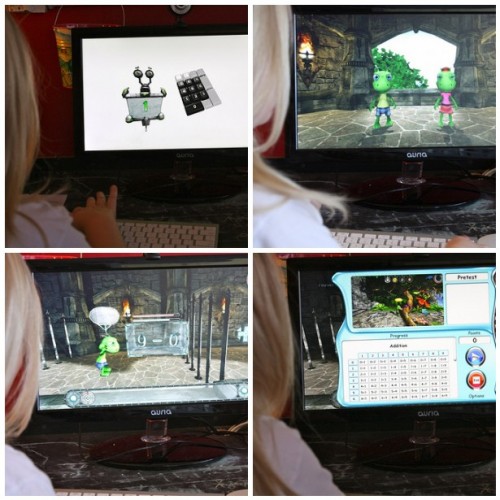 But guess what else? Timez Attack now offers addition and subtraction practice, so rising 1st grader got in on the mix as well. At the start, your child practices finding the numbers on the keyboard, chooses a boy or girl player and takes a pre-test to determine skill level. What impressed me most about this offering is that the game slows down when a child misses a certain problems. I watched as Timez Addition drilled my daughter in 2 + 1 = 3 then 3 – 2 = 1.
Plus, Big Brainz just recently added division! Hmm. I sure can appreciate a program that my age range of children can use! Here's what my rising 8th grader had to say about the newly improved version, "They made it harder to play (you have to give your answer in less time) but easier to remember the multiplication facts."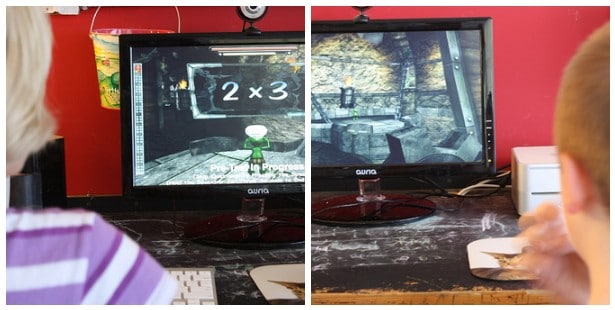 Some things I bet you didn't know:
available for both Windows and Mac platforms
built in pre-test and post-test
a retention component to regularly review the facts
How to find out even more: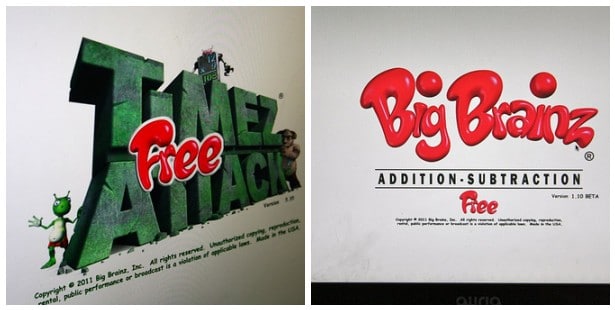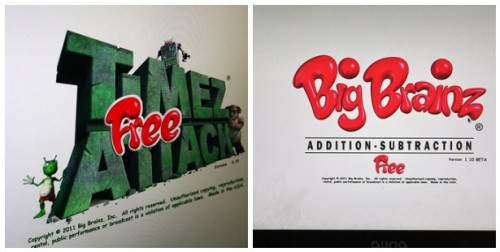 Cost:
There is a free version! You and your child can try it out and use the free version which is what we did to start with
The paid version gives your child access to more 'worlds' and entertainment.
Standard version: $39.99
Deluxe version: $59.99
100% money back guarantee
Comparison of the different versions and cost, plus what is included HERE.
Why would I want to pay for Timez Attack?
As your child is successful in learning the times tables, he/she will advance. The free version only has one world (the dungeon world). However, your child can practice all the times tables with the free version.
Paid version has more worlds. Some examples are rock tower, ruins with a jungle, volcano, and the machine world.
Basically, by paying for Timez Attack, you give your child more opportunity to practice and challenge what they have learned.
In summary: Timez Attack meets the needs of several different ages – in our house from age six to 14! It is nice to have a math drill resource that is fun as well as challenging. We use Timez Attack throughout the school year to boost confidence or help a struggling child get back up to speed. But we've also found that summer time is a perfect time to use Timez Attack for some fun review.
Special Discount Code just for Curriculum Choice Readers! Enjoy a 25% discount when you purchase from Big Brainz. Just enter code ireadcc  at checkout
Now for the giveaway! Big Brainz is giving away a Deluxe version of Timez Attack Multiplication and Division – a $59.99 value!!

a Rafflecopter giveaway
Homeschooling for over a decade now, Tricia faces a daily dose of chaos with five children. She shares a mixture of free art lessons, recipes and helpful homeschool habits at Hodgepodge. Her husband, Steve, also writes reviews here at Curriculum Choice.