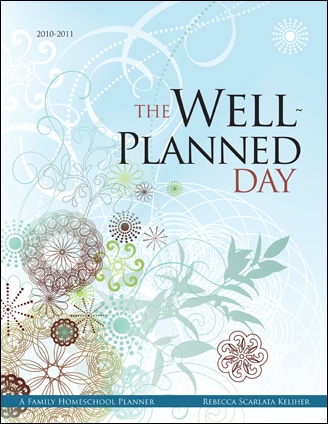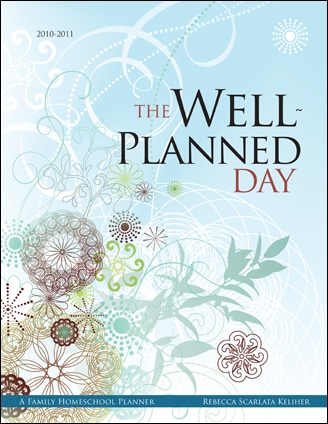 The Well Planned Day is this homeschooling mother's dream!  I have searched high and low for a complete, comprehensive planner that offered both homeschooling and household planning in once space, without a zillion separate forms.  I was thrilled when I stumbled upon the Well Planned Day.
The planner is created by "Home Educating Family" which offers three different planners, depending on the needs and ages of the family, as well as a fantastic homeschooling magazine.  The planner was created for homeschooling families, by a homeschooling family!
The planner offers so much and is laid out with beautiful artwork, homeschooling articles and so much more.  I love the fact that a week is laid out per two pages. It offers enough space to plan for up to 4 kids at once as well as a small weekly "to do" area, a weekly meal planning space, and biblical scriptures to read.

The planner includes more too!  Each planner offers:
Over 200 Full Color Pages
Full Year Planner: July 2010 – June 2011 or July 2009 – June 2010 (now on sale)
Organize and Plan for up to 4 children in one convenient book.
Four Student Class Plans: Schedule each student's class assignments.
Four Student Time Schedules: Track each day by the hour.
Organize your week with class assignments, weekly priorities, prayer requests, dinner menu, and notes.
Month at a Glance: Plan field trips, enrichment activities and books to read
Semester Attendance and Progress Reports
Perforated Report Cards (spiral bound only. Printed report cards via PDF)
Menu Planning: Plan weekly meals and conveniently shop with perforated shopping lists.
Family Worship: Read through the Bible in a year.
Insightful homeschool articles and tips to inspire you throughout the year.
The planner is available in an 8.5 X 11 Spiral Bound Printed Book or PDF Download ($24.95 book or $19.95 PDF).  To save costs, I elected to get the pdf.
While the PDF offered a nice option (and instant download), I found the printout to be huge. Unless you print the book double sided, or "as you go", it gets cumbersome and takes a lot of ink.  I had to separate it in two different binders to make it more portable.  For the 2010 school year, I will be buying the spiral bound book instead.
If you are looking for a comprehensive Christian homeschool and household planner, look no further than "The Well Planned Day".  You can get your own copy direct at http://www.wellplannedday.com.
Written by Diana S. A homeschooling mom of two boys, growing in Grace and trying to joyfully ride the roller coaster of Life Curves.