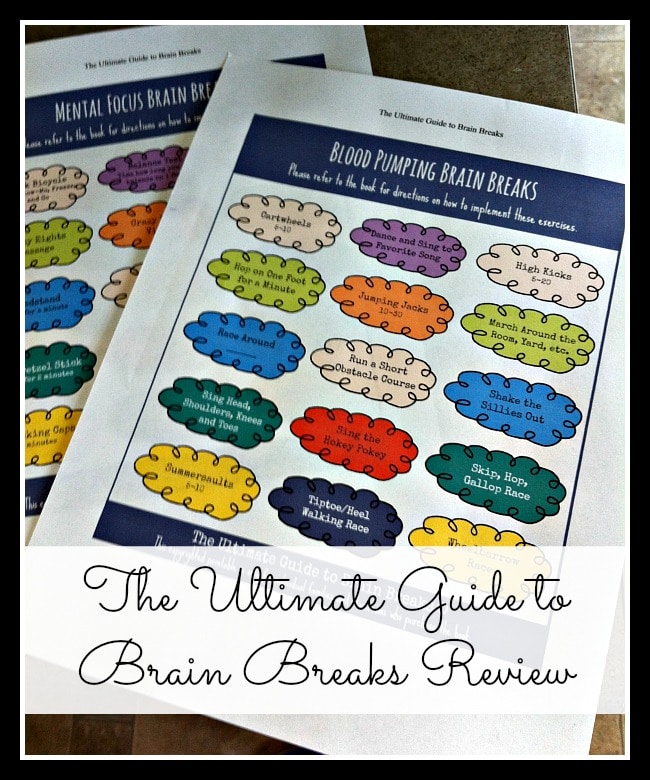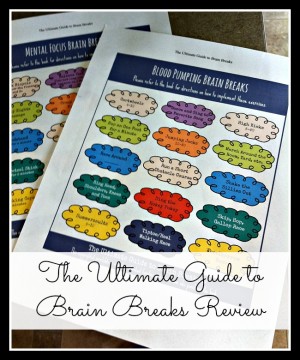 Ever have those moments when you are explaining something to your children, or reading a passage from a book aloud and you glance at them and just know they aren't paying attention?  They are in "la-la land" as we call it at our house.  We've all had those moments with our children, and probably our spouse too!
I have long been interested in how movement affects our learning.  As a mom of six, one of whom is a very active boy, I'm always on the look out for tips and techniques to help my active kids focus and retain information.  I was eager to read and learn from Heather Haupt's e-book, The Ultimate Guide to Brain Breaks.
What Are Brain Breaks?
"Brain breaks are intentional movement activities that work to wake up the brain.  This stimulates the brain, causing it to focus and pay attention again."  p. 4 The Ultimate Guide to Brain Breaks
Why Do Our Children Need Brain Breaks?
Quite simply Brain Breaks help our children learn more easily and retain information longer.  Brain Breaks take away some of the frustration and the fidgeting that our children experience when sitting for certain periods of time.  Less frustration and fidgeting usually means less disruptive behavior.  Our kids learn better and we have the need to discipline less.  It's a win-win situation for both parties.
Our Favorite Brain Breaks
Cart Wheels – with three gymnastics loving girls, you can imagine this move is big in my house
Jumping Jacks – we have long used jumping jacks to take little breaks, very effective
The Pretzel Stick
Crab Walk
Heather gives detailed instructions on how to do each movement along with photos.
As a busy homeschooling mom of many, I appreciate that the Brain Break ideas are user-friendly, easy to implement, and don't take much time.  Included in the guide is a printable list so that the idea sheets can be laminated and kept handy throughout the day.
I certainly don't need another "to-do" item on my list, but what I do need are solid ideas for helping me help my children reach their full potential.  The Ultimate Guide to Brain Breaks does that for me.
As interesting as we are as teachers, there are times when are kids are going to zone out.  We all do!  With the help of The Ultimate Guide to Brain Breaks, now we can recognize when are kids are getting fidgety and instead of getting frustrated we can encourage them to regroup and refocus with a Brain Break.
Purchase Your Copy of The Ultimate Guide to Brain Breaks
Get tons of great ideas to enhance the learning in your home for only $7.99.  Get your copy of The Ultimate Guide to Brain Breaks now!
~ written by Jen, Forever, For Always, No Matter What