In a rapidly changing world that can, at times, be frightening and hard to figure out, we become more aware of who we are, what we stand for, and what we value. What about the patriotic homeschool? How can we pass on and nurture a patriotic spirit in our children?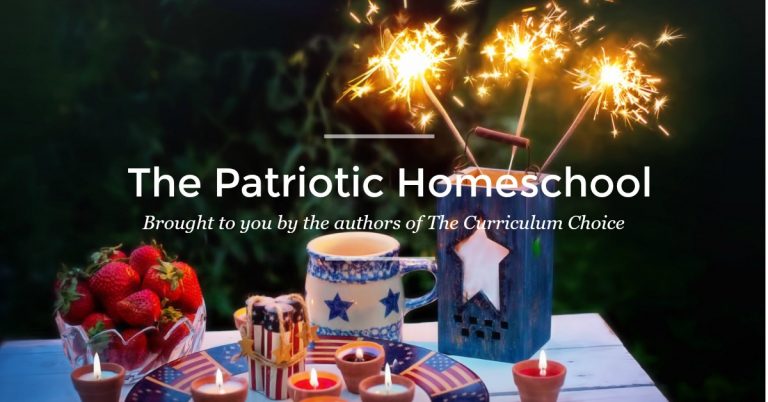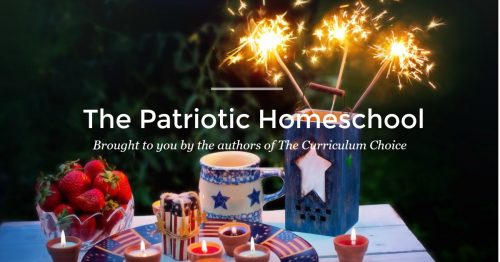 I am a British homeschooling mum and I love my country and our values. I believe in freedom of speech, in taking a stand against evil, of speaking out against actions that go against what others before us have fought so hard for and paid the ultimate price.
I believe in the old adage that more is 'caught' than 'taught'. Each year there is ample opportunity in Britain to attend one of the many memorial services held in November, purchase a poppy, a symbol of remembrance or support one of our armed forces charities. This year Britain is staging events throughout the year to mark 100 years since the end of  WWI. Looking back through The Curriculum Choice's archives I have found a wealth of posts, ideas and inspiration for you to draw on to make this year your most patriotic yet! So it is with respect, gratitude and love for those who have served and who currently fight to protect our freedoms, that we here at The Curriculum Choice, bring you some of our favourite patriotic posts and resources.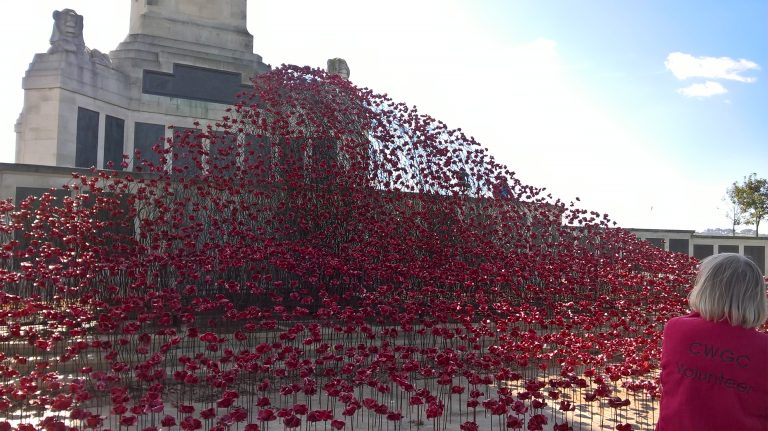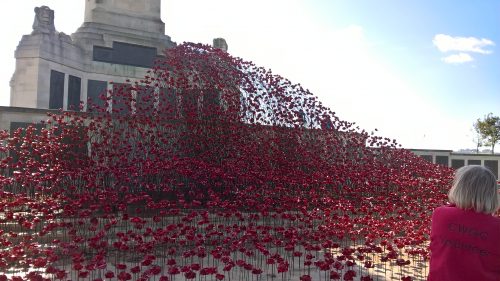 Here are a few of my own picks for you:
Visit my Patriotic Homeschool Pinterest board or the Patriotic Pinterest Board created by some of the Curriculum Choice authors. They are full of great ideas for crafts and recipes. We loved including fun crafts and delicious themed food in our learning. I find that it's usually the small things we do that have a big impact on the memories our children will take with them through life.
Patriotic Homeschool from the Archives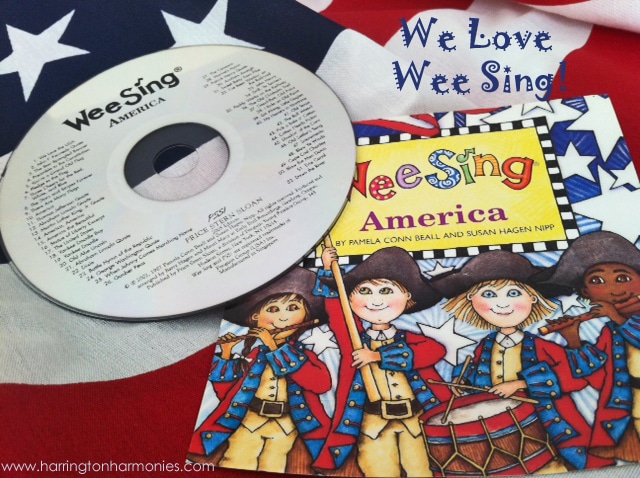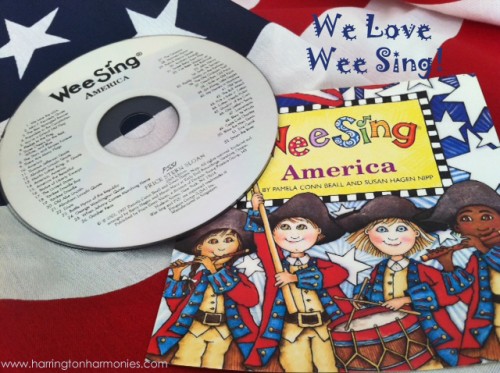 Wee Sing America  – Stephanie Harrington wrote a great review of this resource in 2013.
" From the Preamble of the Constitution to the Erie Canal it's an American experience through song. Of all the great children's music out there this is my all time favorite to supplement for our homeschool".
Hop on over to read her full review.
The Curriculum Choice's very own Tricia wrote a lovely Patriotic Holiday Resources post back in 2012. There is so much to choose from that the suggestions in this post could definitely keep you busy for a good while.
The Light and the Glory is a great book to consider adding to your read-aloud book basket. "Written by Peter Marshall and David Manuel with Anna Wilson Fishel, focuses on American history between the years 1492 to 1789, on its forefathers, and their faith. This wonderful book makes it clear to the reader how God worked through the founders of America to establish the nation."
How about including one of Hodgepodge Mom's pastel tutorials and learn how to draw sparklers?
And a few more…
The Patriotic Homeschool from Curriculum Choice Authors
Now over to my fellow TCC review mums who have plenty of ideas to inspire your patriotic studies this year…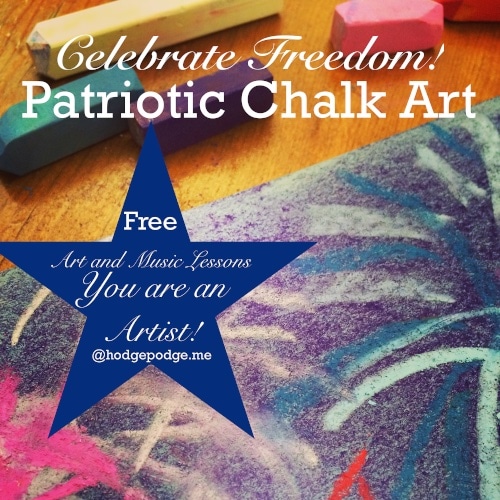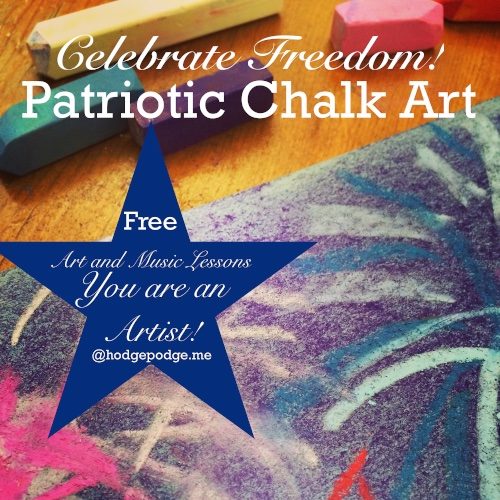 Tricia at Hodgepodge and ChalkPastel.com
O beautiful, for spacious skies, for amber waves of grain…
We do love to celebrate holidays with art! And a few years ago we teamed up with Mary Prather of Homegrown Learners and SQUILT Music to offer you Celebrate Freedom. It's a free Fireworks Extravaganza Art Lesson with a free SQUILT Music Appreciation Lesson of Stars and Stripes Forever.
We also have an American Flag art lesson, more fireworks and even an Election Day art lesson in our Holiday Art Lessons. Even a Washington Monument with Fireworks Art Lesson!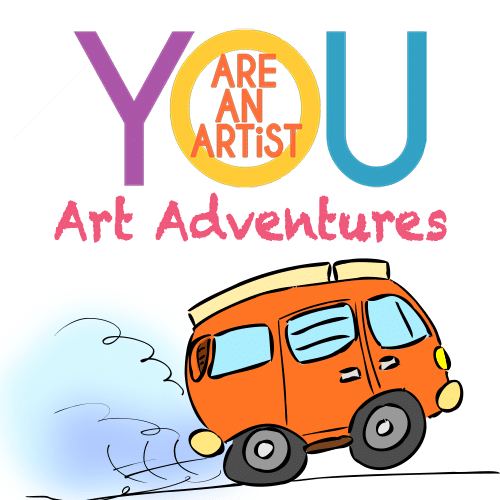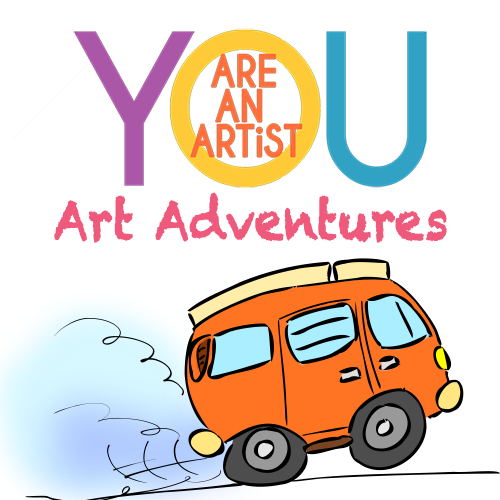 With your summer travels and America History studies you might also like to tour American Landmarks with Video Art Lessons from sea to shining sea or American History Video Art Lessons. You can even join our July Art Adventures with a monthly You ARE an Artist Clubhouse subscription.
Heidi at Starts At Eight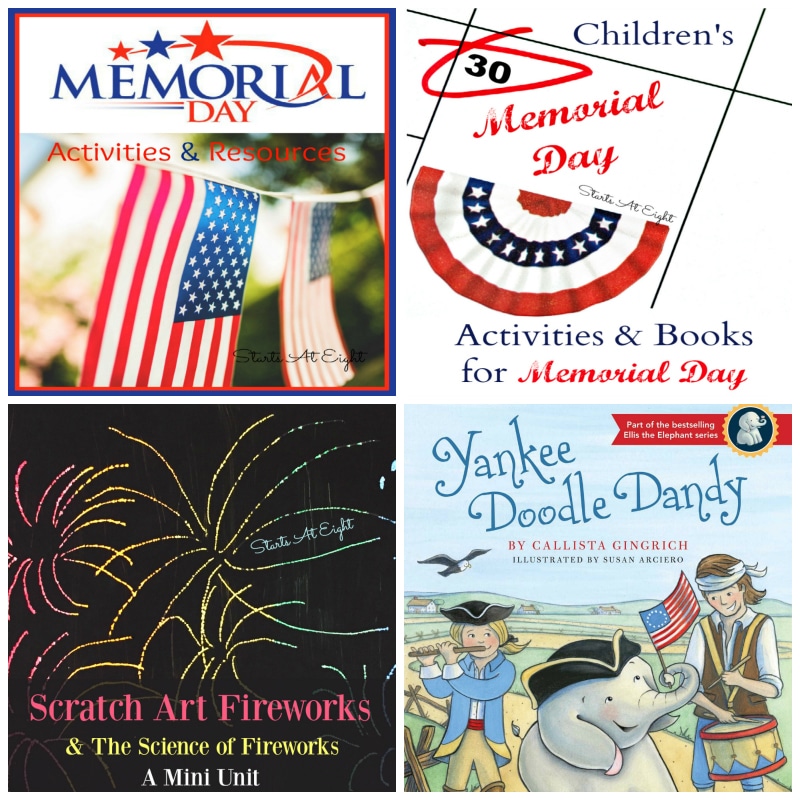 There are many patriotic holidays to celebrate throughout the year, as well as just the mere fact that we live in "the land of the free and the home of the brave."
Here are a few resources and activities we have enjoyed throughout the years:
Many years ago when the kids were younger we really enjoyed the book Yankee Doodle Dandy where Ellis the Elephant introduce young children to the story of the American Revolution – from the Boston Tea Party to Paul Revere's midnight ride, from our victory at Yorktown to George Washington's declaration that he would not be king.
Another fun activity our kids young and old have enjoyed is this Scratch Art Fireworks (art project and mini science lesson).
You can also find tons of not only Memorial Day activities but patriotic activities and ideas in both my Memorial Day Activities & Resources and Children's Activities & Books for Memorial Day posts.
Eva from EvaVarga.net
One of the ways our family shows our love for our country is by visiting historic sites. We love our national parks and enjoy collecting the stamps in our passport books as we travel.
Two years ago, we delighted in a guided tour of the grounds surrounding the Statue of Liberty on Liberty Island in Manhattan. On this visit we were able to integrate crowdfunding, language arts (poetry), politics, science, and visual arts into our visit.
Give me your tired, your poor, Your huddled masses yearning to breathe free, The wretched refuse of your teeming shore.

Send these, the homeless, tempest-tossed to me, I lift my lamp beside the golden door!
Though not a national holiday, Flag Day is celebrated each year on June 14th in the United States. In my post, Honoring Our Flag, you'll find several great lessons and activities specifically for middle and high school students.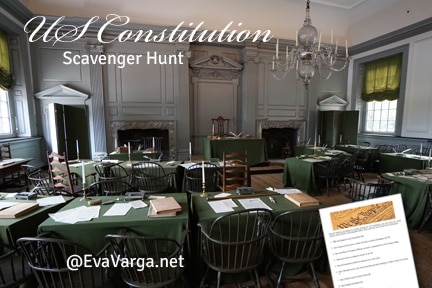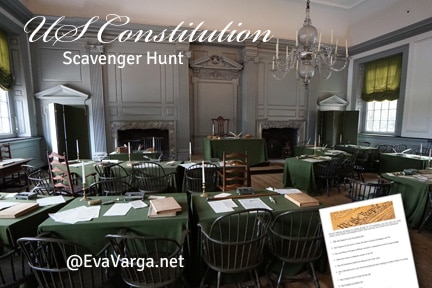 Outside Independence Hall in Philadelphia on the 17th of September of each year, volunteers read aloud the Constitution just as they had done in 1787. You can join in the festivities this fall with a fun scavenger hunt of the US Constitution.
Patriotism need not be restricted to your birth country. In our home, we honor our ancestral heritage in many ways. As active members of Sons of Norway, we enjoy an annual Syttende Mai Celebration (Norwegian Constitution Day) each May.
Pølse, or hot dog, is the easiest and cheapest fast food you can Norway (as easy to find as a burger in the states). It's also an icon of Norwegian food culture. On average, each Norwegian eats about two pølser each in celebration of their country (not to mention loads of ice cream). Sounds a little like the fourth of July, doesn't it?
Heather at Blog, She Wrote
We're big history fans, so we have incorporated a lot of patriotic studies into our history programs. Here are a few from our recent and not so recent past.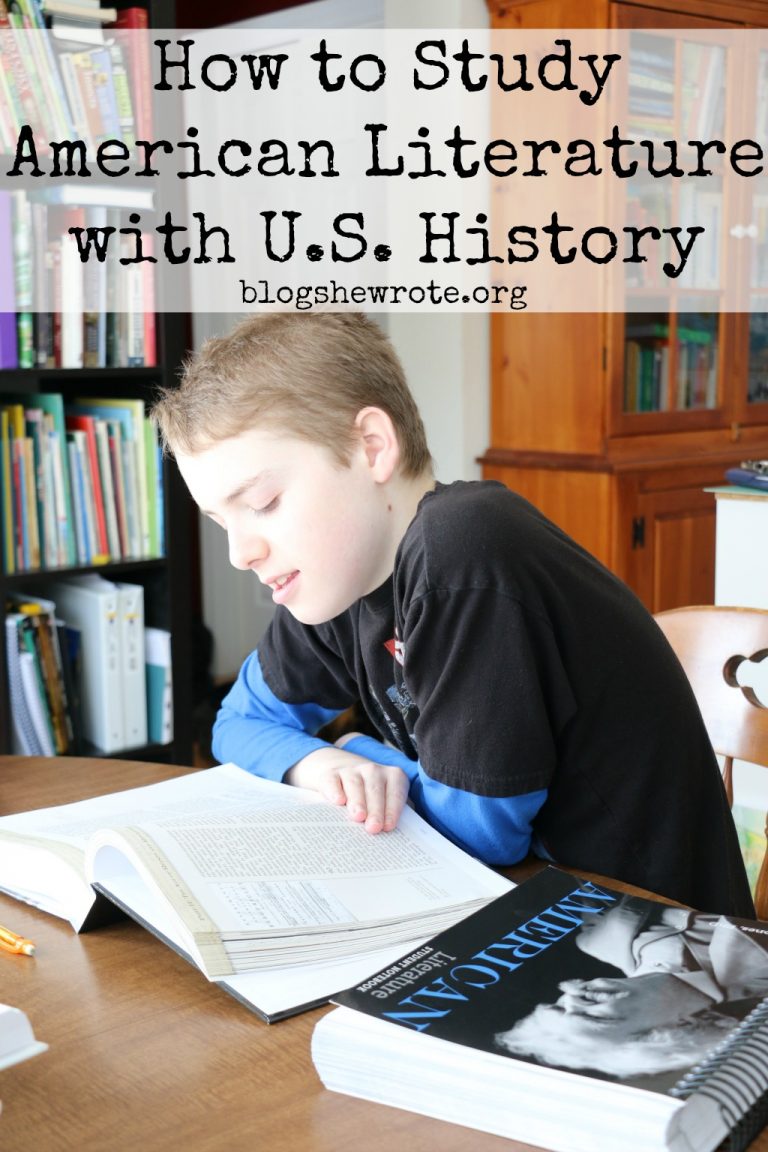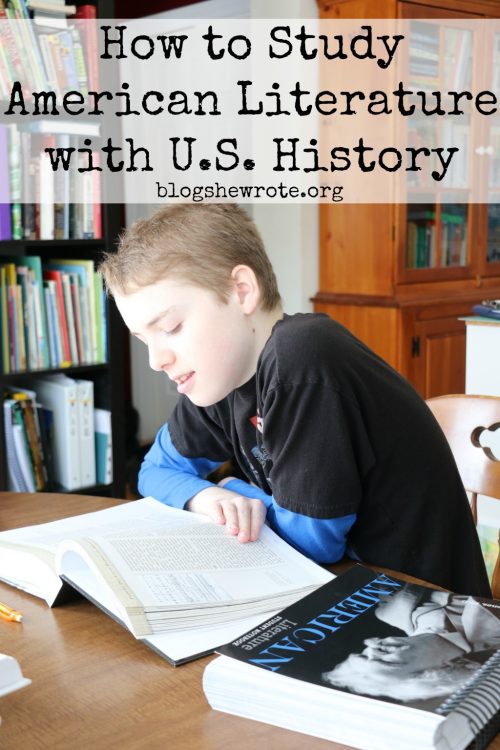 How to Study American Literature with U.S. History– Pair literature pieces with your history studies.
American History Timeline Resource for High School– High school patriotic resources for your history courses
5 Creative Ways to Use American History Activity Books– Fun ideas for using Dover history activity books with your students.
History Quests– Short history adventures for the whole family on various topics.
Our Betsy Ross Studies– Unit study ideas and materials for a study of Betsy Ross using Beyond Five in a Row and other resources. These are a family favorite!
American Girl Molly Party– A post from nine years ago when my newly minted 18yo senior was turning 9, this is full of patriotic fun!
<Pin it!>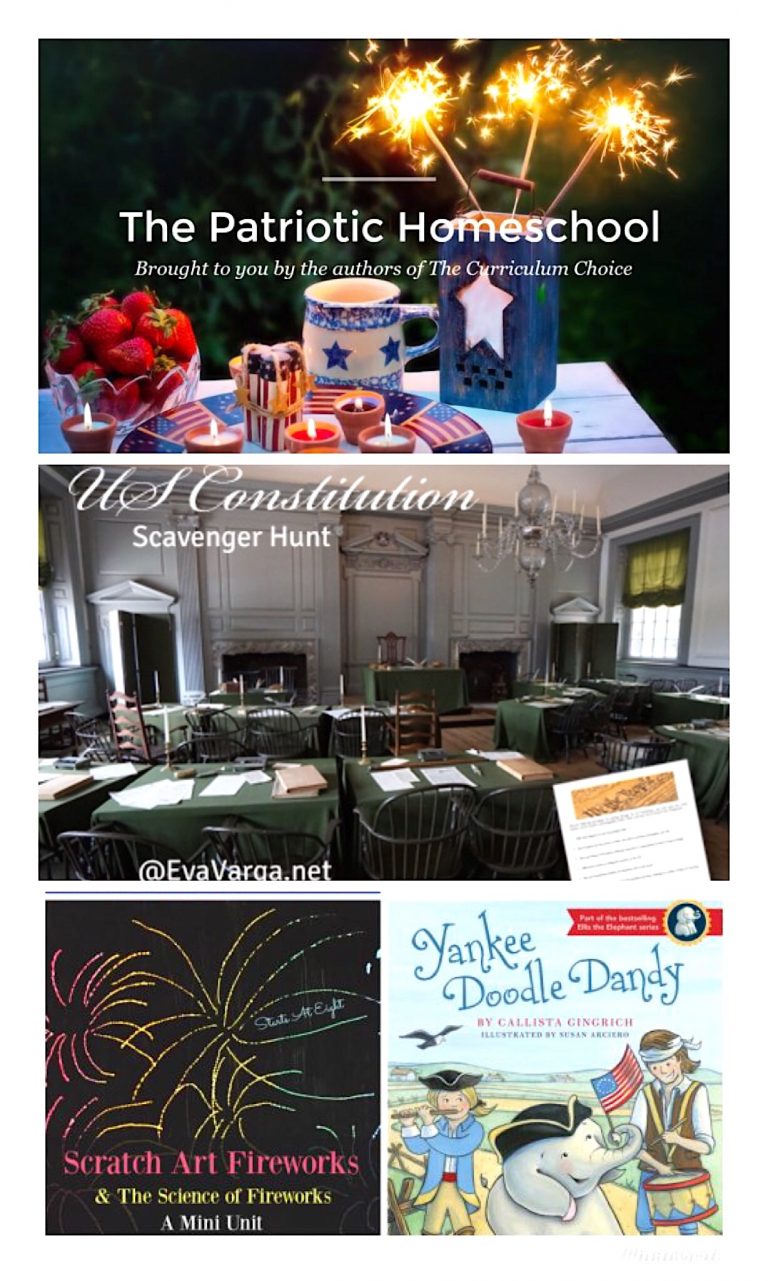 You might also like our recent Summer Homeschool Ideas post!
Did you know that our Curriculum Choice review team features a different homeschool topic each month? You can see what they have shared on various homeschool topics under Review Team Features.

What are YOUR favorite patriotic homeschool ideas? We would love to know!