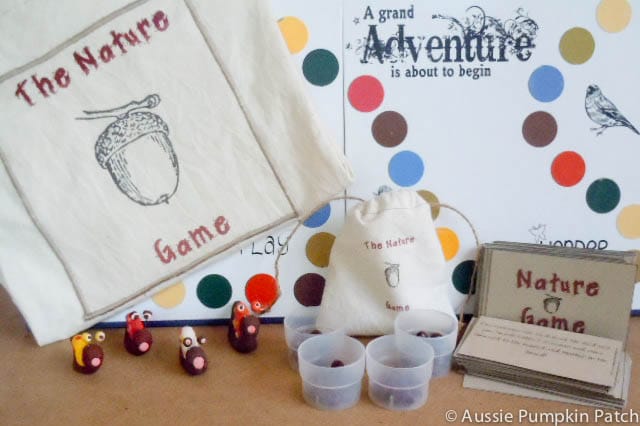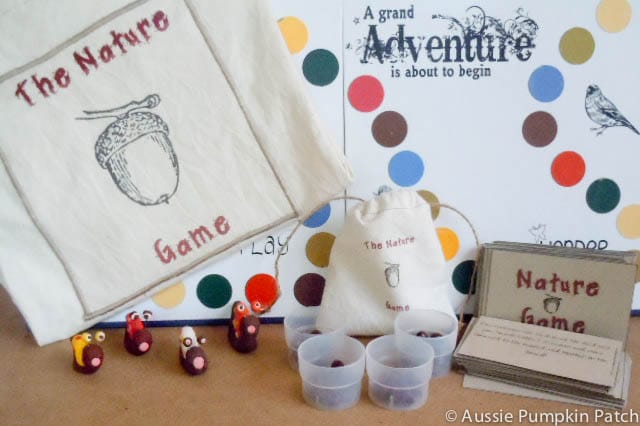 Kendra from the blog, Aussie Pumpkin Patch, has developed a fun game that nature lovers everywhere will get excited about!  She originally asked me to review this for Shining Dawn Books since our main line is the NaturExplorers series, but I thought it deserved the attention of The Curriculum Choice instead.
The Nature Game comes to you as two PDF flies.  On one file, you get directions for creating your own game board and game pieces, as well as directions for play.  The other file includes a "starter pack" of game cards, which you will copy from your printer and cut to play.  (Kendra has plans to create other themed game card packs in the future, which is why the first set is called the starter pack.)
Now for the fun part…Picture yourself sitting on a blanket under a shade tree in your yard or a local park.  You and your children surround the game board with a few nature field guides off to the side.  Each person draws a nature card on his turn and is asked to complete a nature task right then and there.
Find and identify two or more birds in three minutes.

Find something bumpy and describe it with your eyes closed.

Find something in nature for each color of the rainbow.
To complete the tasks, you might need to get up and move around or pull out a field guide.  Upon successful completion, the nature card tells you how many acorns (beads) to collect.  The more you collect, the better your chance of winning in the end!  Never fear, though, if you can't successfully complete a task, there's no penalty other than not collecting acorns.  Otherwise, the play is very friendly and positive – and even cooperative if you like.
There might be a card or two you need to put aside during certain times of the year or in certain nature spots, but there should still be plenty to keep the game rolling.  Also, since the cards are very generic, there is no need to be in a particular part of the world or a particular nature setting.  As long as there are trees, flowers and active critters (insects, birds, etc.), most of the cards can be used anywhere.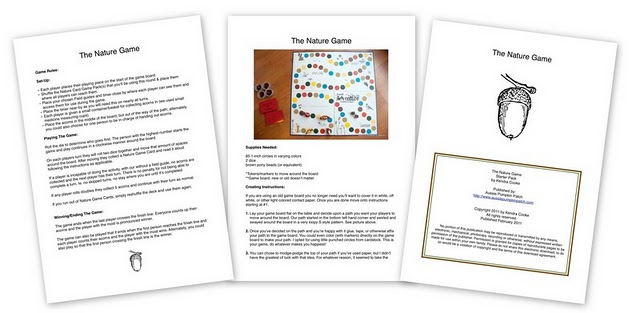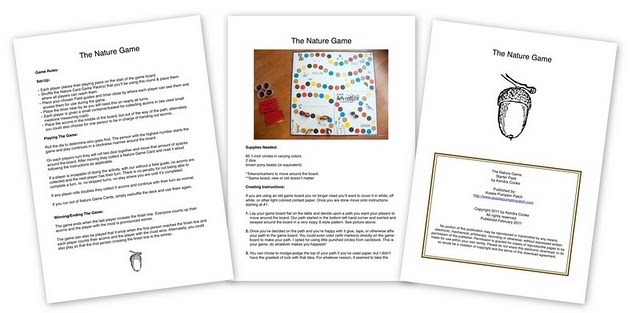 The only stumper I can find to this wonderful game idea is in creating your own game board.  Kendra gives you very detailed directions, but the fact still remains that you must make the game board in order to play as directed.  I just know some of you creative parents will think of shortcuts if you'd rather not spend the time making a board.  (Like playing until the cards run out and only worrying with collecting acorns, for instance.  Yeah, I'm kind of creative like that.)
The bottom line: The Nature Game is a very creative way to spend some quality time with your children studying nature!
-Cindy West is an eclectically Charlotte Mason mom of 3 from Central KY.  You can find her blogging at Our Journey Westward and find her NaturExplorers series at Shining Dawn Books.