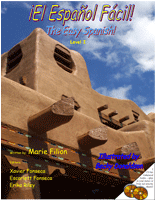 This past year we finished up The Easy Spanish or El Espanol Facil! Level I. I found the link through the recommendation of a friend and after watching the introductory video explaining how the program fit a Charlotte Mason style of learning, we decided to investigate the book further. The approach is multi-faceted with listening, narrating aloud, and then writing in Spanish. It is also multi-leveled so you can offer Spanish to all your children with one book and one plan.
I was looking for something fresh to try. We had tried a textbook approach and we had started Rosetta Stone Spanish but neither of those options felt like it was a good fit all by itself. I purchased The Easy Spanish and got started with it right away with my boys.
In my package I received a thick spiral bound textbook with two audio CDs. One of the CDs has pages to print out and use with your children as needed.
The textbook is arranged in lessons with corresponding sections on the CD. The textbook is so well organized that my teenagers could work independently and work at their own level of activities. The lessons are written on multiple levels so this plan could be used in a family with children in different grade levels. Their website suggests that with younger children you work through the lessons at a slower pace and take 2-3 years to complete this level. Older students (teens) she suggests 1-2 years depending on how much time each week you take for Spanish.
Each lesson starts with a story that weaves English and Spanish together. You can read it in the text and listen along with the CD. After the story, the CD pronounces the vocabulary and leaves time for your child to respond. There is always a follow-up activity and there is always a time during the week when your child will narrate back in Spanish the general idea of the story from the lesson. There is a special notebook activity that is really a year-long project to have the child tell all about themselves in Spanish. All the notebook pages are included on the CD.
The program includes scripture memorization as part of each lesson. Most lessons also have cultural notes that teach more deeply about the culture presented in the story. Geography is also a part of The Easy Spanish program.
If your children are older, there is a specific part of the lesson for independent learners. My boys worked with these assignments and I think it has helped them progress more than anything else. The high school age child is also encouraged to start a journal in Spanish. This was difficult at first but as they built vocabulary, it became easier. Each student is also encouraged to make their own Spanish dictionary with the vocabulary words from each lesson.
One of the CDs also contains Spanish songs to sing along with the lessons. See the link to samples below.
The student is given a weekly assignment sheet where he can check off each particular aspect of the lesson each day. I found this to be a great tool for me to use with my boys, helping them to become more independent.
Links to Samples: Song, Lesson, Lesson 2 in both PDF and MP3. I highly recommend that you print out the lesson and go through the MP3 files to really get a feel for the simplicity of using this Spanish program.
I also highly recommend that you go to their homepage and watch the introductory video. I found it very helpful to understand just what was included in the program and an overview of how it words.
The Easy Spanish -Video
So, of all the Spanish programs we have tried so far, this is the best I have found as far as learning practical vocabulary and encouraging the boys to actually have conversations. Using the independent activities, the Charlotte Mason activity, and the journal activities has helped them with their vocabulary and verb work.
We used The Easy Spanish! everyday of the week, about twenty minutes per day.
If you are looking for a Spanish program for your family and you want it to have a Charlotte Mason flair, this program is worth looking into.
Here is what their website says:
Phonetic, incremental, conversational Spanish & high frequency words
Spanish Scripture, songs, games and coloring pages
Great for homeschool co-op groups
Digitally mastered enhanced CD for audio and computer
Printable activity sheets: no purchasing consumable activity books or photocopying.
Teaches language and grammar through literature based entertaining storylines
Does not require prior knowledge of Spanish
Set outline of skills per quarter
3 year program for younger students
1 to 2 year program for older students and 1 year Fast track option for teens
Cultural flavor of Mexico and South America with optional projects
Use of Tomatis and SAMONAS sound theories to facilitate learning
Follows Charlotte Mason Method, Bloom's Taxonomy and high order theories by Dr. Jeanne Chall
Edited by and featuring the recorded voices of Native Spanish Speakers from Nicaragua and Venezuela
Written by Barb-Harmony Art mom.  She also blogs at http://www.harmonyartmom.blogspot.com