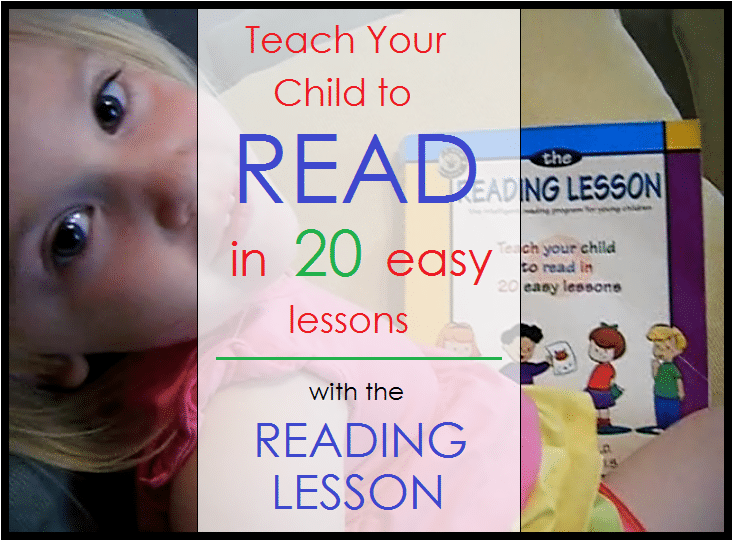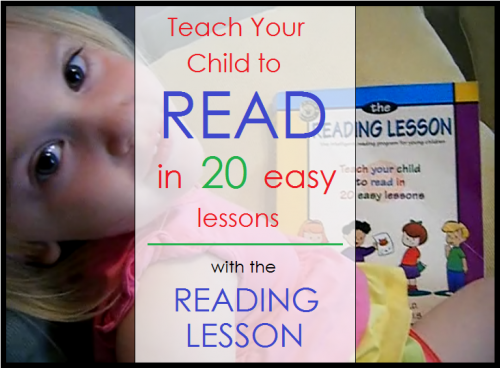 I have a three-year-old little girl and just before she turned three we started using The Reading Lesson.  I had been teaching her the names of the letters and she was beginning to learn some of the sounds that they make, so I thought it would be a great time to start learning to read!  When I taught my son to read, I essentially created my own curriculum and found little readers to go along with what he was learning.  It was a lot of work.  This time around I really needed something more "open and go" since my time is more limited with two children, and The Reading Lesson fit the bill!
From the website:
The Reading Lesson is an easy-to-use recipe to make learning to read painless for both parents and children.  The program is the best way to take a child with no reading skills to about the second grade level in reading.  Never-too-hard and never-too-easy, step-by-step the lessons teach phonics and build the sight vocabulary.  We make phonics easy without flashcards or worksheets – everything you need is right here in one book.
Teaching Reading with Phonics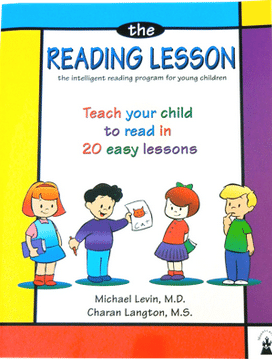 If you were to ask me what the most important thing is for teaching children to read, I would say teaching using phonics.  Giving your child the tools they need to decipher any new word is so important!  The Reading Lesson uses a "structured phonics teaching method" (from the back cover of the book).  Each lesson introduces a few new phonograms to your child and then provides lots of practice for them to master the new sounds.
The Reading Lesson instructs your child to point to each phonogram in a word, saying each sound as they go.  This really helps a child stay on track and be confident in what they are reading.  Each word has little line under each phonogram, showing your child where they should point.  As the lessons progress, they take the lines out from under the words that your child has already had plenty of time to master.
How to Use The Reading Lesson
Don't let the title fool you, your child will not be finished with this book after 20 times of sitting down with you.  There are 20 chapters in the book, each having its own new sounds that it introduces, but each chapter will most likely take your child a few sessions to get through.  Being that my daughter is just three years old, we probably are moving extra slowly, but each child will have their own pace.
I typically sit down three times a week with my daughter to work on these lessons.  I set the timer for 15 minutes and go through as many pages as we can in that time.  This has worked really well for us.  There is no pressure to get through a certain number of pages or to finish a chapter.  We just read until the timer goes off.
There are a variety of activities to help your child learn the new sounds, but nothing that takes you away from the book.  For example, on one page your child might be pointing to single letters saying their sounds, then on the next page they will be matching new words to simple pictures.  Before you know it, your child will be reading short sentences and  then every few pages, a short story.
The progression in natural and the format is simple.  This is one subject that you, mom, won't have to prepare to teach!
Here is my daughter going through a typical reading lesson.  We take a very relaxed approach, which you will see =)  You will also notice that she has some trouble with her "th" and "s" sounds and we are working on that!
Some Final Thoughts about The Reading Lesson
I love the simple layout of the book.  There is nothing flashy to distract your child.  The pictures are simple and effective.
I love that I do not have to put any work into teaching this.  I simply have my daughter go get the book and we just continue right where we left off.
The lessons naturally progress from very simple to second grade level paragraphs.  Your child won't even notice that they are reading more complex words!
It teaches many different phonograms and rules without pointing them out as such.  This makes it non-threatening to your child.
Some rules they do not teach, but just have the child learn the word as a sight-word.  I don't like this, but it is easy enough to just add a sentence of explanation, that I am still very happy using the book.
The book is rather heavy for a small child.  It would be more easily handled if it was spiral bound or sold as each lesson being its own separate small book.
The book does not introduce capital letters until quite a ways in.  Sentences look a bit odd beginning with lower case letters.  I don't see the problem with teaching from the start that sentences begin with capital letters, but it's no big deal.
I really like how they work things like teaching punctuation in naturally throughout the book.
It comes with a neat computer program that my daughter always looked forward to doing at the end of each lesson (you could also use it to introduce the new sounds at the beginning of each lesson).
Extra Goodies
 ~written by Amy Maze, Living and Learning at Home