I think the biggest learning curve with homeschooling is finding what works best for your family. Fortunately, for our family, Tapestry of Grace is a wonderful homeschooling fit. If you are on a curriculum search, I highly suggest you take a look at Tapestry of Grace. Because I am so grateful that we found this curriculum early in our homeschooling, I share with you today – Tapestry of Grace through the years. This reflection on this curriculum includes the successes, the (sometimes) challenges of getting started, the flexibility, the rich learning and the needs met.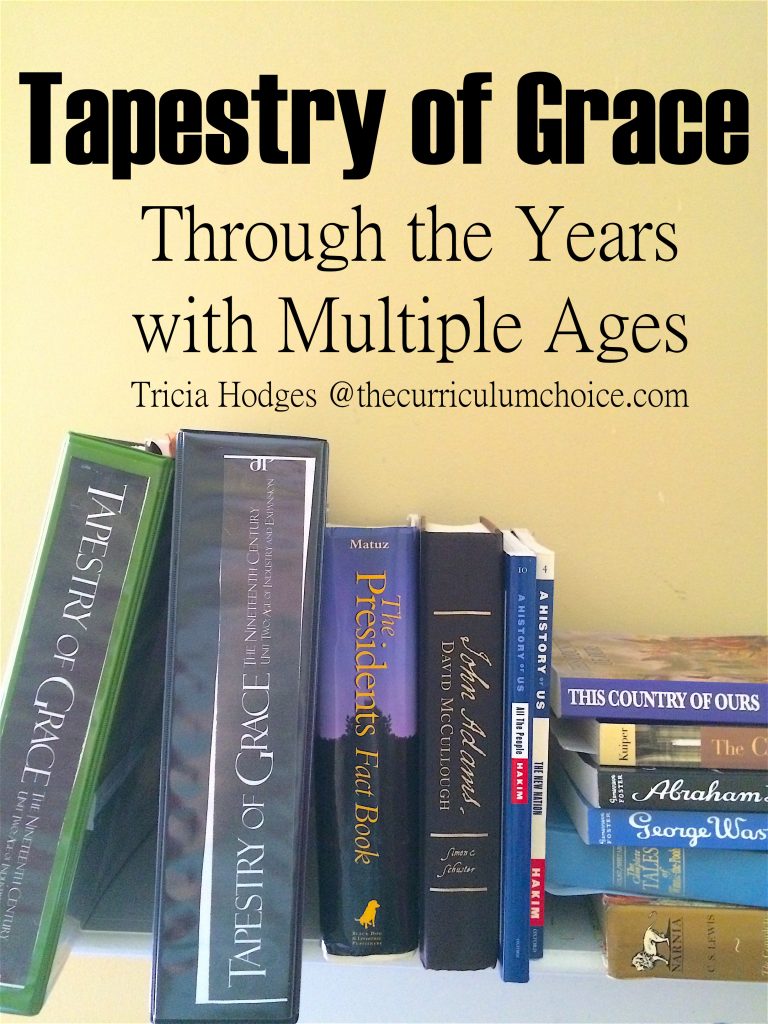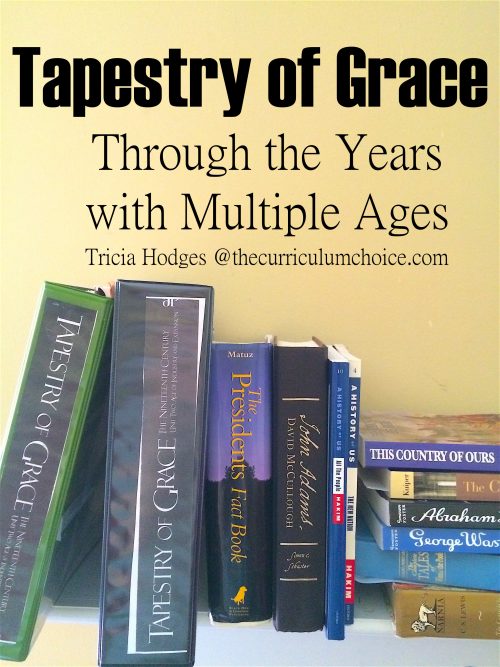 ~Don't miss the link to a free download plus information on a Facebook party – at the end! Tapestry of Grace sponsored this post and all opinions are my own. I have been sharing about Tapestry of Grace through the years and how this curriculum has blessed all our ages! How grateful we are that we found this resource early in our homeschooling. Please see our disclosure policy.
Tapestry of Grace is the framework for our days, the backbone of our learning. Our five children have all learned together – each on their own particular level and within their own learning style – because of Tapestry of Grace. Just this month our eldest has graduated homeschool – having learned with Tapestry from elementary all the way through the high school years. She was accepted to the private Christian college she dreamed of and awarded the school's president's scholarship! We know she has a rich, solid educational foundation to build on in her college years.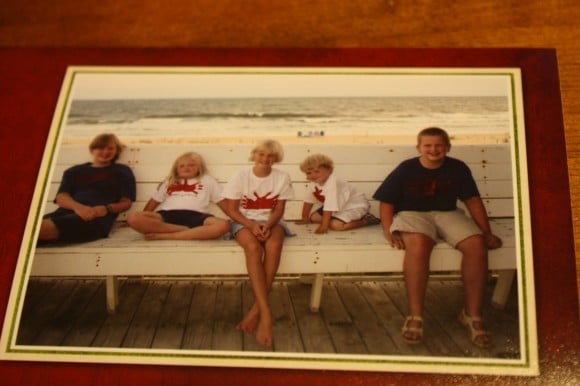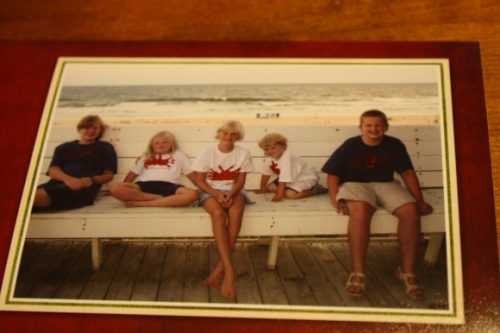 When we first started with Tapestry of Grace I had a 5th, 4th and 1st grader. Plus a three-year-old and an infant. This coming year I will have a 3rd, 5th, 9th and 12th grader. So we have one graduate and have cycled through all four years of Tapestry of Grace two times now.
I, as the homeschool mama, have seen the beauties of this type of classical learning as a family.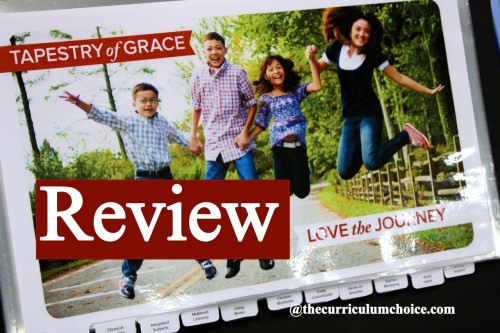 First, you may want to begin with my full review of Tapestry of Grace. What I share here is not only my family's years of experience with Tapestry but also what I learned were the biggest questions for newcomers to this curriculum. I was fresh from representing Tapestry of Grace in a booth at our state homeschool convention when I shared this review five years ago.
But what I truly, truly love is that Tapestry of Grace is for all ages…

Tapestry of Grace Tip: reserve every last possible book suggested by your unit plans – for your multiple ages and levels – via your local library. Have the books within easy reach for easy learning. We have our books stacked on the family coffee table and displayed on the family mantel over the fireplace. 
Tapestry of Grace For All Ages
Yes. All ages. This was and continues to be BIG for me. The daily chaos of homeschooling five children is made easier thanks to Tapestry of Grace. We are all on the same learning 'road' rather than all those separate grade levels. Yes, of course they each have their own language arts and math curricula. But with Tapestry of Grace the rest of the hours of our homeschool days we are learning about the same topics, the same era of history, the rich art and literature surrounding that time and more.
So for the youngest of our crew, there is Tapestry Primer…
Tapestry Primer – No More 'Tog Fog'
See, I have had my readers ask me if I would recommend Tapestry of Grace for kindergarten. I have suggested that a concentration on the three Rs (reading, writing and arithmetic) plus a list of good living books was the best type of education for a kindergartener. That is just what Tapestry authors suggest as well in the introductory material of Primer. Tapestry Primer also offers the tools for just that – good books, how tos, a simple "take you by the hand" leading for not just kindergarteners and first graders – but the focus is also on teaching the parents how to homeschool!
Those families with their eldest children in kindergarten or first grade can start with Tapestry. And it is a beautiful tour! Tapestry Primer.

Our dialectic and rhetoric level students browse Tapestry of Grace assignments and resources with the digital edition on the iPad.
Tapestry of Grace Builds Independent Learners
Tapestry builds independent learning habits with the way it is structured. What a blessing this is!! Isn't this our goal as homeschoolers? As parents? By the time my children reached high school/rhetoric level with Tapestry of Grace, the majority of the time is made up of independent learning.
We have a weekly homeschool planning meeting with all our ages. At that meeting we sketch out the sort of rough schedule that we will follow so we can concentrate on history, literature, writing, geography. Of course, we also talk about what we are studying all throughout the week. In addition, I'm also reading aloud with the younger ones – all of the children end up gathering around for that. Sometimes we choose one literature or history spine that interests all the ages.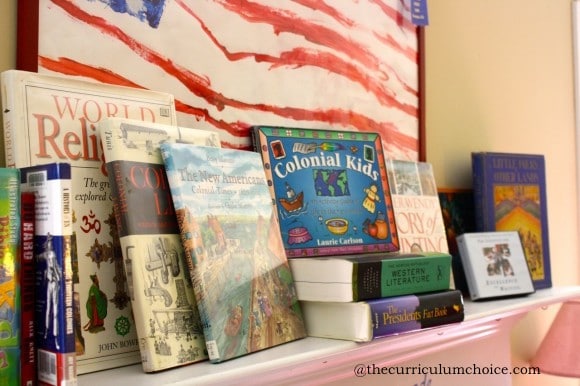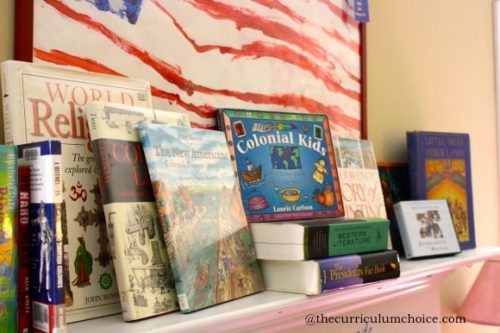 I detail our planning process in How To Plan Tapestry of Grace for Multiple Ages and Levels. (And sometimes it is simply having those fabulous books within sight that keeps us on track.)
So, in summary, I'd say Tapestry of Grace can be teacher intensive on the front end – learning Tapestry and how it works for your family, gathering resources to have available in your home. But for the older grades, not as teacher intensive and much more independent learning simply because you have built that habit throughout the upper grammar and dialectic years. And because Tapestry of Grace builds your confidence as the teacher.
Tapestry for the Teacher
Here is another blessing. I am continuing my education right along with my children. Not only learning how history is HIS story but also through the coaching available from Tapestry of Grace authors.
Love the Journey is a book by Tapestry of Grace author, Marcia Somerville. This book is at the top of my Shape Your Heart for Homeschooling stack. One I will return to again and again in the summers in between school years. When I need some encouragement from a mentor. When I need to be reminded of my goals and purpose. My homeschooling and mama heart has been blessed right here while wrapping up a school year and starting in to planning another. This is a book to reference – read once and then pull out again for a boost. (My review of Love the Journey).
Not sure? Try Tapestry of Grace
Just give Tapestry of Grace a try for free. That's what we did! I downloaded the FREE three week mini unit from Tapestry of Grace and we enjoyed it one summer. Using the unit helped me to see how it could work – how it did work for us! Maybe exploring now, this summer, getting your feet wet with the journey that Tapestry of Grace offers, is just the adventure you've been searching for!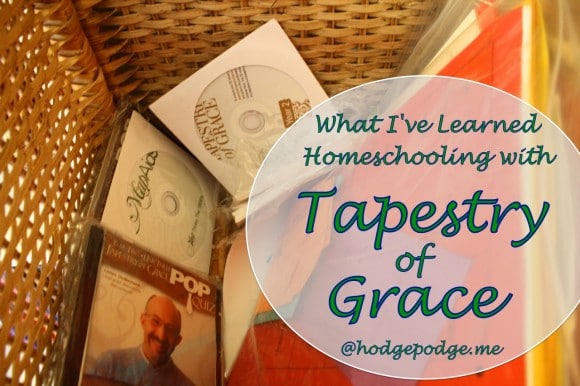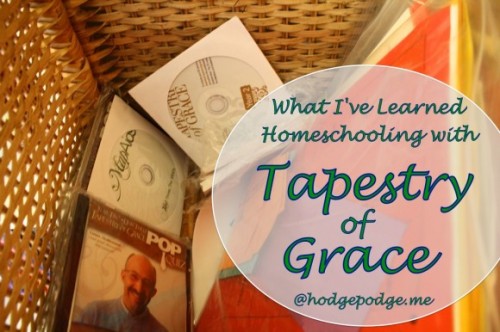 I have an extensive list of all those things I have learned homeschooling with Tapestry of Grace and a tour of answers to frequently asked questions. One of those wonderful benefits of homeschooling is continuing to learn right alongside your children. History, a love of art, composers, nature study. I just love continuing education (for me – the teacher!)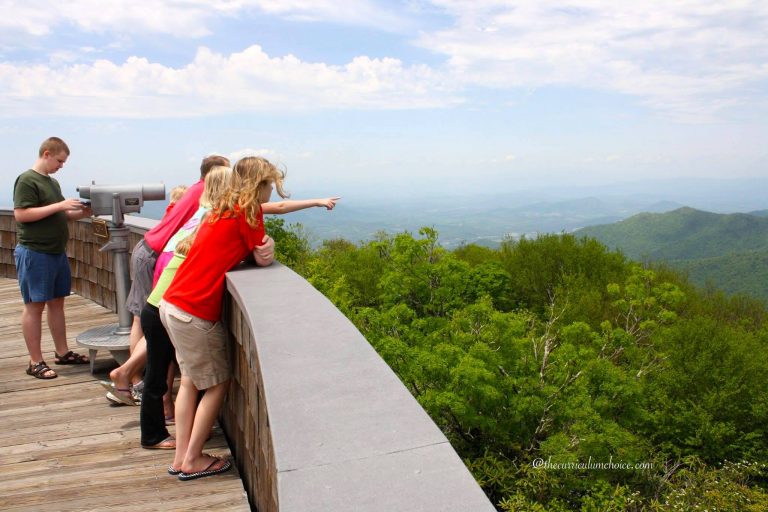 And this is getting way too long for me to mention all the field trips and family adventures Tapestry of Grace inspired… but watch for it! I'll be back next month with an updated review of Tapestry of Grace.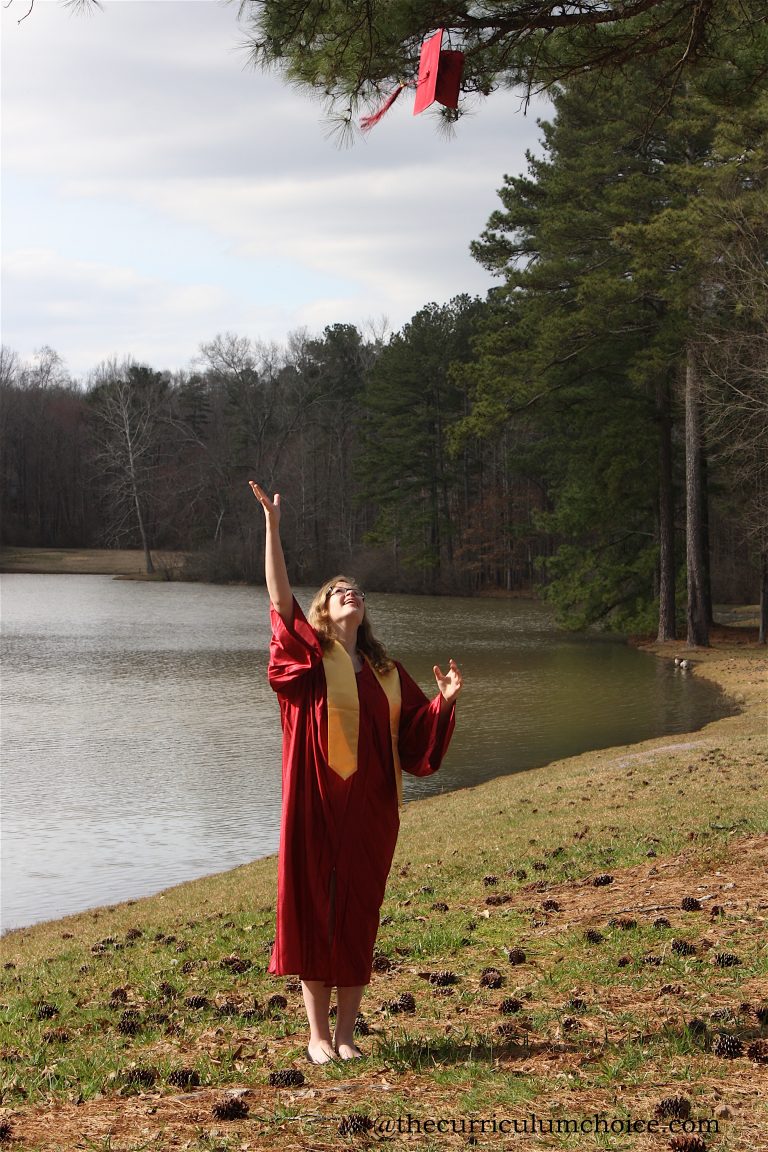 Our first homeschool graduate!
More Homeschool Encouragement
Before You Buy Curriculum: This webinar uses material from Love the Journey to help families guard against "curriculum buying disorder" by offering practical tools to help them think through their family goals before they buy any curriculum.
Teaching Styles and Learning Styles: This webinar explores some of the different types of teachers and students, with tips for each on how to balance their strengths and weaknesses.
What Curriculum Will Work for You: This webinar stresses the need for each family to develop its own goals before going out to buy curriculum, but then goes on to outline some of the basic "genres" of curriculum options available.  Using Love the Journey materials, it focuses on describing what is "out there" (classical vs. textbook-based vs. etc.), then explaining the pros and cons of each.
Tapestry of Grace Facebook Party
Don't miss it – June 21, 2016! Tapestry of Grace and I invite you to a Facebook Party and giveaway! Here are some details: "At this event we will explain Tapestry and Primer, answer questions about them, and offer free three-week samples, as well as free copies of the Map of the Humanities and one free giveaway copy each of the Big Story Game and Love the Journey!"
What about you? Have you considered Tapestry of Grace? What questions do you have? I highly suggest you give the three week sample a try!
Save