More than five years ago I shared with you that Tapestry of Grace was the homeschooling fit for our family. When we started with Tapestry of Grace, my eldest child was in fourth grade. She has now graduated from our homeschool. I now have the perspective of the years of rich education Tapestry has afforded us. So here is a Tapestry of Grace update.
"Have you found a curriculum you and your children absolutely love? One that is a perfect fit for everyone's learning style? A nice match for the age range of your household? That, my friends, is how I feel about Tapestry of Grace." My original review, 2011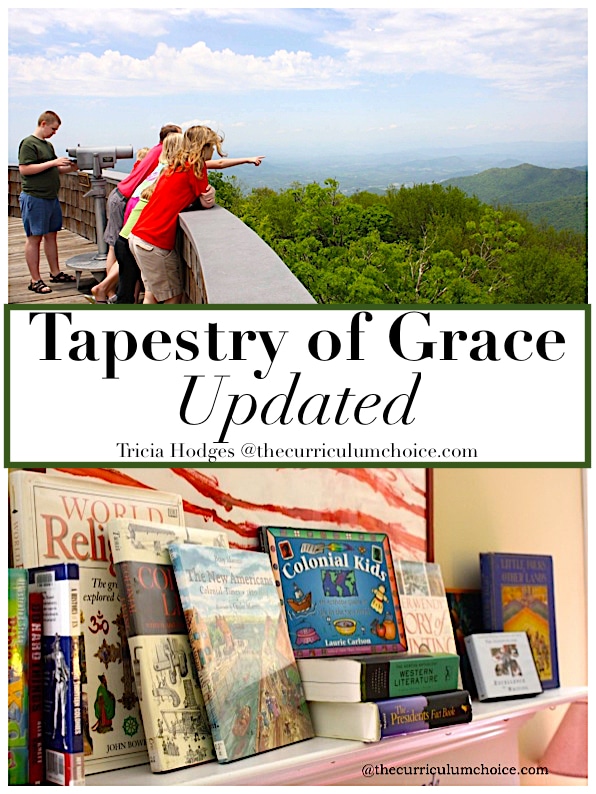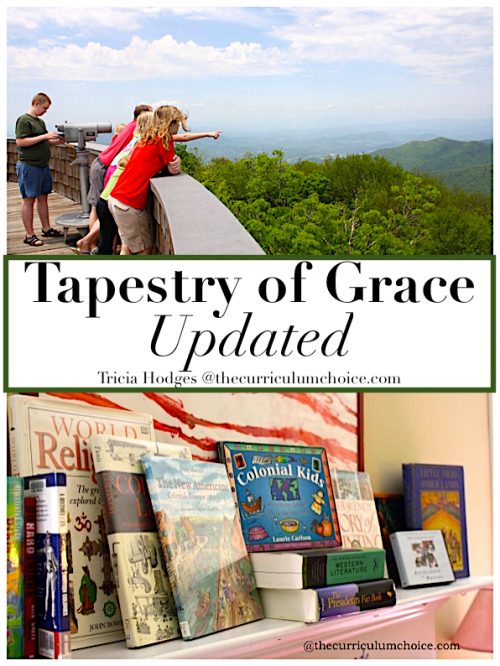 Tapestry of Grace Update
~Don't miss the link to a free Tapestry of Grace curriculum download at the end! Tapestry of Grace sponsored this post and all opinions are my own. I have been sharing about Tapestry of Grace through the years and how this curriculum has blessed all our ages! How grateful we are that we found this resource early in our homeschooling. Please see our disclosure policy.
Tapestry of Grace is a classical approach, Biblically-based, unit study curriculum for the whole family. Tapestry covers eight subjects. Everyone learning together – each child on their own learning and skill level. Here are the subjects Tapestry covers:
History
Writing
Literature
Geography
Fine Arts
Church History
Philosophy
Government
So you need to add: Math, Grammar and Science
Plus I share a full description of all the optional Tapestry of Grace supplements. We used a lapbook for a unit review and Writing Aids is one of my favorites…
Have we continued to find this true? A whole-hearted yes! We really like to stick with what works.


We are sticking with Tapestry of Grace! There are so many benefits. One is how it inspires field trips! Our second time through Year 3 coincided with the 150th anniversary of the Civil War on our Georgia soil. We made a list and we went on many wonderful, learning-filled field trips, stood by the big cannons, witnessed reenactments. Civil War Field Trips and Resources.
Help Tame the Chaos of Homeschooling Multiple Ages
I've always said that I face a daily dose of chaos homeschooling five children. Tapestry of Grace puts us all on the same learning road. That is very important in a household with multiple ages. That is very important for mom's sanity! Because we are all learning together we don't have the stress or the financial burden of multiple subjects on many different grade levels. I still feel strongly about this five years later.

Look at all of those reading options for all of our levels!
Tapestry of Grace Update for Different Learning Styles
With all the many learning approaches, Tapestry continues to meet the needs of all our students with different learning styles. Those that learn by reading can settle down with a stack of books – no limit! My auditory learner can listen to audio books. My hands-on, kinesthetic learner spreads everything out, makes a display board for a book report – or puts together the supplemental lapbook.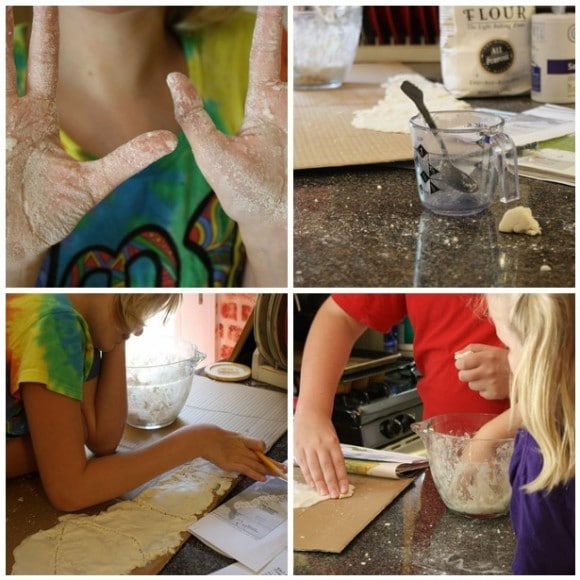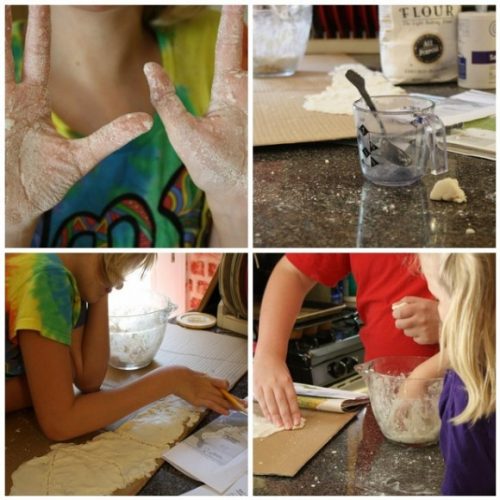 Plus, everyone loves the arts and activities. Like a salt dough map! Don't you have a large map of the 13 colonies or Italy on your kitchen counter?
Tapestry is a Smorgasbord
This is most definitely still true! —> We never finish up each and every assignment for the week. This curriculum serves you and your needs, matching the season of your life.
There is truly no reason to stress over any unchecked boxes. Because some weeks you dig deep into learning, some weeks you skim. That is life!

As our children moved into the dialectic and rhetoric stages, they began looking up and reminding themselves of their assignments on the iPad with the digital version of Tapestry of Grace.
Tapestry of Grace Update – Grows with Your Family
Multiple high school credits with one curriculum? Check! Independent learning and fantastic discussions at the dialectic and rhetoric level? Absolutely.

Print or Digital?
We started out in Tapestry of Grace Year 3 with the print version. But for cost effectiveness we moved to the digital version for the remainder of the years. It is easy to scroll exactly to the week you need with the digital version.
Frugal – Plus, once you purchase a unit or a year plan, you will cycle back through it with your children as they get older. Lower grammar, upper grammar, dialectic and rhetoric.
Where to start? We started with Year 3 because that is simply what appealed to our family. The 1800s with a focus on American history. I suggest you do the same – start with the year of study you and your children are most interested in.
Tapestry of Grace Update Summary
This is still very much true! "Tapestry brings us all together for learning. As a family we are learning history – HIS Story – beginning with creation and leading to present times. And, when we are all learning together that means less work for mom. I'm not teaching those eight subjects times my five children. I'm teaching them once. Tapestry reaches the needs of all my children and gradually builds independent learners. All it takes is a few steps into the buffet of options available each unit, and the children are off and running on their own."
Is Tapestry of Grace for You?
It doesn't hurt to try. That's what we did one summer. We downloaded the free, three week unit study trial and we started our journey. This is truly the very best way to see if Tapestry of Grace is a fit for your homeschool.
Don't miss last month's post: Tapestry of Grace Through the Years with Multiple Ages.
After a decade with Tapestry of Grace, I am so grateful to have been introduced to it by another Tapestry of Grace family. And I extend that same invitation to you. It's an amazing learning journey!
Homeschooling since 2000, Tricia faces a daily dose of chaos with five children. She shares a mixture of art lessons, recipes and helpful homeschool habits at Hodgepodge. She and her husband, Steve, are owners of Curriculum Choice.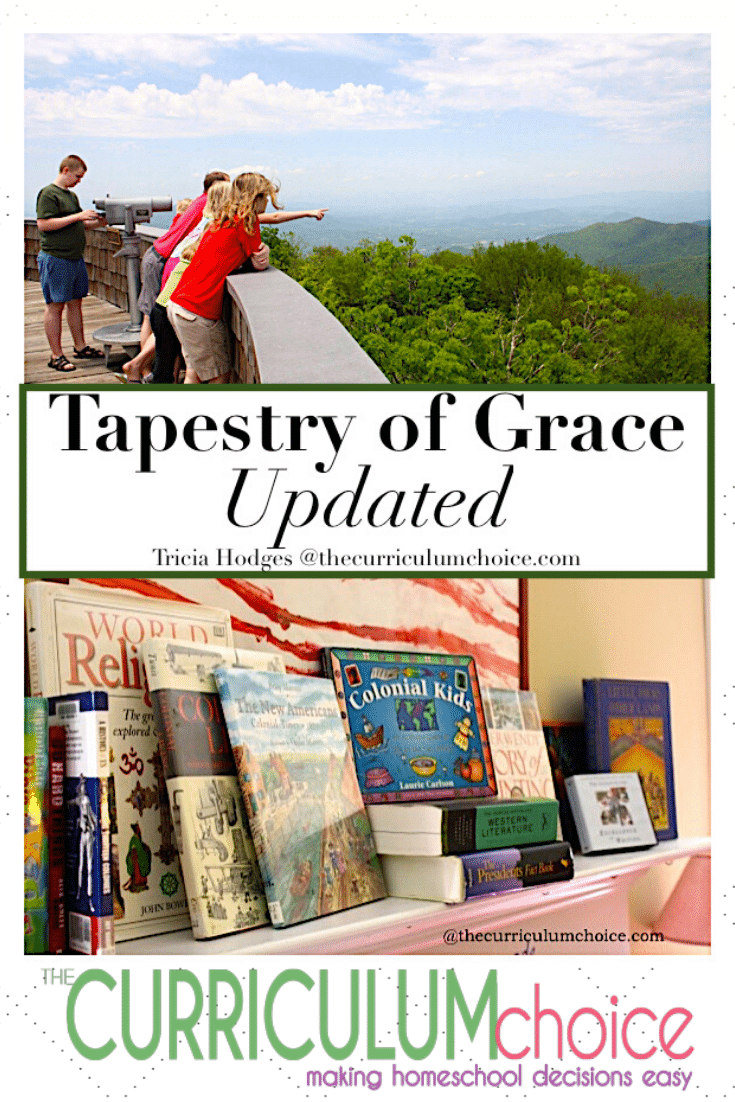 Save
Save
Save
Save
Save
Save
Save
Save
Save
Save
Save
Save
Save