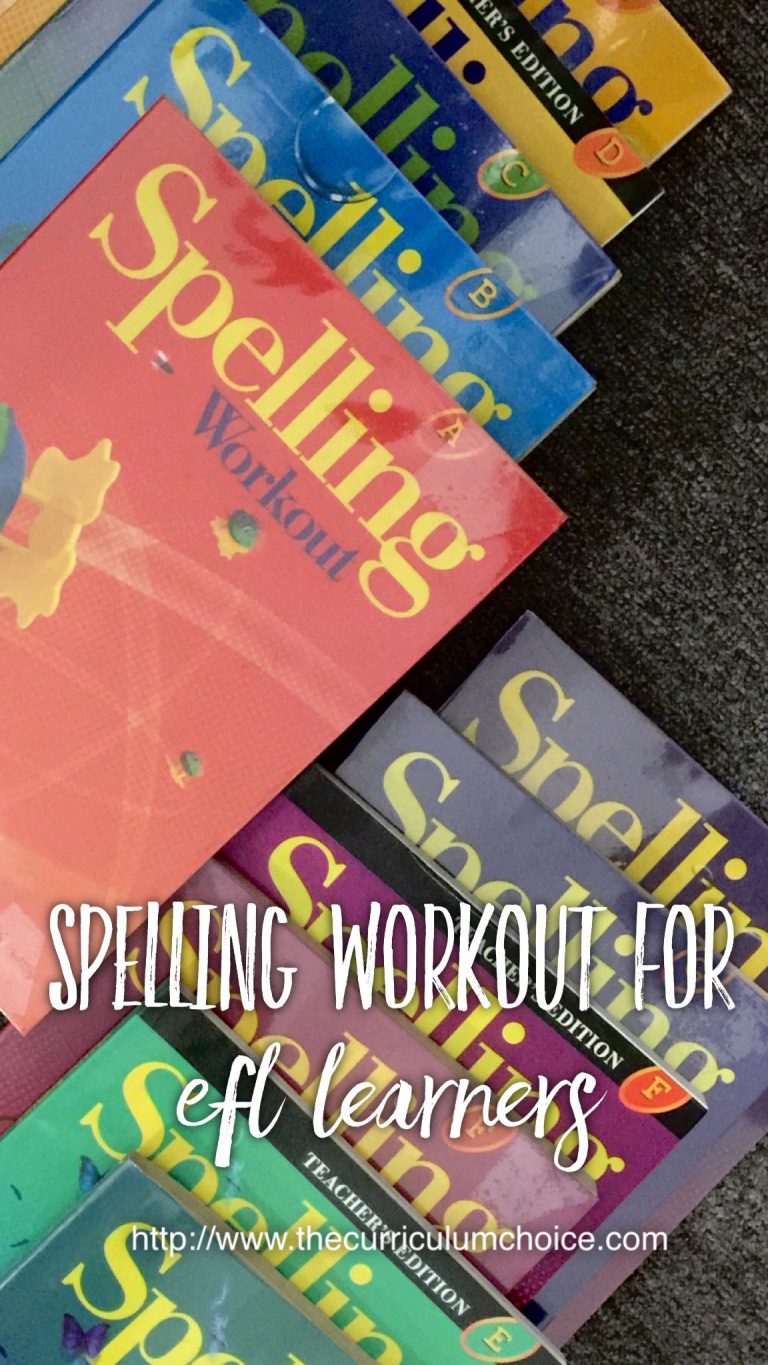 Find out how to use Spelling workout for EFL learners in homeschool for solid structure and content.
English is not our native language. We learn English in various ways. Last month, I just shared about our grammar curriculum. Today I would like to share about the spelling curriculum we used in our first year homeschooling children, Spelling Workout. We use this curriculum as it is recommended in The Well-Trained Mind: A Guide to Classical Education at Home (Third Edition).
Well, actually EFL (English as a Foreign Language) learners are not familiar with spelling, but we are familiar with vocabulary lessons. However, I just feel memorizing the words one by one has never worked well with me. I was looking for a curriculum that can help us to learn the pattern of the sound and written letter (phonics). Phonics materials are usually for early elementary leveled children. We started with 3rd and 4th graders at that time, so I was looking for some phonics with smaller letters and less picture resources.
Spelling Workout for EFL Learners
There are eight levels of the Spelling Workout Series and each of level consists of both student and teacher editions. The levels we have worked on are Level B to Level E. There are 36 lessons in each of the levels, with Review Lessons after five regular lessons.
Level A has different lesson structures compared with the other levels. From lesson 1 to 5, it has the very basic of Sounds and Letters, Beginning Sounds, and Ending Sounds. Start from Lesson 6, the common structure is applied. Both Level A and B have manuscript word lists, while the next levels have cursive word lists.
The Lesson Structures
From Level B to Level F, there are three parts of each lesson:
Spelling Words in action
There is a short reading that includes the word lists in the lesson. There are a couple of questions in the reading related with the main idea of the text and the sound recognition of the featured words.
Spelling Practice
There are three sections in this part. The first section introduces the patterns by asking learners to classify and to copy the words from the list. The second and the third sections are varied like puzzle, alphabetical orders, scrambled words, classification, synonyms, antonyms, missing words, rhyming, definitions, comparing words, word building, rhyming, dictionary, word search, complete the paragraph, scrambled words, word parts, etc.
Spelling and Writing
There are two sections in this part: proofreading and topic-based writing using the listed words.
From Level G and Level H:
These levels are intended to the 7th and 8th graders. Both of them have more sections in the spelling practice part. There isn't reading in the Spelling Words in Action. Both of them give some review to the sounds and spelling patterns with some Latin and Greek Roots.
How We Use Spelling Workout for EFL
We use Spelling Workout Levels B to Level E 5 days in a week and here is the pattern:
day 1 – We read the Spelling Words in Action and have a dictation to 10 sentences.
day 2 and day 3 – children do the spelling practice independently with some help in introduction to the patterns, instruction, and correction.
day 4 – children do the spelling and writing and I check their work in the end.
day 5 – final dictation.
What We Love about Spelling Workout Spelling Curriculum
It has teacher books.
I didn't use the teacher's book we did level B and C as I didn't know that there were teacher's books. The Teacher's Editions have everything that we need, including all the sentences for dictation and other reviews. I don't think I can handle the more difficult levels without the teacher's edition, I confess.
Children can work independently.
The spelling practice gives me more time to handle other children with different lessons and attention need. At the same time, children can work by themselves after I give very short explanation based on the book itself.
There is a dictionary at the end of the books.
In each of the level, there is a dictionary of words in the lists. We don't need to look up the thick dictionary for meanings.
Learning how to learn.
Spelling Workout doesn't only teach children to memorize words and meanings like what we have in almost all ESL vocabulary curricula. It teaches children how to spell a word or how to learn spelling since it is in the beginning level. The system is consistently used through the more advance levels.
The words are applied.
Spelling Workout is not just memorizing and writing down, but it asks children to use in reading, writing, and sentence structure through dictation.
Recommendation
I have never used other spelling curriculum other than the EFL curriculum that I don't really like. Therefore, we are happy with Spelling Workout for EFL. I purchased the series from Book Depository and Amazon.com.
You might also like Tricia's review of Spelling Workout to learn how this spelling curriculum can serve different learning styles.