In our three years of home education, I have tried just about every grammar program I have seen. With all that we have seen and used, I have decided that Charlotte Mason is the way to go with Grammar. We love one company in particular, but have so much copy work  with our main curriculum that I needed to find something that was Charlotte Mason friendly, without all of the picture study and copy work that most provide.
After much research, I decided on Simply Grammar, by Karen Andreola. When it arrived, I happily cracked it open and began to read.
First off, this curriculum is a revised edition of First Grammar Lessons , by Charlotte Mason. Karen does a fabulous job of giving a thorough, yet brief history of Charlotte Mason, and her teachings. You will also find recommendations for using the curriculum, and how to use it each week.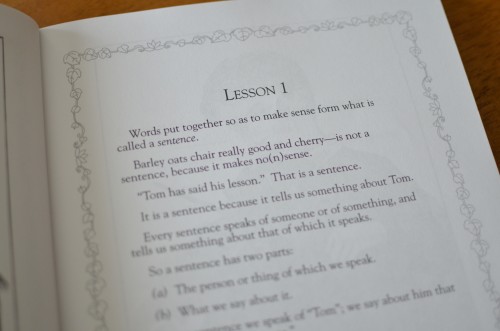 The lessons themselves are refreshing. They are simple, and get to the point. They can be used for any age, in my opinion. I have been using Simply Grammar with my kids who are above Kindergarten. Even our 14 year old is learning things that he never grasped  in public school.
We take one concept each week and break it into pieces, which is great to really cement what your children are learning. The kids love the fact that we are doing the book orally, we just sit together on the floor as I read the lesson, and then each child takes a turn (or more) giving their example.
The price for this curriculum is great, at $20 or less, depending on where you are shopping. Consider that the book is non-consumable, and the savings just get better. $20 for 4 kids this year, and 5 the next. I think it is a steal!
If I could change one thing, it would would be some of the wording. My children are not Victorian, and that is how I feel it sounds. I have to remember to go in and read the lesson ahead of instruction so that I can change the wording to be relevant to our use of language. Otherwise my children will be left scratching their heads.
If you are looking for a living curriculum that is solid, won't bore you to tears, or take all day to complete, I would suggest you give Simply Grammar a try.
You might also enjoy Cindy's review of Simply Grammar!