Do you hesitate to introduce Shakespeare's plays because you think your children aren't old enough? Do you think it would be too confusing, or that they might form an early dislike of the world's most famous plays? Let me encourage you to give it a try! Introduce your children to Shakespeare.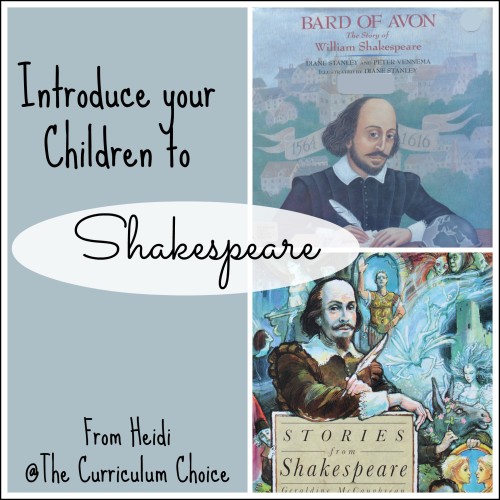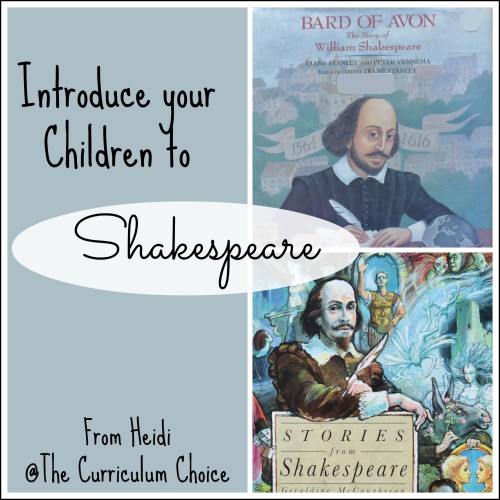 My eight-year-old son and eleven-year-old daughter have both enjoyed their experience getting to know history's greatest playwright using these two wonderful books.
Introduce Your Children to Shakespeare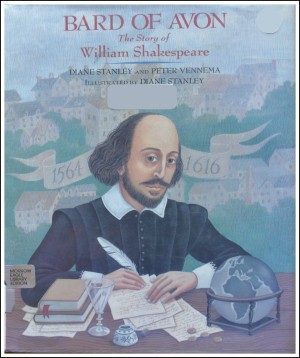 This delightful picture-book biography is not only an introduction to Shakespeare the playwright, but also gives a lot of background information on his life and times and the plays he wrote. These are my favorite features of the book:
Although written in story form it doesn't over-embellish.  The authors are quick to point out what information isn't known, like what job Shakespeare had for a period of time.
I can't say enough about the wonderful background information: political and cultural influences (like Queen Elizabeth and the Puritans), why plays were such a valued from of entertainment, and even what it was like to be an actor or attend a play.
The full page illustrations share wonderful information as well, many including scenes from Shakespeare's plays.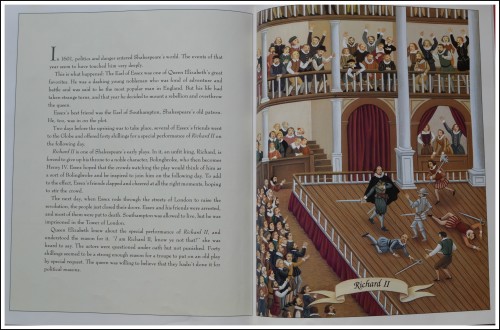 The text not only shares the names and basic story lines of some of his plays, but also details the types of plays he wrote and factors that affected his writing (local or personal events, actors available for parts).
A fascinating postscript contains more historical details of the time period: things like the fact that there was no standard spelling in those days and words and common phrases that Shakespeare invented.  He even spelled his own name six different ways!

Stories from Shakespeare by Geraldine McCaughrean
Unfortunately this book is no longer in print, but check your library and used book sales. I've used other adaptations of Shakespeare's stories meant for children, including those by Charles and Mary Lamb, but this book is my favorite. Why?
The lovely watercolor illustrations add to the emotion of the stories.
The story lines are fairly easy to follow, even for young children, yet the author still includes the well-known characters from the plays.  Despite being abridged stories, my children were still caught up in the drama of the plots.
Probably my favorite feature is the direct quotes from the plays included in the side margins–these would be perfect for young children to memorize.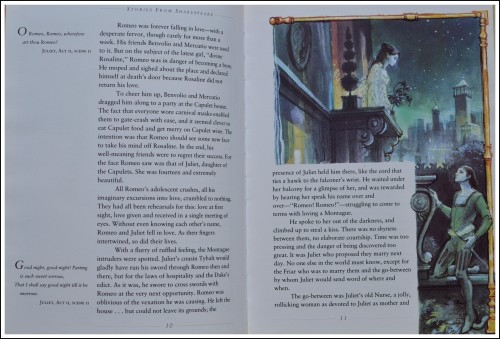 The best part is that after reading the adaptations, both my children watched and understood full Shakespeare plays. I encourage you to introduce Shakespeare and you just might spark an early love of his outstanding writing!
Heidi homeschools her two children in Maine using an eclectic mix including Charlotte Mason's ideas, quality literature and hands-on learning. She strives to show her children that learning is an exciting, life long adventure. She shares their experiences on her blog, Home Schoolroom.

-originally published April 2014
Save
Save
Save
Save