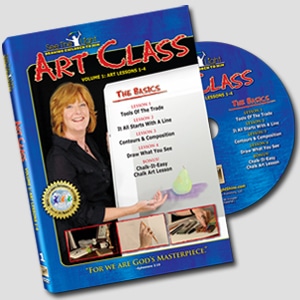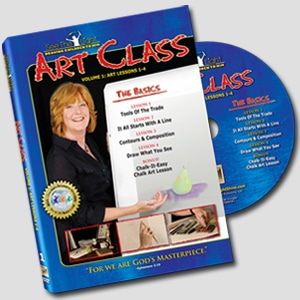 I love art, but have no real training in it.  I believe my children need to learn art techniques, but I can't afford $60/hour lessons at the local art studio.  What's a homeschooling mom to do?  Well…I had the blessing of reviewing lessons 1-12 of See the Light Art Class DVD's and found them to be full of solid instruction at a reasonable price.
Before I even begin telling you about the lessons, you ought to know the film quality is very good.  That means a lot to me considering so many DVD programs I review leave a lot to be desired in quality.  No need to worry with these!
The complete first year program consists of 36 lessons, meant to be taught once per week.  The teacher has an engaging personality, gives clear directions, and models lessons at an appropriate pace – all important aspects allowing my children to stay focused.  And, she teaches lessons incrementally, meaning each new lesson expands on a previously learned skill.
Technique and art vocabulary are key components in the lessons, as well as learning how to effectively use various art media.  Even though the lessons are simple to implement, they are in-depth, making art class a serious (and fun) venture.  Additionally, each lesson is wholeheartedly Christian, tying in Bible verses or mini-devotionals to the art topic at hand.
Students are encouraged to have their own "toolbox" of basic art supplies including #2 pencils, paper, a drawing pencil, charcoal pencils, a black Sharpie marker, colored pencils, a sharpener, a medium to large box of crayons, a large white eraser and a kneaded eraser.   Some lessons will include easily found household supplies, too, like two apples in lesson 3, for example.
Each lesson lasts approximately 15 minutes and it's assumed your child will put to practice some of the newly learned skills afterward.  I have used the lessons with my 6th and 9th graders, but even my five year old enjoyed taking part most of the time.
You can purchase all 36 DVD lessons in a bundle for $99.  (Yes, that seems high, but it's an entire year of art instruction.)  You can also purchase DVDs of four lessons each for $14.99 or get an online subscription which "unlocks" four lessons at a time for only $10 per month.
My children aren't the most artistically gifted kids you'll ever meet, but the lessons have really improved their skills.  If you're skeptical, try the first three lessons for free!