Science Unit Studies for Homeschoolers and Teachers
Ages 4-13 by Susan Kilbride
When we received Science Unit Studies I was so excited!  Multiple science unit studies laid out in one easy place to consult. For me, it's a simple way to add to existing curriculum or even step outside our lesson plans and enjoy a delight-driven topic.
The book is laid out in an easy to read format:
There are 20 chapters broken up by general age group and by topic.
The first ten chapters are geared more for the age groups from 4-7 and the second half of the book is setup for age groups 8-13.
We enjoyed dabbling in both age group areas and found them to be easily edited to suit our needs.
(If you are looking to make these work for High School levels though, additional resources would be necessary.)
Science Unit Studies made it easy to get organized and was cost effective. I rarely had to run out to buy something specific for a unit. Each topical chapter begins with a suggested materials list for the unit, most of which I found in our home (like rubber bands, salt, sugar etc.) or a school supply we typically have on hand as well (such as scissors, drawing paper, and the like).
Each topic within the unit study typically began in an introduction with a brief fact or story to tie into that topic. The introduction was almost always followed by a hands-on, FUN activity  reinforcing the unit theme.  We especially enjoyed the Health unit. The children learned all about their teeth. We explored making tooth powder – which used to be what most people used for toothpaste. We made models of a jaw. We had a delightful time "loosing teeth" in accordance to the chart provided in the book, (or amended slightly to include one child's journey thus far).
We had more fun with this science unit than we have had in a long time and the children still talk about what they've learned.
There are really very few cons worth mentioning. The small stuff far outweighs the fun, educational time to be had here. There is one small caveat to point out.  The book does have a brief reference to the "millions of years" point of view in the dinosaur unit study area. However, I found it easily edited out and non-distracting. For those looking for a specific world view, aside from the above mentioned reference, the book seems to keep it neutral.
At only $16.95, I found Science Unit Studies for Homeschoolers and Teachers to be a fine addition to our curriculum.
You can visit Susan Kilbride's website "Fantastic Unit Studies" here to find links to purchase as well as additional details on the book.
Her website also offers a FREE trial of the Plant Unity study for ages 4-7 and a FREE Atoms and Molecules unit study for ages 8-13.
FREE Bonus!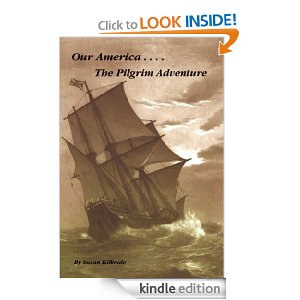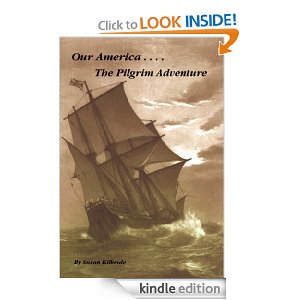 Author Susan Kilbride has a Kindle version of her book, The Pilgrim Adventure, available for FREE download at Amazon. But you have to hurry. It's only available for free through today, July 26, 2012. For those who don't own a Kindle, Amazon has free apps so that you can read Kindle books on your computer or other readers. You can find the link to the free Kindle version of The Pilgrim Adventure, the free Amazon apps as well as free activities on this page.
~ Written by Diana