We have a shark lover in the family. Our littlest girl has continued a study of sharks – especially hammerhead sharks – since she was a kindergartener. She picked up an Extreme Sharks book with a birthday bookstore gift card and has been devouring books on the topic ever since. That's when Apologia Swimming Creatures of the Fifth Day came into our lives.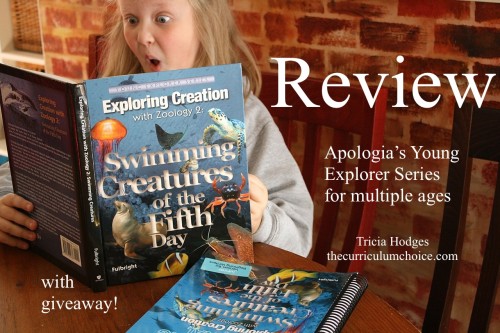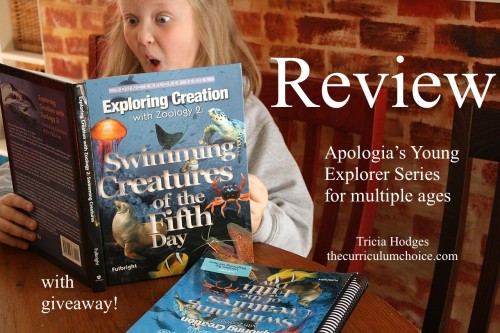 We received these Apologia Young Explorers Swimming Creatures of the Fifth Day resources in exchange for an honest review. All opinions are our own and we love the benefits and blessings we are continuing to see from this multi-age study. Please see our disclosure policy.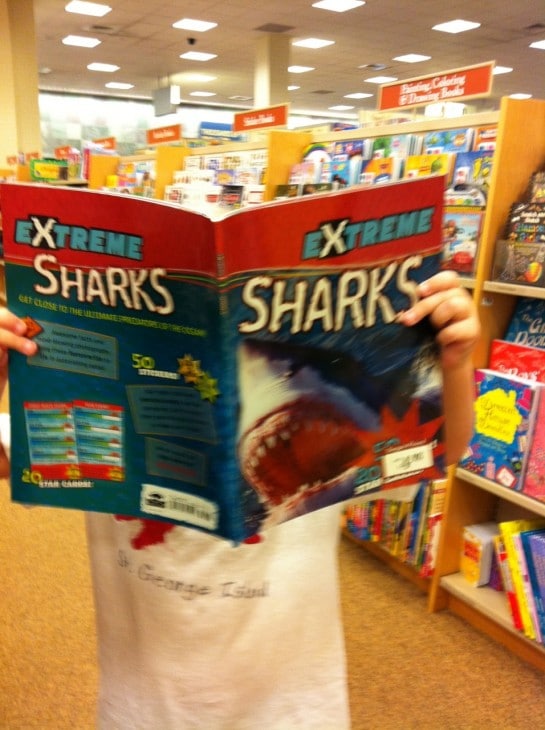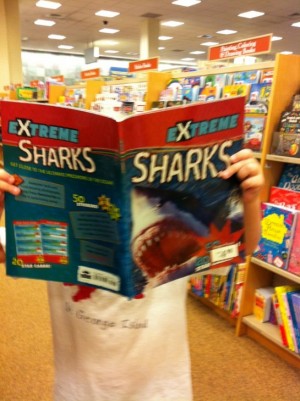 She put together a science fair project entitled Question: How are Sharks and Humans Alike? Different? (which she won a first place ribbon for – and top honors overall for the entire science fair!) We even went to the local Georgia Aquarium for her sixth birthday.
Apologia Swimming Creatures of the Fifth Day
I share all that background so you will know that when it came time to choose a science course for our high schoolers, we thought, "Why not marine biology?" And why not make a family study of it? And so we did. For our elementary ages we are enjoying Exploring Creation with Zoology 2: Swimming Creature of the Fifth Day. We gathered resources and have been learning about marine biology with all our multiple ages – a kindergartener, 2nd grader, 6th grader, 9th grader and 10th grader.
If that sounds complicated, it's not. Doing our studies together means less work for mom! Plus, the younger ones build the excitement for the older children and the older children help the younger ones learn as well. Apologia provides the educational materials to spur us on and make it happen!
Our Homeschool Studies Include These Apologia Resources
We are enjoying these resources for our youngest three children together. I'll be sharing a review of the high school level resources in the near future. Today I want you to know about:
This text uses an immersion approach. "A child that has focuses on one subject throughout an entire year is being challenged mentally in ways that will develop his ability to think critically and retain complex information."
The Young Explorers series of Apologia texts, like this Swimming Creatures of the Fifth Day, have these components:
Lessons
Narration
Notebooks
Projects
Experiments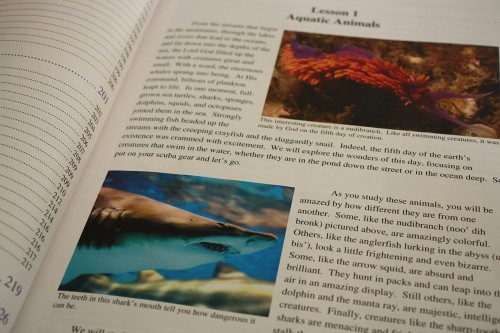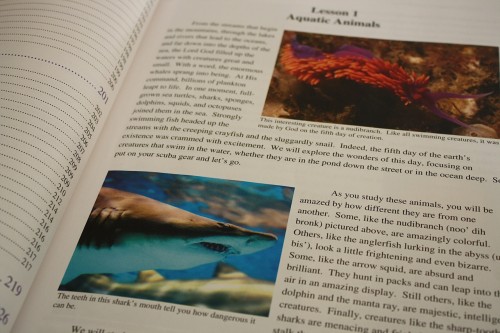 Which also includes:
Instructions for the teacher and a suggested schedule (e.g., a two week schedule for each lesson: reading and notebook assignments during the first week and the experiments and data recording during the second week).
Gorgeous photographs of sea creatures with interesting facts in the captions
Aquatic Animals
Whales
Seals and Sea Cows
Aquatic Herps
Primeval Reptiles
Fish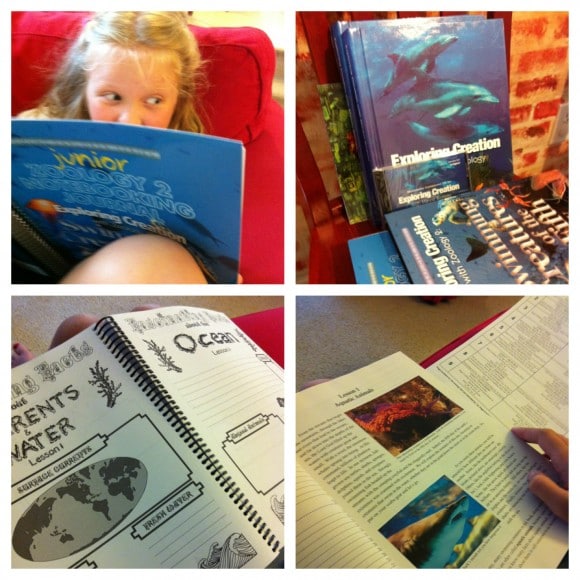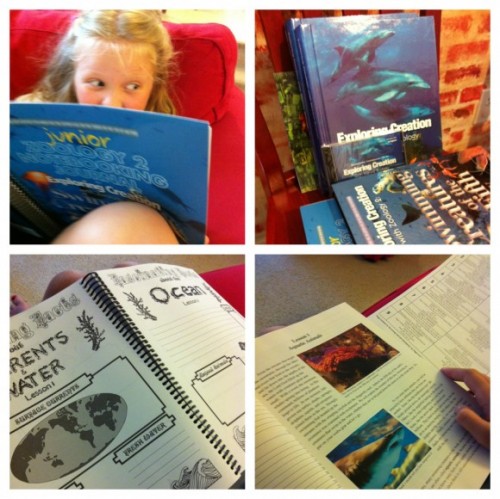 Sharks and Rays
Crustaceans
Mollusks
Cephalopods
Echinoderms
Cindarians
Sponges
Prompts for the student to complete the accompanying notebook pages
What do you remember? discussion questions
Suggested project or experiment
Do you know what is the very best for the teacher? All the pages are in one spot. This is a spiral bound notebooking journal.
Take it with you in the car, pull it out at the kitchen table.
The contents follow along the studies of the textbook.
Bible verses on all coloring pages.
Pre-lined notebooking pages.
Vocabulary crossword puzzles.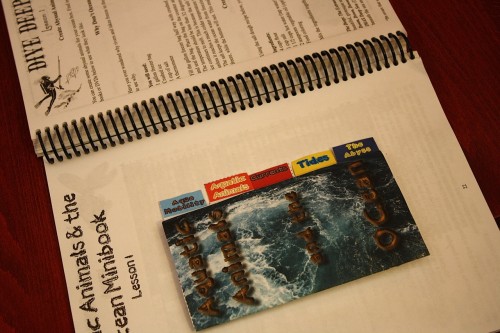 Directions for swimming creatures' projects including lapbooks, mini books.
scientific speculation sheets.
Jr. Zoology 2 Notebooking Journal
Lined notebooking pages for beginning writers.
coloring pages
puzzles!
copywork, vocabulary stories
minibooks, mobiles and fun projects
pages for zoology drawings and zoology field trips
premade, color cut outs for projects
scientific speculation sheets.
What Age is the Young Explorer Series For?
We are using Zoology 2: Swimming Creatures of the Fifth Day with our K, 2nd and 6th graders. "The elementary series is designed for grades K-6."
How We Use Apologia's Swimming Creatures of the Fifth Day in our Homeschool
I have found that I can be very flexible with these resources. We use them for:
Read Aloud Time – even though our eldest two are high schoolers and have their own Apologia Marine Biology text, reading the sections aloud together is a huge benefit. Someone always has something to share that we all benefit from – a thought or a fact just recently learned.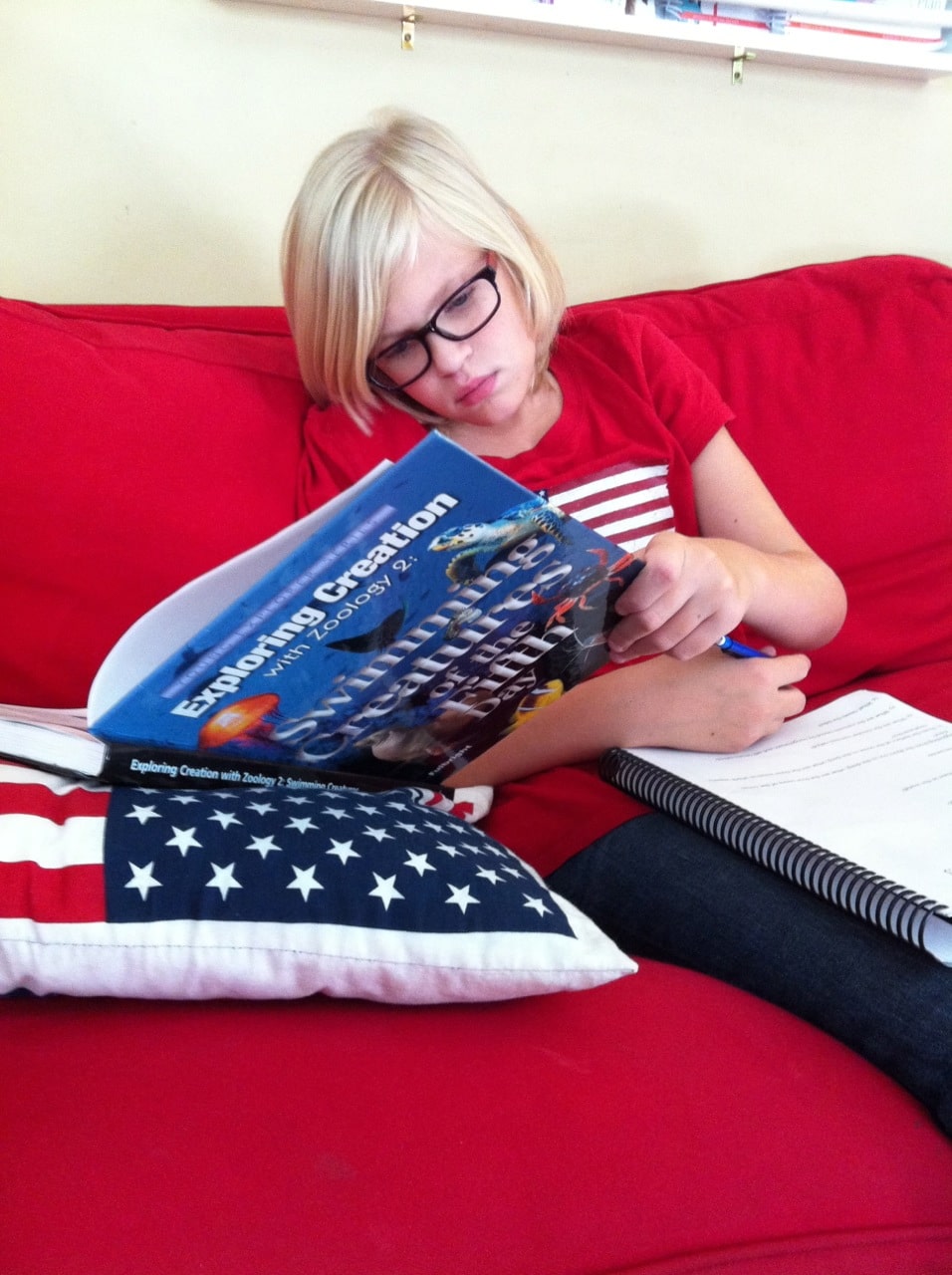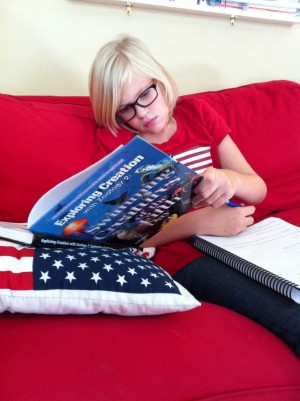 Independent Reading – my sixth grade, middle schooler can pull the textbook off the shelf and read her lesson – and even sometimes read ahead.
What We Love About Apologia Swimming Creatures Studies
"I LOVE the copywork!! The notebook is the best! …now I get to do it in cursive!" ~6th grader
I love everyone learning together. Discussions about zooplankton, abysmal animals, tides over afternoon ice cream – unprompted.
"I love learning about all the creatures and making them in the ocean box!" ~ 2nd grader
Let heaven and earth praise Him, the seas and everything that moves in them. Psalm 69:34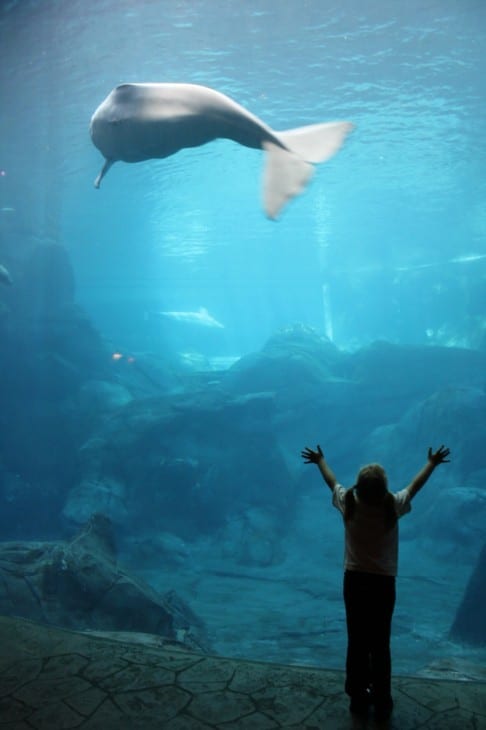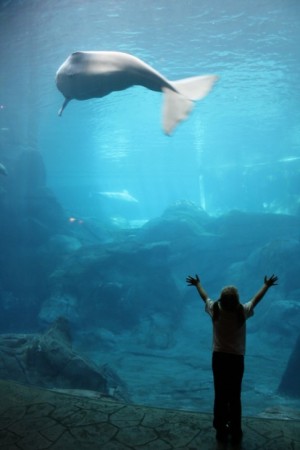 You might also be interested in how we are incorporating field trips to the local aquarium and the full list of our marine biology resources for multiple ages.
Where can you find the Apologia Science Young Explorer series?
Find each of the titles at the Apologia website. There you can view experiment materials, lab list, FAQs, sample notebooking pages and more.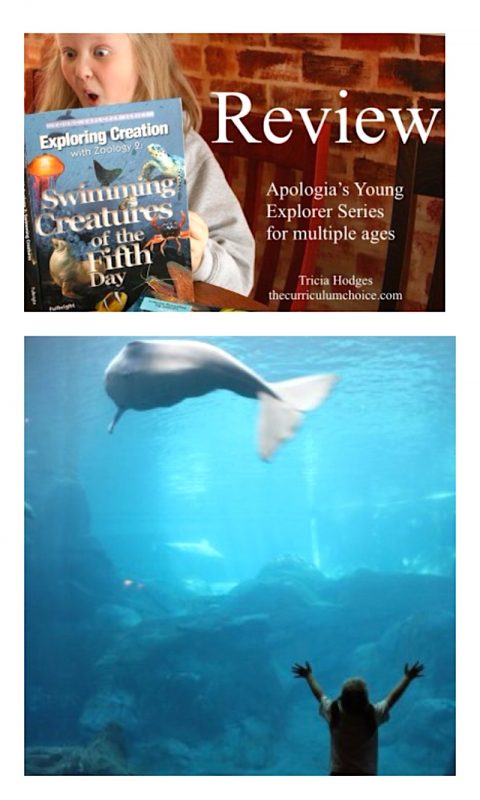 Be sure to check out my Apologia Marine Biology high school course review.
Homeschooling for over seventeen years now, Tricia faces a daily dose of chaos with five children. She is author of You ARE an artist art curriculum for all ages and helpful homeschool habits at Hodgepodge. She and her husband, Steve, are owners of The Curriculum Choice.
-originally published 2013