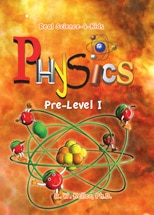 I ran across the Real Science 4 Kids while attending our local curriculum fair this year.  Right from the start I was attracted to the colorful, yet informative, hands-on learning style.  I didn't pick up a copy at the time mainly because I really wanted to see what was out there and approach the pros and cons.
In the vast array of options, I really thought I wanted to do Apologia for our first grade.  However, after delving into that a bit, I discovered that it really isn't geared for the younger aged kids, at least from my perspective.  I felt it would take more work to bring it down to their level than I really wanted to commit to, so  I returned again to Real Science 4 Kids.
Fortunately, I found the Gravitas Publications website.  I went about doing the proper due diligence before committing to a purchase.
Things I found I loved about the curriculum:
They have a true K-3 grade option. It's called their "Pre-Level" and it's available in all of their subjects!
FREE lesson plans! Included for each subject and available for download directly from their website. You can download it for free without a single purchase, which I found super helpful for me to see the inner workings and intentions of the program.
They offer a club Lifetime Membership which gives you full access to additional resources like online testing,  additional experiments, e-library, audio talks and more. You only need to purchase it once as it is offered to be used for all age groups and all of your kids.
The student workbook is colorful, the experiments are fun, and the lessons are not too long.
They have a gift at taking somewhat difficult concepts and making them not only presentable for younger ages, but somehow applicable and memorable.
They have multiple ways of purchasing their curricula!

Purchase each item (Student  text, lab workbook & Teacher Edition) as a discounted book bundle or individually.
Elect to skip the actual textbook and download e-books in a part or whole elements of the curricula.
Or my personal favorite, you can choose to download the curricula a chapter at a time! I adore this idea because we don't have to purchase a full set to get going. I don't have to furnish a full purchase price initially and I am not "locked in"!  We can elect to do chapters from all of their different subjects! (They tie in together anyway).

The program can be extremely affordable! If you elect to do their e-book chapters, you can get the full chapter bundle for only $3.50!  The full set is $34.95 for e-book download, or $74.56 for the traditional textbooks.
They offer a chapter preview for free so you can try it out fully before you buy.
Real Science-4-Kids has a full set of real experiments using household items so you do not need to purchase additional kits or outside teacher resources.
MY cons:
The author created the curricula to appeal to all homeschoolers, so it is "Worldview Neutral".  A quote directly from their website sums it up rather nicely: "…. You won't have to spend time screening your science curriculum for references to God or evolution because Real Science-4-Kids focuses on the science…." For some of you, this may be a plus, but I really wanted a directly biblical science curriculum.
If you elect to save money with downloads, you will have to print some things from time to time which will ultimately cost more in ink and paper.
Ultimately, I have found that the curriculum will work for us a core to weave with what we have.  I will use this as our base science, and Epi Kardia's lesson plan to add biblical elements as well.  We love going to the library to expand upon our lessons with living books; which is exactly what we'll be doing with Real science-4-kids.