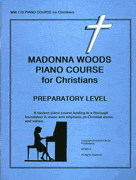 I had the pleasure of reviewing the entire Madonna Woods Piano Course for Christians from the Preparatory Level all the way through Level 5. The first question everyone always seems to ask is, "Will I really be able to teach piano to my children using this course?" My quick answer is, "Yes, I believe many people will."
If you have any sort of musical training at all, you should be able to use this piano course without any problems, taking your children from the very beginning levels of piano and music theory all the way to being able to play medium difficulty hymns. Even if you have no musical background, Mrs. Woods has done a wonderful job of walking you through the lessons step-by-step.
She has included with each piano book:
an audio CD with her speaking directly to the student that leads him or her through the lessons.  On the CD Mrs. Woods explains new concepts such as time signatures, note and rest values and hand placement.
a pull-out sheet of notes for each lesson that you might use to reinforce the concepts.
The pages in the piano book are all very clear with pictures when necessary to show hand positions or the names of particular notes on the keyboard.  Notes can also be found at the top of each lesson page for the student to better understand the concept being introduced. Even though this sounds a bit overwhelming, it really isn't at all. The CD and teacher notes are very easy to use, and the pictures and notes to the student are placed very neatly on the pages so the student isn't overwhelmed.
From the very first preparatory lesson, the student will be learning notes and playing simple songs. He or she will also be learning bits and pieces of music theory from the beginning levels. It's all introduced in a gentle and encouraging way so that the student should feel successful and capable after each lesson.
Review tests are found at the end of each level to test the music theory knowledge learned throughout the book. Also found at the end of some of the books are different glossaries or helps depending on the skills introduced in that level. For example, in level 1, you will find a dictionary of musical terms in which to refer. Piano recital pieces and a completion certificate are included at the end of the books as well. Mrs. Woods has placed a great amount of emphasis on the religious use of music and has included Christian hymns as much as possible in the lessons.
Depending on how much you know about music, this paragraph may mean a lot or a little to you. But, if the student completes the preparatory book and all five levels, they will understand such musical concepts as major and minor keys, triads, chords, and unusual time signatures like 6/4 and 4/2. They will have progressed to playing 16th notes and understand the difference between melodies and chords. Will they be able to sit down at church and play a hymn from the hymn book? I doubt it just yet, but that skill would be just around the corner.
When to start with your children? That I cannot answer. I couldn't find a recommended age level, but I've always been told that piano shouldn't start until your child's hands are big enough to span the keys comfortably. The entire course from beginning to end can be used either on a regular piano or a keyboard.
I found this to be a thorough program from start to finish. Mrs. Woods has put together a very encouraging, easy to follow piano curriculum that will see results if you and your child put forth the effort required. Just as with any piano lessons, learning to play well from this curriculum will take regular practice. I think what I like most is the fact that Mrs. Woods has painstakingly created a course that revolves around the Lord and how music should glorify Him.
-Written by Cindy, an eclectically Charlotte Mason mom of 3 from Central KY.  You can find her blogging at Our Journey Westward and find her nature study curricula at Shining Dawn Books.  This product was given to Cindy for the purpose of her honest review.