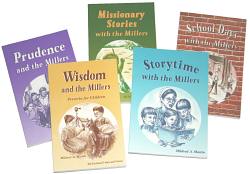 From the time my children were preschoolers, and even now, we have enjoyed the Miller Stories by Mildred A. Martin over and over again!
 
We started our journey with the Miller books by reading Storytime with the Millers. After gobbling up each and every story several times, we realized that the entire set would eventually sit on our bookshelf. And so it does.
 
Each book, besides Missionary Stories with the Millers, is filled with short stories about the fictional Miller family and the Biblical lessons they learn through everyday occurrences. A Bible verse is tied into each story and is used to help convey the moral message. Mom and Dad Miller are very good examples of parents who teach, rebuke, discipline and mold their children in a loving and kind manner. Older siblings, for the most part, are also characterized as good role models for their younger brothers and sisters. Of course, everyone makes mistakes, and the stories are very good at showing an attitude of repentance and forgiveness by each of the characters.
 
Even though the books come from a very conservative Amish-Mennonite perspective, I've found them to be very useful in teaching topics like trusting God, manners, friendship, obedience, respect, forgiveness, self-sacrifice and much, much more! Many of the stories are full of some excitement, too, which keeps the attention of my boys.
 
*In Storytime with the Millers the stories are focused a bit more on the younger child with lessons such as the importance of obeying your parents, how to gain friends, and learning to be responsible. We started reading this when my now twelve-year-old was three. (She still enjoys it!)
 
*In School Days with the Millers there are many lessons on friendship, obedience to adults, peer pressure, and other social situations children might face. Even though we don't attend a traditional school, our family very much enjoyed this book. There are many lessons for us to learn in spite of the schooling difference.
 
*In Wisdom and the Millers: Proverbs for Children you find stories that bring the Proverbs to real life. My children have always enjoyed relating the Bible to real events. Although the stories in these books are fictional, they give my children a realistic situation to see how the Bible relates. Proverbs is such a rich book of the Bible, and we found these stories to be rich, too.
 
*In Prudence and the Millers the family learns about making prudent, or wise, decisions. Of course, they often have to learn to make wise decisions the hard way (just like most of us!) These stories have led to some wonderful discussions around the supper table!
 
My most favorite of all the Miller series is Missionary Stories with the Millers. This book is written differently than the rest as it tells wonderfully exciting and REAL stories about missionaries. Some of the stories are courageous, some of them are sad, some of them are victorious – but all of them show God's power and work through the lives of past missionaries all over the world. This book is so good, I have even used it many times with children's classes at church. The children are always completely mesmerized from start to finish.
 
Although any age child will probably enjoy these, they are probably most appropriate for the K-5th crowd. The missionary stories can be rather intense at times, so use caution when reading to a sensitive child.
With prices ranging from $6.50-$10.50, depending on whether you prefer a softcover or hardcover, I believe the prices to be extremely fair. You can purchase them from many sources, but my favorite is Rod and Staff.
Written by Cindy, Eclectic Charlotte Mason Mom of Three.  You can find
her blogging at Our Journey Westward.