Are you looking for a fun way to teach science to your middle schoolers? Do you want something that is clearly written and also hands-on? When my daughter was in 5th grade, she wanted to learn all about rocks and geology. So, to add to our nature explorations, we went to our local teacher's store looking for Middle School STEM Activity Books and found a resource called Rocks, Minerals, and Fossils.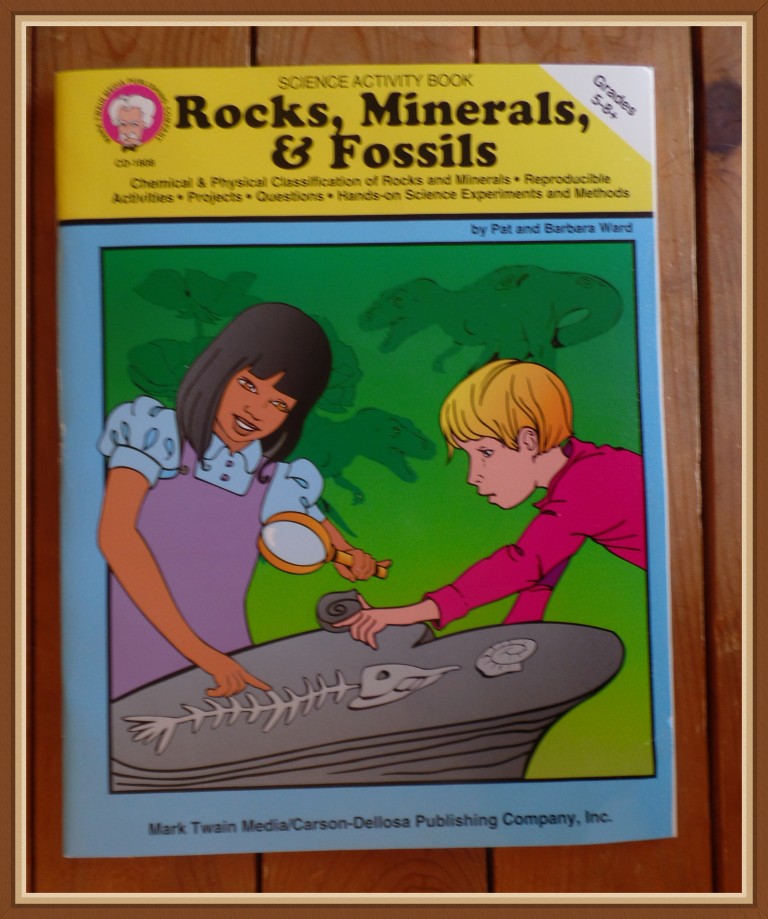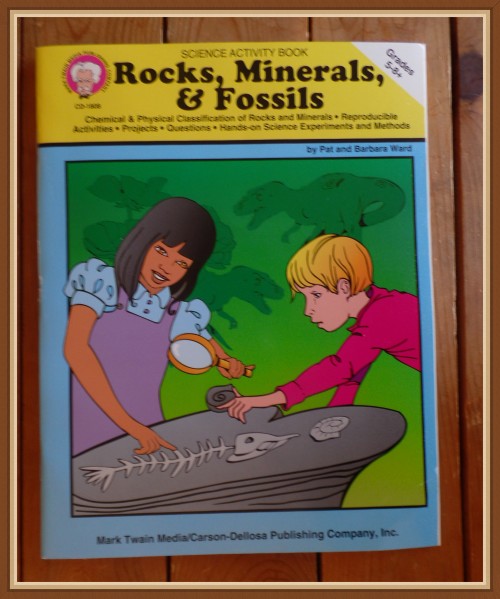 This activity book is one in a whole series of books offered by this publisher, Carson-Dellosa, for middle school STEM learning.
Middle School STEM Activity Books
Carson-Dellosa Publishing offers 68 Middle School Science Activity Books to choose from, including:
 The Periodic Table
  Meteorology
  Chemistry
  Physical Science
  DNA
  Astronomy
  Electricity
  Atoms and Cells
  Mammals
  Reptiles, and 58 more….
Pick and Choose which topic is of most interest to your child. You can make your own science course from three or four of these activity books!  Then you have child-led middle school STEM learning!
Each of these books not only teach basic middle school science principles, they also give practice in reading comprehension and complex direction following in setting up the experiments.
Rocks, Minerals, and Fossils Activity Book
The first book that we did from this series was all about rocks. Through this book, my daughter learned the chemical and physical classification of rocks and minerals, along with basic geology principals. It is full of interesting facts and fun, easy to do science experiments.
The experiments include:
Properties of minerals – Learning how to do the hardness test, the luster test and more.
 Growing a crystal
Rock identification
 The Rock Cycle
Geologic Time Table
Mold and Cast Fossils, and many more.
Each experiment is written out with clear instructions, listing its:
1. Purpose
2. Materials needed
3. Step by step instructions
The experiments teach the scientific method, hands-on!  Through this, my daughter learned how to make a hypotheses, test it, and find out the results. Those are the three main steps of the scientific method.
I love how this activity book did all the planning work for us, with background information included for each topic, along with related printables to print out and use, again and again.  No need to research it yourself but it can also be a great launching pad for more study too.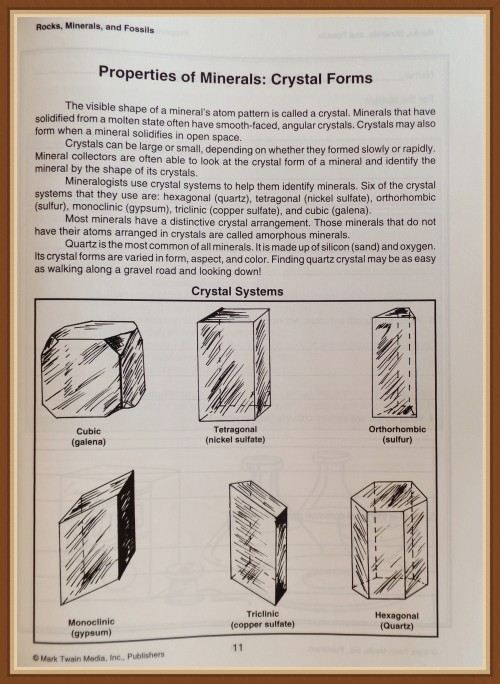 The topics in Rocks, Minerals and Fossils include:
Rock identification
The Rock Cycle
Geologic Time Table
 Geological Column

 Igneous rocks

 Sedimentary rocks

 Metamorphic rocks

 Fossils, and more.
Rocks, Minerals and Fossils is also a great resource for Nature Study:
This book is a resource for identifying rocks and fossils.  It includes clear illustrations of different types of rocks, minerals and fossils. What fun to bring rocks home, from your children's explorations and nature walks, and then identify them.  Then afterwards, do an related experiment together!
Of all the experiments in this book, my daughter's favorite experiment was the one where she made crystals.  There are two experiments in working with crystals in this book.  And while your  kids are growing their own crystals, you will be growing your own young scientists!
The books in this series are geared toward 5th through 8th graders.  If you are looking for a well laid out science activity book for your kids, my family recommends any of the books in this series.  For more information on this frugal series, go to Carson Dellosa Publications.  To reach Rocks, Minerals and Fossils, click here.
Betsy blogs at BJ's Homeschool about high school and college and all the fun of homeschooling the early years too.  As a veteran homeschooler and the mom of a college student and homeschool grad, Betsy also offers free help to homeschool families,   She is the author of Homeschooling High School with College in Mind.