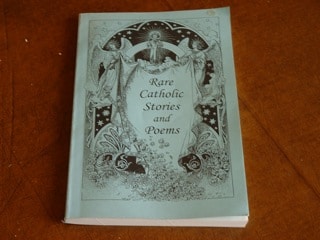 I like to begin our homeschool day with a faith reading, it sets a good tone for the day.
A few years ago I came across a little gem of a  book titled Rare Catholic Stories and Poems with Reading Comprehension, second edition, published by Catholic Heritage Curricula. This book is now newly revised to include over thirty stories and two hundred and eighteen pages. My review here is based on the second edition, which is the copy we own and used.
Rare Catholic Stories and Poems are selected from out of print readers from before 1892, but don't let that make you think these stories are antiquated, they are not.  The character building stories model polite Godly behavior, inspire, encourage and make a memorable impression on all ages.
Read about how a soldier helps a little boy see the Corpus Christi Procession and how the boy, now a grown man, returns the favor. In another story a teenage girl shares her lunch with two poor children.  Or read about how a boy called stupid became well liked by his classmates for being a peacemaker.
In all, Rare Catholic Stories and Poems (Second Edition) has twenty-two stories and eight poems.  Each of the twenty-two stories has:
Vocabulary
Reading Comprehension Questions
Simple Projects
The new expanded edition has the above features, and available free is the study guide for the new expanded edition of Rare Catholic Stories which includes reading comprehension, vocabulary and simple projects to extend the reading. View the free pdf of the study guide for the new edition of Rare Catholic Stories.
Some of the Simple Projects include:
Write a letter of thanks for a kindness done to you.
Give to those in need.
Make a flower card to give your mom a spiritual bouquet.
Research vocations God may call you to do.
Make a list of things you are tempted to do to please yourself.
Draw a picture of the most Sacred Heart of Jesus.
Make a list or using sacrifice beads to count the things you do for God each day.
Make a Jesus approved list of attributes to include in a letter of recommendation.
Catholic Heritage Curricula is now offering a new expanded version of Rare Catholic Stories, which now includes thirty stories.  Click on the link below to purchase your copy of Rare Catholic Stories and Poems.  View a sample of the book for free.
-Susan, who lives in the heart of Dixie with her husband and three preteen children, has been homeschooling all along, doesn't have a particular style of homeschool and says, I just do what works best for each child, we all like a good story and a messy art project. You can read about her homeschool and quilting at Stitching Life.