We got an amazing pop-up book for Christmas from Big Sister Snail (we are known as the snail family at The Snail's Trail). who is in college. It is called The Chronicles of Narnia Pop Up Book by Robert Sabuda. It is absolutely the best pop-up book I have ever seen. It is so amazing that it stays high up on a shelf and can only be read with Mommy or Daddy Snail. It has become very special to us. Just look at the amazing detail and how big some of the pop-ups are: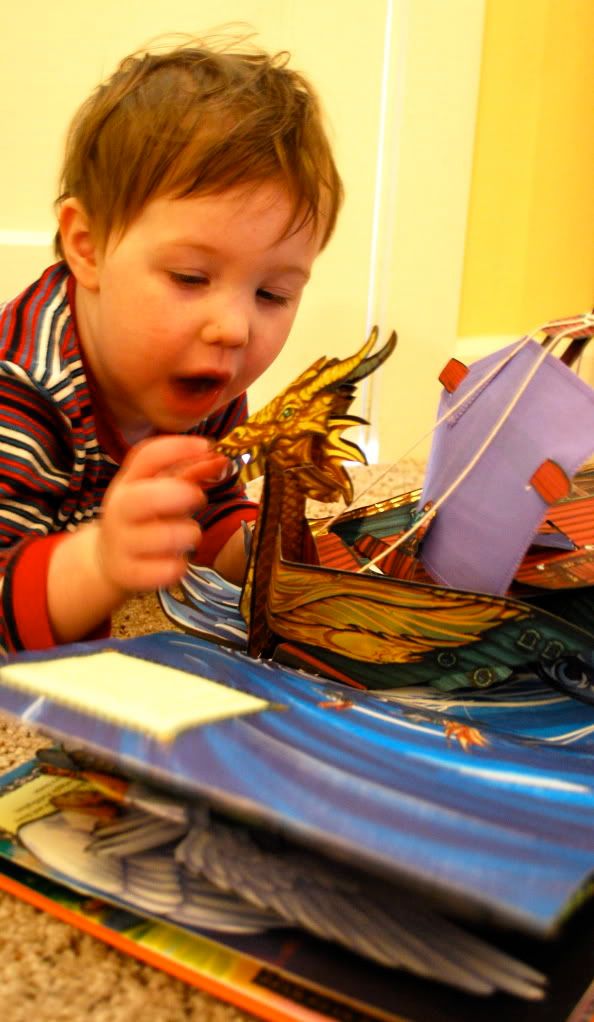 Little Snail loves the ship in the book.
The pop ups are giant and very detailed. We have spent hours just oohing and ahhing over them.
Just look at that giant lion! He just leaps off the page!
I was very happy when my friend, Donna Guthrie, told me that there is an interview with Robert Sabuda on her website, Meet Me At The Corner. Check it out (just click here).
The host of this virtual field trip is a little girl. She does an excellent job at interviewing Robert and showing kids how he makes his pop-up books. Our favorite part of this virtual field trip is learning how to make a pop-up card. It has really inspired us! After we watched the virtual field trip, we visited Meet Me At The Corner's Learning Corner to extend our learning on pop-up books and Robert Sabuda. The site even directed us to Robert Sabuda's website with directions on how to make more pop-ups (Aslan the lion is on page 2).
We have completely fallen in love with Meet Me At The Corner. This website needs to be added to every homeschoolers list of favorite, most useful, websites.

Meet Me At The Corner, Virtual Field Trips for Kids, is more than just a collection of videos for kids to watch. It is a dynamic, interactive site that allows kids to submit their own individually created videos! Meet Me At The Corner is becoming a community where children can be creative and expressive. As a homeschooling mom, I know that to get my kids to really learn something, I have to make it interactive, hands on, and fun. But most importantly, if I want my kids to really learn something, they have to produce something. With Meet Me At the Corner, The Snails can write, direct, and produce their own educational movies about what they are learning. They even get to use the old video camera! It has really been amazing to see their storytelling come alive. I especially like that the kids can use this as a medium to re-enact the stories that we read and recap the units we have been learning. Of course our videos aren't near ready to upload to Meet Me At The Corner, but they will be when The Snails get a little older.
The virtual field trips that we "just have to watch over and over again" are:
Meet Me At The Corner makes planning your units, themes, or projects easy because with each video you can get recommended books, websites, activities, downloadable files, and lessons to extend your learning.
I am so happy that my friend, Donna, has created such an amazing resource for kids. Please, visit Meet Me At The Corner for your next field trip. I hope that it inspires the storyteller that is in your child!
Written by Kari