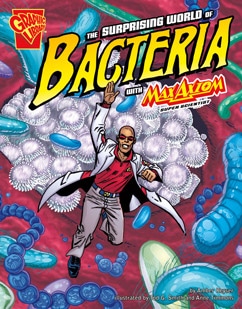 I'm in love – or, better yet, my son is in love!  We've had the opportunity to review graphic science books on all sorts of topics that are fun and easy to read. Comic book style science sounds really fluffy doesn't it?  Believe it or not, the Max Axiom series is full of "real" science that goes deep enough to be appropriate for any upper elementary/early middle school child.
My son is a less-than-zealous textbook reader.  (Picture eyes glazing over and giant yawns.)  After reading – or being read to – from a textbook, he recalls very little of the information.  Over the years, I've turned science into hands-on unit studies and supplemented with lots of library books, which has worked quite well.  During one of these unit study times, I came across Max Axiom and wanted to know more.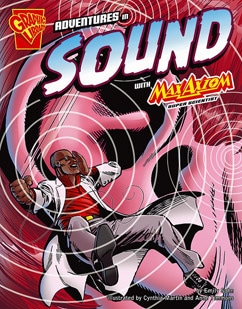 I found that Capstone Press offers many, many Max Axiom books, and boy were my son and I excited!  Twenty-four books total cover the areas of biology/botany, chemistry, physical and earth science.
In each book, Max Axiom (a scientist with super powers), goes on an adventure to learn all about the topic at hand.  He can shrink to the size of bacteria and whiz through the human body, or go back in time to learn more about a famous scientist of the past.
No matter the topic, in-depth concepts and terminology are tackled.  For instance, in The World of Food Chains by Liam O'Donnell, the following concepts are covered:
energy
producers
consumers
primary/secondary/tertiary/top consumers
food chains – land and water
food pyramids
food webs
herbivores/carnivores/omnivores
predators/prey
decomposers
ecosystems
All of this in a 32 page comic book!  (When I say comic book, don't think of flimsy pages, these are "real" books.)
Warnings: Max Axiom is not a creationist.  In some books, you will find references to "millions of years" or "Darwin".  Of the nine I've personally read, only one was too far from our creationist viewpoint to share with my son – A Journey into Adaptations by Agnieszka Biskup.  Additionally, many of the books contain an environmental or human responsibility factor, especially toward the end.  I haven't found any of these to push my buttons too hard, but I want you to be aware.
-Written by Cindy, an eclectically Charlotte Mason mom of 3 from KY.  You can find her blogging at Our Journey Westward and find her NaturExplorers studies at Shining Dawn Books.