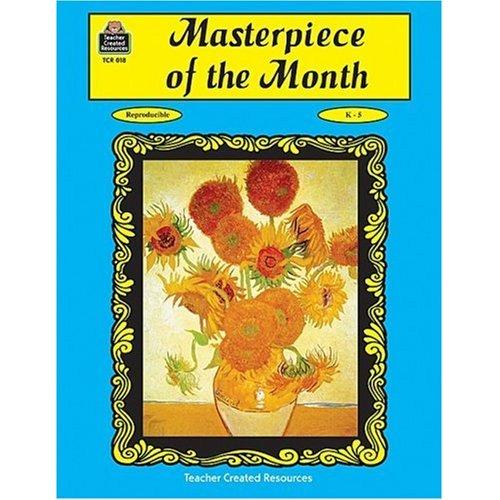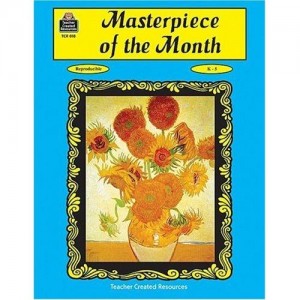 Masterpiece of the Month is an art curriculum for grades K through 5. Each lesson features a famous masterpiece that students will reproduce while learning a new skill or technique. Some of the masterpieces include "Sunflowers" by Van Gogh, "Mona Lisa" by daVinci, and "Artist's Mother" by James Whistler. This book is very user-friendly, even to someone a bit intimidated by teaching art. I've used this curriculum for two years, choosing artists to study based on these lessons.
Pros:
Masterpiece if the Month is easy for a non-artist to teach and use. There are clear objectives and directions for each art lesson.
In general, the lessons don't require too many complicated art supplies. Paint, crayons, markers, and paper, along with some common household items are pretty all you'll need. A few lessons do call for more specialized items such as oil pastels and printing ink.
A scope and sequence chart in the front of the book clearly shows what concepts and skills are being taught.
Since each lesson is based on a well-known artist's work of art, it is a natural step to extend the lesson into an artist study, looking at other works by the same artist.
This book is comprehensive. It could be the only art curriculum you need to teach art in the elementary years, since it begins with kindergarten and goes through 5th grade.
Cons:
There are no pictures of the original art in the book. There are examples of what each reproduction might look like, but often there are creative liberties taken (as well there should be) making it difficult to identify the original masterpiece. It's not difficult to find the image online, but it would be much more convenient to see the masterpiece in the book.
There is some repetition of artists, so if you used these lessons as a basis for an artist study, you would find yourself studying some artists repeatedly. Although looking at Van Gogh's work repeatedly can't really be a bad thing, can it?
Vocabulary is given for each lesson, but as someone without an art background I find it difficult to explain mood or value to a first grader. A glossary would be a helpful resource in this book.
Using Masterpiece of the Month is a great way to include both art appreciation and hands-on art experiences in your day.
Written by Beth Belinder.  You can find her blogging at Apples and Jammies.