Math drills are important.
My children do fine with written drills – up to a point. Since we love to use technology in our homeschool, I am always on the hunt for apps that aid in our learning. When we stumble upon a fun app, all the better.
Math Monkey is an app that drills your child's mental addition, subtraction, multiplication, and division. Dubbed "the educational Angry Birds for kids", the game involves helping a monkey sling cupcakes at correct answers to math problems. It has captivated my children.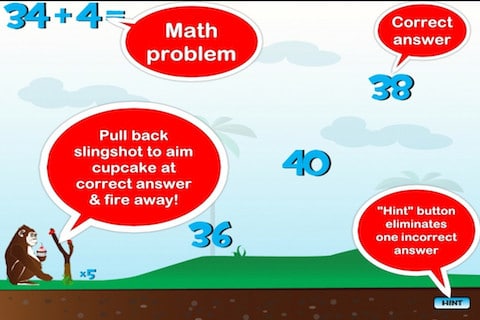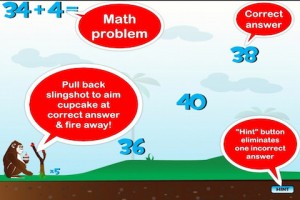 This app is designed for iPhone and iPad, and is $2.99 in the app store.
There are 40 levels in four worlds, which include the jungle and outer space.  You can choose a level to start play – the lower the number, the easier the problems.  These levels have been appropriate all the way from my seven-year-old to my 11-year-old.
When the problem flashes on the screen, simply aim the slingshot (loaded with cupcake!) at the correct answer. Sometimes the correct answer is very easy to hit, but sometimes (as is the case with Angry Birds), you need to think a bit about how to hit your target.
You have five shots to hit the correct answer. If you hit the correct answer, you advance to the next level.  If you don't you can play the level again. At any time your child becomes frustrated he or she can hit the "hint" button to eliminate a wrong answer from the screen.
What My Children Thought
I have two children: one has a head for math and the other avoids math like the plague!  The one that loves math enjoyed this app… it was a great review and the time spent on the iPad was a reward!
The child that doesn't like math thought the app was fun, too… and it was definitely better than written math drills. When I put "Math Monkey" on the schedule for the day I never got any complaints. I also noticed my children's mental math abilities improving after a few weeks of playing the app.
So much of this business of homeschooling is finding the resources your children need at a certain point in time. It's always good to be drilling math facts. And, in my opinion it's always good to try and incorporate some technology into your plans.  Math Monkey is a tool we are using continually to keep our math skills sharp and have fun at the same time!
~ Written by Mary, Homegrown Learners.