Many of you know that I'm a huge fan of teaching logic in the homeschool. For most people, the word 'logic' brings to mind older children in middle school and beyond. Believe it or not, I've successfully used logic materials with my children as early as the preschool years!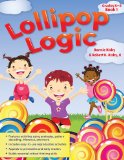 Today I'd like to introduce you to one set of fantastic books which I've used with K-2nd graders – Lollipop Logic and Lollipop Logic 2 by Bonnie Risby and Robert Risby.
The logical/critical thinking skills of relationships, analogies, sequences, deduction, inference, patterning, decoding and analysis are covered in simple and attractive worksheets. Each page has only five or six problems, but it's the perfect amount for a little ones.
Although teacher's notes aren't really necessary, there are some for each new section that help you know how to introduce various things to your child. Answer keys for each page are included, too.
It's helpful if a child can read since there are directions at the top of each page, but reading skills aren't necessary for completing the pages. I simply read the directions orally and my non-readers have no problems with the activities.
Like all logic materials we use, my kids eat these up! I've used a bunch of them and have loved every one.  In fact, I wrote a review back in 2009 about some of my favorites that you might like to reread.
-Written by Cindy West, eclectically Charlotte Mason mom of three from Kentucky. You can find her blogging at Our Journey Westward and find her NaturExplorers studies at Shining Dawn Books.
(These books were provided to Cindy for free.  However, as always, her reviews contain only her honest opinions.)