This post contains affiliate links.
We love logic in our homeschool! I've used logic puzzlers with my children as early as 1st grade with such materials as Mind Benders, Prufrock Press books, and Logic Links. Now that my oldest is moving into upper middle and high school level courses, we've begun some more formal logic/reasoning instruction.
Brothers, Nathaniel and Hans Bluedorn, have written two very easy-to-understand and fun books for students in middle and high school – The Fallacy Detective and The Thinking Toolbox. Both books are excellent and offer 35-38 lessons including:
simple, solid teaching about reasoning/logic skills.
short lessons that only take 10-15 minutes to complete.
tons of pertinent vocabulary.
fun illustrations and cartoons to help you visualize the concept.
an attractive layout.
lots of conversational examples to explain the concepts being taught in each lesson.*
exercises with answer keys to practice the reasoning skills from each lesson.*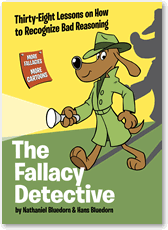 To help you see the simple and sensible explanations within the lessons, here's a conversational example from The Fallacy Detective, Lesson 12: Straw Man. In teaching the student about a straw man in an argument, this simple conversation is given.
"POLITICAL CANDIDATE A: Due to this year's budget problems, I think our state should decrease the amount of money going to the schools. This would solve the problem. We could bring the amount of money back to normal next year.
POLITICAL CANDIDATE B: My fellow citizens, is this what you want in a candidate? Someone who is against our schools, against our children's education, and against our future?"
The authors use plenty of examples such as these as part of their explanations of reasoning and logic that help students begin to question and think through all the rhetoric and influential arguments in our world.
At the end of each lesson, your student is given exercises to practice distinguishing arguments. From The Thinking Toolbox, Lesson 11: The Good, the Bad and the Ugly Evidence, this is one of the exercises.
"In the examples below, choose which piece of evidence seems especially strong or especially weak when compared to the other evidence.
1. Bonnie thinks that Robey's excitableness stems from something in his diet.
a. Robey loves to eat.
b. Robey eats a special dog food made with organic meatballs.
c. Every morning, before Bonnie takes him for a walk, Pringle's instructed her to give Robey his special treat called a "Zip and Zaz Cookie" made for older dogs that need more energy."
Your student is expected to determine which statement logically makes the most sense.
We have loved these books so much and they are really preparing my children to think logically! They are confronted daily with advertisements, worldview arguments, political arguments, peer pressure and so much more.  These books are training their minds to look past the glitz and glamour to get to the real truth of the matter.
As Christians, we especially need these truth seeking logical skills to help us keep our eyes on the Lord and not be swayed by the devil's wily tactics!
-Written by Cindy, eclectically Charlotte Mason mom of three.  You can find her at Our Journey Westward.