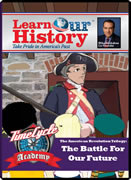 My husband and I have been thrilled to introduce the Learn Our History DVD's to our children.  We both have a passion for teaching fundamental truths about the history of the United States in our homeschool.  Believe it or not, much of what we read/hear/watch is either extremely watered-down or downright misleading.  Not so with this series of DVD's from Learn Our History!
In each of the videos, you will travel back in time with the TimeCycle Academy – a small group of children who get to the heart of history by actually visiting various historical periods.  Through meeting important historical figures, hearing primary source speeches or conversations, and mingling with the people of the time period, a wonderful (and easily understandable) picture is painted for your own children.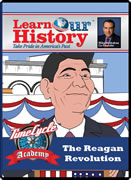 From the Revolutionary War to 9/11 and the War on Terror, many of the United States' important stories are told through animated, 30 minute (approximately) DVD's.  All my children – from 5-14 – have enjoyed watching.  While the animation may be a bit immature for the 14 year old, the information gleaned has not been immature at all!  In fact, even I now have a clearer picture of some of the historical events!
Learn Our History currently has 7 videos in the series.  Seven more are in the works for 2012, with a vision for more than 70 in the future.  Co-founder, Mike Huckabee, believes the series teaches historical facts without bias and promotes a strong sense of patriotism in our children.  I agree.
Navigation of the website is a tad difficult and purchasing prices are not clearly marked.  Your first video – in which you receive a physical DVD and online streaming – is only $9.95 + $3.95 shipping.  Once you purchase the first video, you will be offered a new video monthly, via email, for $11.95 + $3.95 shipping.  You will be automatically billed and the video shipped if you don't respond with a "no thank you" phone call.  While I think the prices are very fair and worth the money, the monthly mailing subscription is not my cup of tea.
(In their FAQ's, it states that you can call their customer service line to talk about other options for purchasing.  When I decide to purchase more, I'll be making this phone call.)
Even though I received 3 of these videos for free in exchange for my (honest) review, I DO plan to purchase more!  They have truly been a great addition to our history lessons.