Are your children learning Mandarin Chinese?  Are you always on the prowl for fun activities that integrate Mandarin language practice into your curriculum?  Do you kids enjoy playing Bingo, Memory, Lotto, and other games?  Then this is the game for you!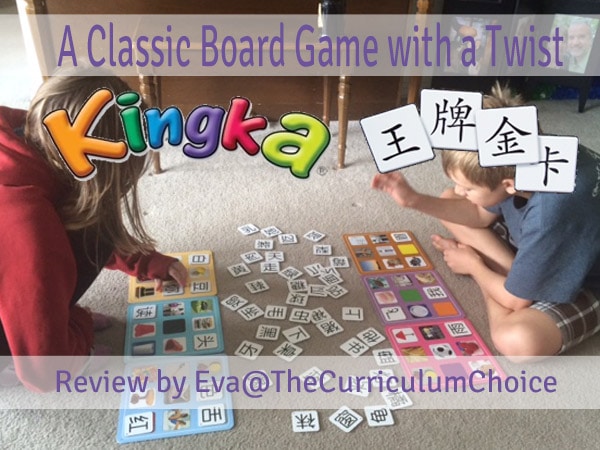 KingKa rolls all of these popular games into one; making it a perfect game for practicing Mandarin Chinese as a family or with friends during playdates, after school programs, and even summer camps.
KingKa uses pictographic Chinese characters as its base, so while a young child who recognizes basic shapes will find the game an intriguing variation on visual discrimination, matching and memory, a group of high school kids will find higher level, fast paced variations that challenge them!
KingKa comes in three levels and is uniquely designed to help non-native speakers teach or practice Chinese with their children as young as 3 years old.
KingKa 1 features content for numbers (main), nouns from animals, body parts, daily objects, to food and nature.
KingKa 2 features verbs (main), pronouns (main), colors (main), animals, body parts, food, nature, and daily objects. 
KingKa 3 content features family members (main), opposites–adjectives/adverbs (main), animals, body parts, food, nature, and daily objects.
Kingka 3 can be added to Kingka 1 and Kingka 2 for more challenge and fun!
My daughter had been in a Mandarin Immersion class for nearly 8 months when I first discovered KingKa.  I thereby opted to start with KingKa 2. I was impressed with the quality of the game and the clarity of the instructions.  My children enjoy playing it both with me and independently.
Our Mandarin teacher was impressed with the flexibility of the game and the many game variations it provides.  Each of the 108 game cards feature pinyin, Chinese characters (your choice of Simplified or Traditional), a photo visual, and a translation in English, French, and Spanish.
在 Aids cognitive development in young children
那 Hands-on materials comply with Montessori education principles and other early childhood education theory
里 Exercises multiple skills that are crucial for young children: concentration, fine motor, social, memorization, critical thinking
在 Sturdy game pieces that are easy for little hands
那 Age appropriate and fun
This patented puzzle, Bingo and memory game is easy for parents and teachers who have zero Chinese experience to introduce the Chinese language and culture to their families or classrooms. It is definitely a fun way to learn Chinese while having a great time! 
Each KingKa game set comes with instructions, 6 boards, 108 game cards (featuring 54 Chinese characters), and an audio CD for Mandarin pronunciation. 1-6 players.