Kindergarten Complete is an exciting new curriculum that integrates all subject areas within thematic units that appeal to the interests of children.

The goal of the Kindergarten Complete curriculum is not only to teach facts and figures, but also higher-level thinking and problem solving skills that create a love of learning.
It truly contains everything you need for a complete kindergarten program.
"Kindergarten Complete takes advantage of homeschoolers' ability to interact closely with their children with lots of discussion plus hands-on activities." (Cathy Duffy)
Engage your child in learning.
This curriculum is designed to meet the needs and challenge the abilities of kindergartners. A variety of activities are provided because each child learns in a unique way, and enrichment activities are included to challenge advanced learners.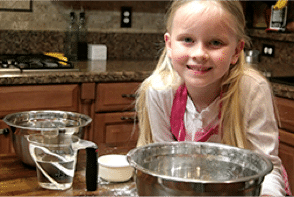 "This is a wonderful program, with varied activities from week to week. We've really enjoyed using this program in our home… and I really like that this program balanced activities across different learning styles. I have found it very easy to adapt to the needs of my children… with the kids often continuing to play with the enrichment activities or creatively exploring the topic on their own after the formal lesson is complete" (Heather from The Schoolhouse Review Crew)
It's a fun curriculum!
Engaging activities within the thematic units will hold your child's interest and build confidence.
"What four to six year old wouldn't enjoy learning about fun topics like farm animals, transportation, insects, the five senses, the solar system, all the holidays and more?  Besides attention-grabbing topics, children will love the colorful worksheets – and the fact that there are only one or two worksheets per day.  The other lessons are hands-on or conversational or game-like or manipulative-based or musical or active or a mixture of all of these!" (Cindy of Our Journey Westward)
Spend time with your child-not planning!
The detailed lesson plans in this book cover  all subject areas, (Language Arts, Mathematics, Social Studies, Science, Physical Development, Fitness, Fine Arts, Character Development, and Bible) and are created around thematic units. The lesson plans are designed to keep parents organized, and to simplify the sometimes  overwhelming process of homeschooling.
"I'm telling ya, this is exactly how I would write a kindergarten curriculum!"
(Cindy of Our Journey Westward)
Kindergarten Complete really is a complete, open and go type program.
This literature-based, all-inclusive curriculum includes daily lesson plans that will guide parents step by step in teaching their child, and will provide documentation for the work during the year. All practice worksheets for each lesson, reading practice pages, and patterns for art projects are included.  Everything is in one binder to help keep parents organized, and to help make daily planning simple.
"Most programs of this sort have multiple teacher's guides and student books, and it can be very cumbersome to juggle all of the resources. Kindergarten Complete makes it easy with just one binder at a time for all of your subject areas, and no flipping back and forth through the binder." (Cathy Duffy)
Expose your child to quality literature.
The curriculum incorporates quality children's books that can be borrowed from the library. Exposing each child to different genres, authors, and illustrators will help to instill an excitement about learning to read.
Your child may ask to do school.
"Each day's 'work' is fun, light-hearted and to the point. No busy work! And no taking the fun out of learning! My son… asked repeatedly to "do things from the Panda book." (Lisa from Tales of a Homeschool Family)
Let Kindergarten Complete help you have an enjoyable year in effectively teaching your child.
Find out More about Kindergarten Complete
Visit the Kindergarten Complete website for more information:
Special discount code for the Curriculum Choice Readers
Simply enter discount code CHOICE15 in the message to seller box at check-out for a 15% discount on any order. (But hurry!! Coupon code valid March 30-April 24)
Now for the giveaway!
One Curriculum Choice reader will win a Full Year of KINDERGARTEN COMPLETE BUNDLE which includes:
* Teacher's Manual Semester One and Two
* Student's Workbook Semester One and Two
* Color Words Flashcards
* Shape Words Flashcards
* Number Words Flashcards
* Alphabet Flashcards
* Sight Words Flashcards
* Animal Words Flashcards
* Telling Time Flashcards
* Bible Verse Chart Semester One
* Bible Verse Chart Semester Two
* Hundred Chart-Number Line
* Calendar (12 Months)
This giveaway is open to residents of the U.S. only. Simply follow the instructions in the rafflecopter widget below…
a Rafflecopter giveaway