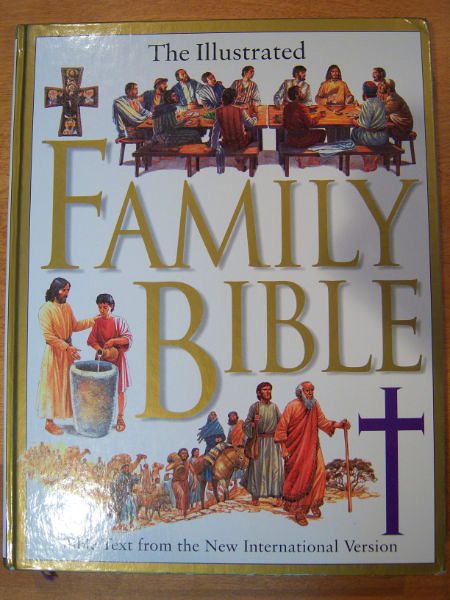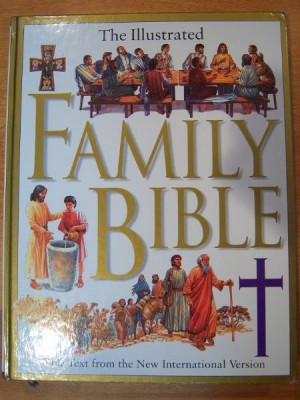 Our family uses the Bible itself as our main Bible curriculum.  Every few years, however, we pull out the Illustrated Family Bible.  With its stunning, historically accurate illustrations and informative side panels, it always gives us a fresh view of all those familiar stories.
Currently we are going through this Bible for the third or fourth time as a family.  (We've had it for almost a decade and a half, so we can't quite remember.)  Each time we read through it, we learn more about the background of the stories, and that helps us understand them more clearly.  The children clearly find this Bible fascinating, and they are learning much about Biblical times, customs, and geography.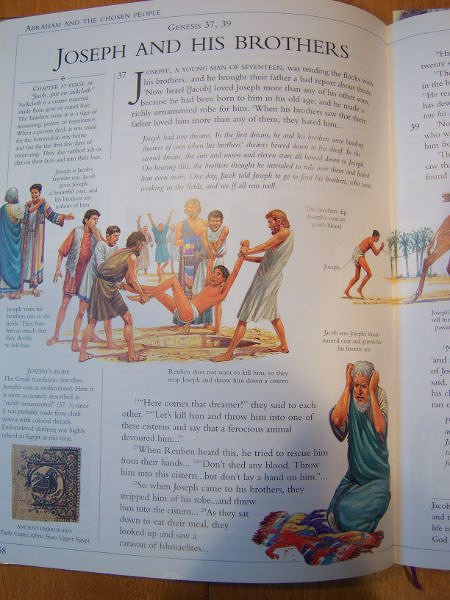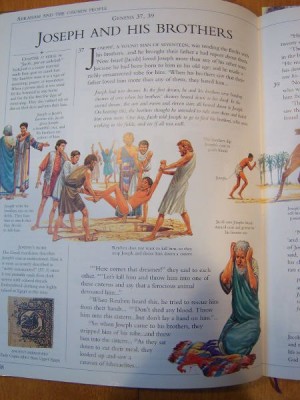 Most of the stories cover a two-page spread, complete with lavish, annotated illustrations.  The words used are actually from the Bible, with chapter and verse marked, but only the 'exciting bits' are included.  The illustrated side panels often include relevant photos of places, artwork, or archeological finds as well as cultural information.  Seeing photos of a Jewish well gives extra meaning to the story of Jesus at the well, for example.
Not only are each of the stories illustrated, but each section begins with a few pages of background commentary, cultural explanations, and illustrations. These can be helpful, and we usually look at the pictures, but the children asked me not to read them this time.  Other years I've read these pages out loud as well.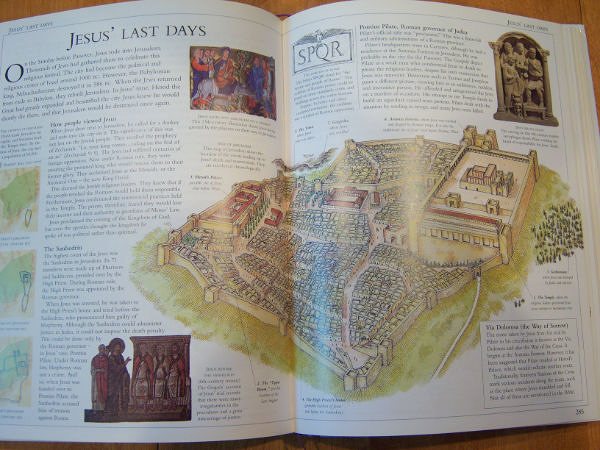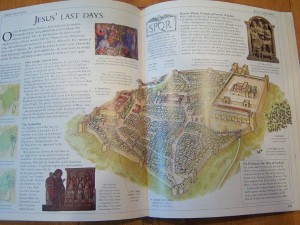 The Illustrated Family Bible approaches the Bible respectfully and takes it seriously.  Nevertheless, there are a few things I don't like.  Occasionally the verses left out in this version of the Bible contain crucial information, subtly altering the meaning.  That, I think, is inherent in the nature of such a book and is to be expected.  Furthermore, some of the pictures are gory, although I can usually cover them discretely with my hand while I read the story.  Finally, I do not appreciate the pictures used for Revelation; who are we to try to draw 'the Son of Man' in all his glory?  And how can anyone even begin to portray the amazing events and symbolism of Revelation without unwittingly 'adding to or subtracting from' this book?
Even with these flaws, the Illustrated Family Bible has been a blessing to our family.
Disclosure:  We have owned the Illustrated Family Bible for many years.  I receive no compensation for my reviews and the opinions expressed are my own.
–Written by Annie Kate, a Christian homeschooling mom of five, who reviews and blogs at Tea Time with Annie Kate.