After two year of homeschooling, I heard an idea I quickly embraced. In fact, I don't know why it hadn't been implemented already.
Start each day with worship.
We read the Bible. Math lessons were completed. Spelling done. But what about ideas wrapped in melody? I wanted words from the saints echoing in our soul.
Our worship time varies greatly from new music to old. We use CDs, YouTube videos, or simply our voices. It can be one song or many. And it usually includes at least one little person dancing. When I hear humming throughout the day, I know the effort of gathering everyone is worth it.
One resource we've enjoyed is the series by Bobbie Wolgemuth and Joni Eareckson Tada entitled, Hymns for a Kid's Heart.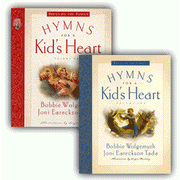 Before the words and music for each hymn, there is a beautiful illustration, an introduction to the hymn writer, and a personal story from Joni Eareckson Tada.
There are twelve hymns per book. I read the short biography one day and "From My Heart to You" the next, spending one week on each hymn. The accompanying CD includes children singing with both of the authors. The arrangements are engaging and pleasant.
There is also a version for Christmas Carols and Passion Hymns. They don't include the biography section, but instead have a Scripture verse and Bible story to introduce the music.
These books are not just for kid's hearts. My heart needs the inspiration, too. We pulled out the Christmas one this morning to sing, O Come All Ye Faithful. Yes, I need to come. I need to rest a moment and lift my thoughts heavenward before the day's work begins.
Written by Renae Deckard, Biblical Principled mother of 3. Find Renae's reflections about homeschool and family life at Life Nurturing Education.