How to Teach About Electricity by Susan Kilbride aims to do what the description says: "to make teaching science easy for parents and teachers, and fun for kids."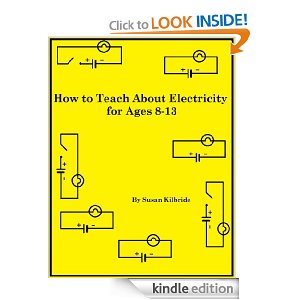 If you want to teach electricity using items you probably already have around the house, then this ebook is for you.  Using regular household items, Susan Kilbride presents eight lessons on electricity and magnetism.
The simple circuits and experiments in this book can be performed easily by upper elementary and middle school age students.  In addition to the experiments, there is a healthy dose of electrical theory.  Susan even explains what happens at the sub-atomic level when electrical current flows through a wire using an illustration with marbles.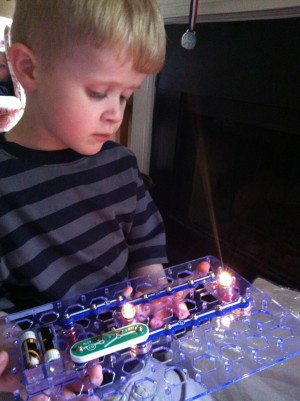 In this book there are lessons on:
Safety
Static Electricity
Electrical Currents
Switches
More Circuits
Short Circuits
Electricity and Magnetism
Did you know that you can use a clothespin and tongue depressor to switch electrical current?  Use a piece of poster paper as a battery holder?  These and other household items are used in the construction of the circuits in the book.  Students are even taught how to draw schematic diagrams of the circuits used in the experiments.
With easily understood illustrations and fun experiments, your students will be learning basic electricity and magnetism in no time.  When you get to the last experiment, you will want to learn more.
You can find this resource on Kindle:  Teach Electricity

Free Science Units from Susan Kilbride!
~Steve keeps busy with five children and a job in information security. He has a second job as principal of the Hodgepodge homeschool and also writes for Habits for a Happy Home and Passionate Purposeful Parenting. You can find more of his technology reviews here at Curriculum Choice.