My daughter turned twelve this summer, and thoughts of homeschooling high school and preparing for college admission have been swirling around in my head.  As someone who likes to plan ahead, I decided doing research now would help calm my worries. That's when I came across the Homeschoolers' College Admissions Handbook by Cafi Cohen. I'm so glad I read this book now, because it gives me an overview of what we should be doing in the years ahead and helps me move forward confidently.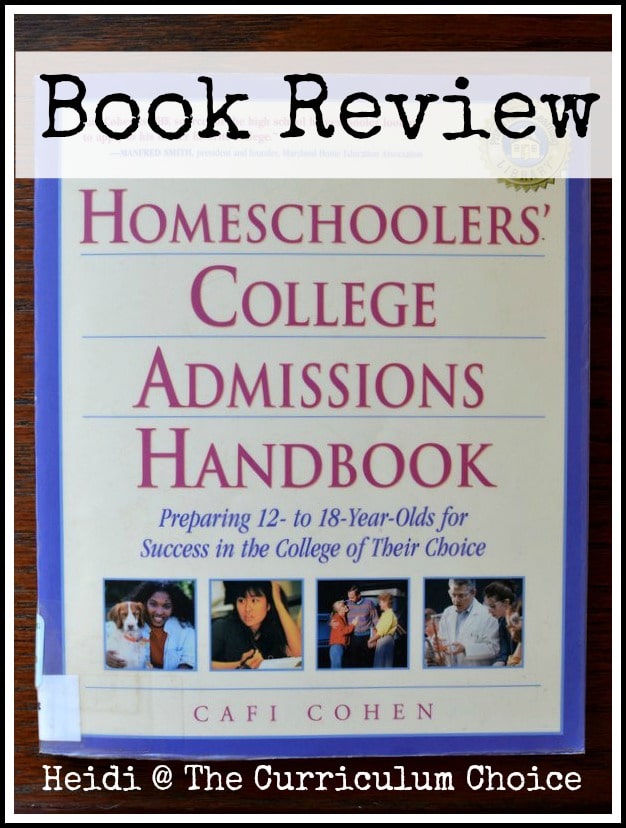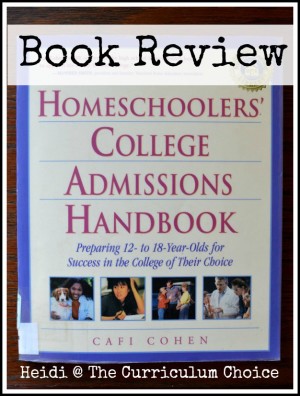 The author compiled lengthy survey results from 32 homeschool parents and 14 homeschool graduates about their college admissions experiences.  Within the book you'll find text boxes with lengthy quotes from the survey responses.  It's like being able to sit down with people who've been there and done that–and have them tell you HOW they did it!
Here are some of the helpful topics covered in the handbook:
Information from research reports and college admissions offices, like percentages of homeschool students accepted
Advice for all stages of the decision, like researching college choices and visiting the campus
Detailed information on the application process, including procuring letters of recommendation and writing college essays
Descriptions of the types of high school records (transcripts, narrative reports, resumes, portfolios and booklists), what each type is best suited for, and how to present those records to colleges–including copies of six actual transcripts
Options for earning college credit at home
Summaries of the various tests your child may need to take (GED, ACT, PSAT, SAT, CLEP, AP) and how to prepare for them
A generic checklist for grades 7-12, which is a helpful at-a-glance overview of what to be thinking about each year
Homeschool graduates' thoughts on their experiences in college
lists of extra resources for further information (from books to websites) at the end of each chapter
The Homeschoolers' College Admissions Handbook was written in 2000, and I imagine that as homeschooling has expanded so have the options for homeschool students applying to college.  Luckily there is advice about talking directly to the colleges your child is interested in and keeping up-to-date on admissions criteria.
The tagline for the book is "Preparing 12- to 18-Year-Olds for success in the College of Their Choice."  The colleges from the survey responses ranged from community college all the way to Harvard.  It's reassuring to me that as a homeschool mom I can help my children be ready for whatever their aspirations are after high school!
Heidi homeschools her two children in Maine using an eclectic mix including Charlotte Mason's ideas, quality literature and hands-on learning. She strives to show her children that learning is an exciting, life long adventure. She shares their experiences on her blog, Home Schoolroom.

originally published 2014