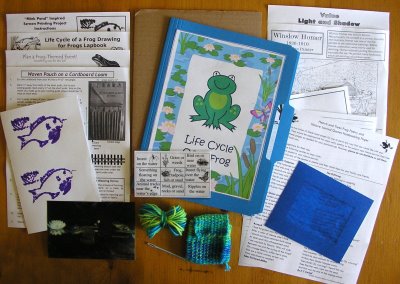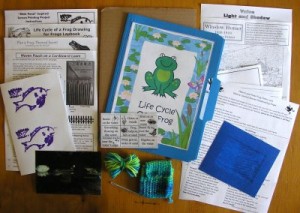 If you are looking to add handicrafts, art and nature study to your homeschool but do not have the time to gather materials and ideas then Hearts and Trees kits would be the best bang for your buck.
We were given a Spring Kit to review and I thought it would be the perfect thing to add to our summer activities.  And, it was!
The main theme of this kit is learning about frogs.  The first thing I noticed about this kit is that it doesn't contain your run of the mill projects an dideas.  There are some original ideas, here!  And, after homeschooling for 9 years I could use some fresh ideas.
The first thing we did was an art study, of a Winslow Homer painting, that happened to have a frog in it.  After this study, we read about Winslow Homer and colored another one of his famous paintings.  Then we were ready to make our screen print that we designed.  (All materials included besides paint and brush to make the screen print)
We then began our lifecycle of a frog picture which was very fun for my 5 yr. old.  Each day we worked on a frog lapbook packed full of mini books (file folder not included).
Since I was doing this with a 5 year old, we didn't do all of the notebooking pages.  Rather, we enjoyed singing, finger-playing, and memorizing these poems.
On a nature walk we took our laminated I-spy card to see what we could spot that we learned about while doing this spring kit.  ( I supplemented some books fromour home library while learning about frogs.)


Our favorite part was making the hand-woven pouch.  This took several sessions.  There were all the materials to make the loom and weave the pouch right in the kit.  That was a nice surprise!
This kit was fine for my 5 yr. old and I could see it ranging up to 9yrs. old with the right books to supplement it.  For multiple children you will want to buy one kit per child.  With the affordable price, you can't beat it.  One thing I want to mention is that there is not a daily assignment list.  You fit this into your schedule and decide what to do when.  I personally like this better then check-off lists.  But, if you are a "check-off" type of person, plan a little time on making a daily assignment list.
Visit Hearts and Trees to see the other kits that are available:
Hearts and trees spring kit
Clouds in art unit study
Weather lapbooking
Still life art show
Mammals lapbook
Written by Brenda, classically eclectic mother of 5.  You can find her writing about her homeschooling journey at Tie That Binds Us.