Are you like me? Do you long to enrich your homeschool with studies of composers and artists? Do you wish that someone would just do it all for you? You know, invest the time in research, find the online links, point you to the resources you need?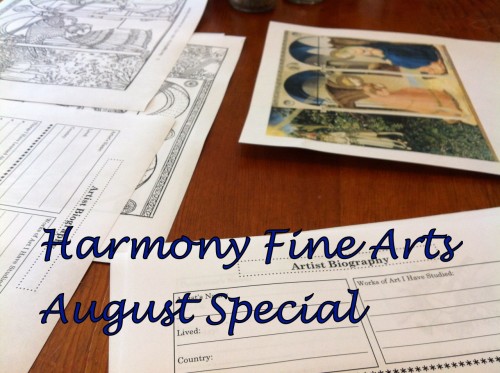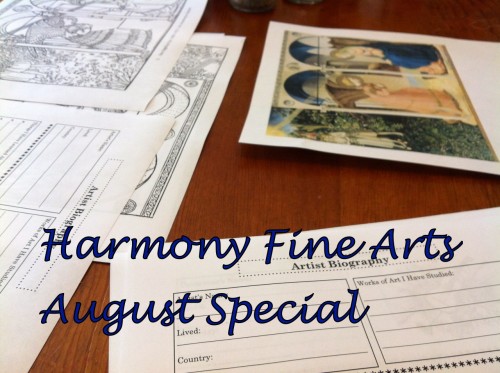 I wanted to be able to open something up with just a click – and teach. To have art appreciation and composer study at my fingertips.
How Harmony Fine Arts Bless Us
Award-winning Harmony Fine Arts (HFA) does all of this for you and me. Barb-Harmony Art Mom put together the resources you need to enrich your homeschool. Barb is also creator of the Outdoor Hour Challenges at Handbook of Nature Study as well as a fellow Curriculum Choice author. You likely recognize her from her Harmony Art Mom blog too!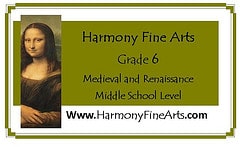 We look forward to HFA each week! My family enjoyed Grade 6, Medieval and Renaissance, plans last year. All five of my children – from ages four to fourteen – joined in the study in age-appropriate doses. (We are studying Grade 7 this year the same way.) HFA compliments our history studies. I reviewed Grade 6 in detail here at The Curriculum Choice:
—–>   Harmony Fine Arts Plans for Art and Music Appreciation
Features You Will Love
iPad friendly! This year we figured out we can enjoy our Grade 7 plans on the iPad! Jimmie at Jimmie's Collage shared about this in her Three CM Curriculum Choices That Are Perfect on an iPad.
Clickable links
Links to click and view art on the internet
Three options for art study
Notebook pages for artists and composers included
Besides the suggested CDs, there are links for free online listening
Enrichment Joy!
Why do I share all this with you? Well, I want all families to know about Harmony Fine Arts and enjoy these enriching studies. Perfect for all ages. Grade plans for 1-12. Something for everyone!
"Can we play that again? I really like it." 14-year-old
Don't Miss the August Special!
Harmony Fine Arts plans are on sale through Friday, August 31st. The regular price of $17.44 is now $13.95 through midnight Friday night. All the details are in this post at Harmony Art Mom:


 Back to School Discount Special
Special Prizes
But guess what? Everyone who purchases HFA plans will also be entered to win one of these fabulous prizes:
Simply Charlotte Mason Picture Study Portfolio
Your Backyard DVD by Crowe's Nest Media
Notebooking Success ebook by Jimmie's Collage
Hearts and Trees Volume 2 kit
your choice of a Science Logic unit
one year membership to Notebooking Pages treasury
Hands on Learning ebook by Kris at Weird Unsocialized Homeschoolers
your choice of a Heritage History library or curriculum disk
Click over to Harmony Art Mom, browse Harmony Fine Arts offerings and get your HFA plans before this special price goes away!
Homeschooling for over a decade now, Tricia faces a daily dose of chaos with five children. She shares a mixture of free art lessons, recipes and helpful homeschool habits at Hodgepodge. Her husband, Steve, also writes reviews here at Curriculum Choice.