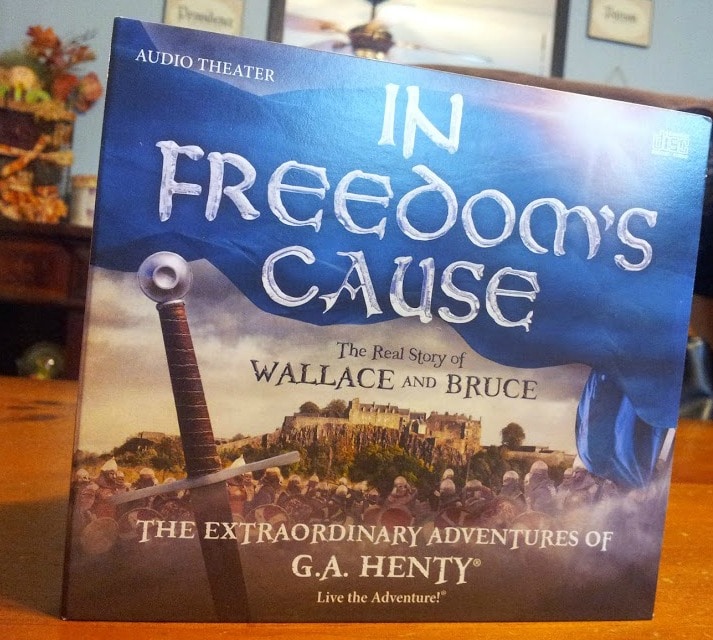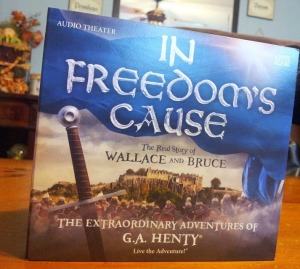 Our Family loves listening to audio books and you will often find us listening to them while cleaning, cooking or relaxing.  Our favorite genre is historical fiction and our favorite author is G.A. Henty. Recently, Heirloom Audio did a dramatic reproduction of GA Henty's, In Freedom's Cause. In Freedom's Cause is the "Real Story of Wallace and Bruce" most folks would probably be familiar with this story,  because it covers the subject matter  in the movie Braveheart.
The following is a review of the In Freedom's Cause Single Package.
What is included:
2 well mounted CD's in a very nice CD Case.
The Prayer of William Wallace – A beautiful and printable prayer card in Latin Vulgate. A portion of this prayer is read by the actor and due to this it became a meaningful item to our children. (They also translate the prayer for those of us who are rusty on John Wycliffe's Latin (Vulgate).
An all star cast including actors Joanne Froggatt from Downton Abbey, Skander Keynes from Chronicles of Narnia, Billy Boyd of Lord of the Rings and more
**There is also a In Freedom's Cause eStudy Guide and Discussion Starter (with which I am unfamiliar)
Things to  be aware of:
This is a two hour abridged audiobook.
This book allowed us to have very easy and natural conversations about difficult topics.
This book would work well in covering the historical period from 1200-1300 and give our children a feel for the period through the eyes of the characters in the book.
This is a character building book.
Title: In Freedom Cause
Publisher: Heirloom Audio
Available: In Freedom's Cause 
Format: CD's & Downloadable
Cost: 19.97 for the download & 29.97 for the Single Pack
Ages: All Ages
In summary:
We decided to listen this book when we were taking a surprise road trip 2.5  hours away from home to the Great Wolf Lodge. We needed distracted kids so we could pull off the surprise so we put In Freedom's Cause on and we didn't hear a peep out of them except to ask us questions about  In Freedom's Cause. They sat mesmerized in the back of the van while we drove, totally engaged in the audio. We have 5 count them FIVE kids and they were all slack jawed in the back of the van. In my humble opinion, this CD set would make a wonderful Christmas Gift for the audiobook lovers in your life. My family really enjoyed this CD and we'll definitely be listening to this one often. This is what I would consider a character building CD because of the John 15:13 elements in the plot. I do not want to give it away in case you do not know the story but this is a story that builds courage of convictions. If you'd like to listen to a clip of the book you can go to www.infreedomscause.com.
I received this curriculum in exchange for an honest review.  I was not compensated in any way for the time spent telling you about this resource. Read our full disclosure policy.
~ Written by Kyle McVay, Aspired Living