Looking back, organizing my homeschool was not all about having the "right" resources, art supplies and curriculum.  It was really more about finding ways that I could meet my daughter's educational needs, within a loving, nurturing home. The atmosphere of our home was the most important ingredient for me. That my daughter felt loved, encouraged, and also had a routine that nurtured her, that was my goal as far as organizing our homeschool.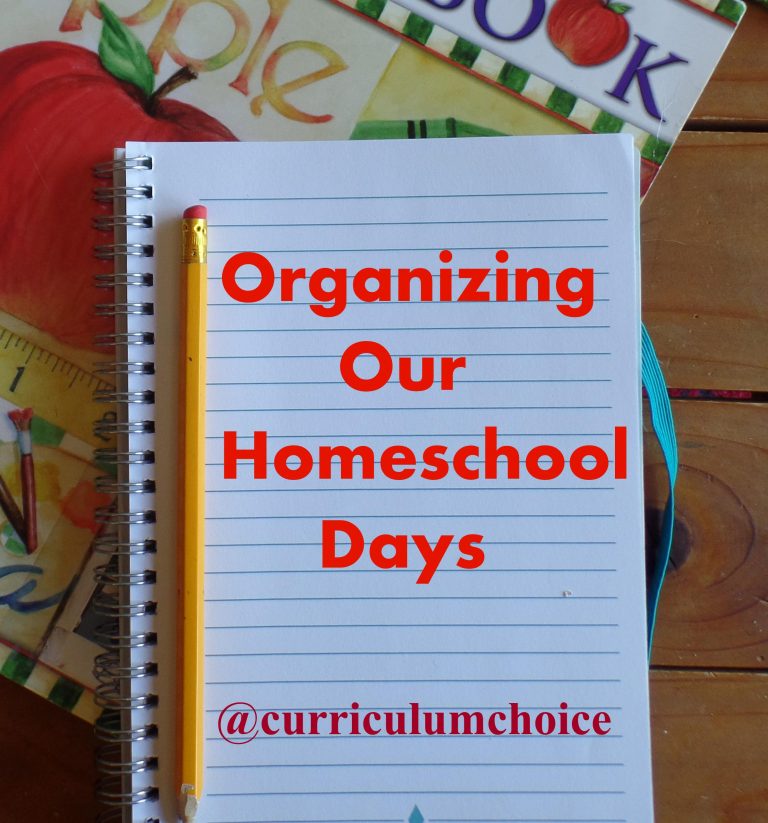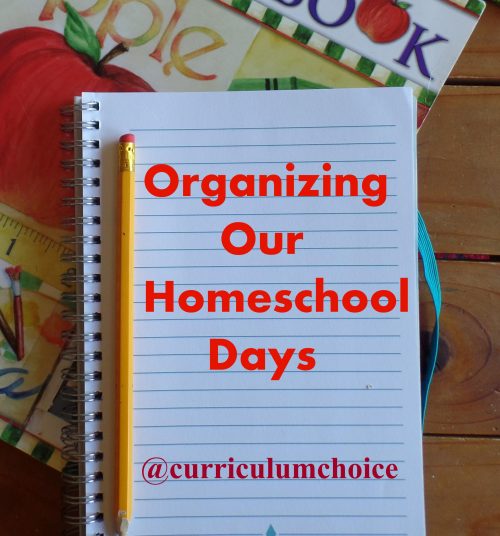 I wanted her to have a nurturing and somewhat predictable routine so that she could anticipate what would happen next.  That was especially important for us, as my daughter had some ADHD challenges.  We as homeschoolers, are always looking for new tips for organizing our homeschool and our days.
For me, I used a number of ways to organize our days, from just writing things out on notebook paper, to getting a simple day planner from our local Teacher's Store.  But now, with so many more wonderful homeschool resources available via the internet, we have a plethera of choice for homeschool planners, to help us to organize our days, and they are such a help when we have so many details on our to do list!
Today, the authors of The Curriculum Choice will all be sharing our favorite tips for organizing our homeschool days plus our recommendations for our most favorite homeschool planners, too.
From the Curriculum Choice Archives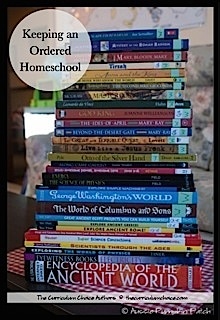 At The Curriculum Choice we have shared many reviews of our favorite ways we organize our homeschool days. Be sure to browse the tabs above to find curriculum reviews for organization.  You might also enjoy these that we've selected from our archives.
Here at the Curriculum Choice, we have tons of information and encouragement for you to help you to organize your homeschool:
Organization Resources From Curriculum Choice Authors
The Curriculum Choice authors have active blogs where they regularly offer ideas and experiences about their homeschool adventures. Below are their favorite organization resources.
BETSY @ BJ's Homeschool
Organization in our homeschool was always important to us.  It helped us to stay on track, and have a nurturing environment at home.  But when we got to the high school years, organization became even more important.
Are you homeschooling teens, too? At BJ's Homeschool, organization was so key to helping calm my nerves while taking on high school.  It is easy to get anxious about high school.  I found that I needn't have worried!  Being organized was key to our success in the high school years, and that is the focus of my blog @ bjhomeschool.  I share tips for assigning high school credit, making the homeschool transcripts, and much more there.
Here are my favorite hacks for high school organization and planning:
For those who are just starting out homeschooling high schoolers, here's my tips for that @ How to Plan High School @ Home – Updated.
3 Ways to High School Credit It s not hard to assign high school credit.  Here are 3 ways to do just that.  We do a lot of different kinds of learning, and all of it counts!  
Does putting together your teen's transcripts give you pause? Here's help for that.  I was honored to be given the job of putting together The Ultimate Guide to Homeschool Transcripts – iHomeschool Network.
What about college?  Are your kids aiming towards college?  Homeschoolers are not only being WIDELY accepted to college, but they are also even being recruited by some schools.  Being organized was key to helping my daughter to homeschool high school and prepare for the college admissions process.
I put all of my best new tips on college in my e-book called Homeschooling High School with College in Mind.   It is available on Amazon.
"Have you wondered about how to calculate your teen's GPA, how to assign credits, or how to create a transcript?  It's all in there! The included downloads are wonderful resources as well.  Thank you, Betsy, for writing this amazing book, Homeschooling High School with College in Mind.  Once again, you've set my mind at ease!".
……………Kelly Maddeck, President of Washington State's Homeschool Support Association
I made a lot of printables to go along with it, to make planning for college easier and simpler.  The printables include: a College Entrance Requirements Form, an Overall High School Planning Form,  a High School Credit Record Form, Transcript Form,  Homemade Course Form, Writing the College Essay Form, Course Descriptions Record Keeping Form and more. 
 My daughter got into each of the colleges that she applied to, we were so blessed by that.   We used the tips and links that I describe in this frugal book.  She is a rising junior in college now, and one day she brought home a notebook that was organized just like our workboxing system at home…She took that organizing concept with her!
– WorkBoxing – From bike-riding days to college.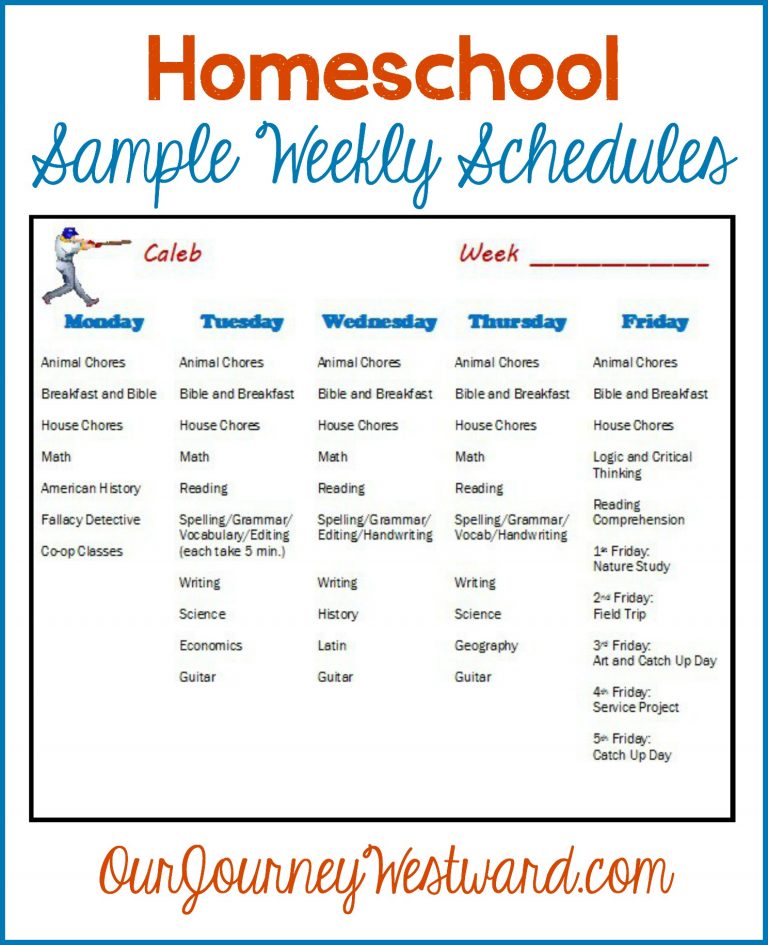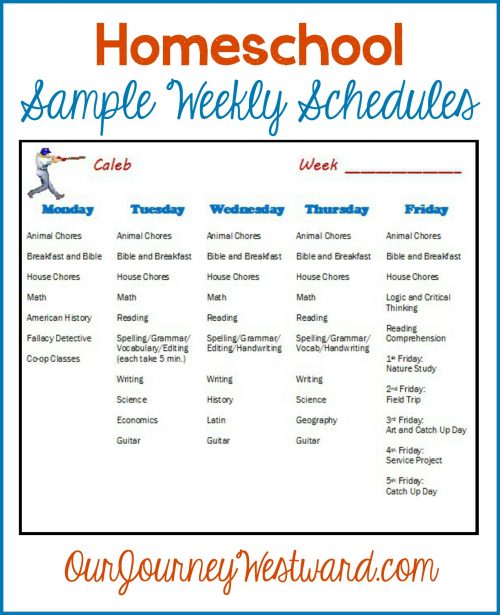 Cindy at Our Journey Westward
Over the years, we've organized our days and weeks several different ways due to the various circumstances of each particular year.  In years we attend co-op, our bookwork falls heavy 3-4 days of the week.  On years we stay home, bookwork is spread throughout the week more evenly – almost always following this Charlotte Mason typical daily schedule.  In some years, we have even taken one day a week off from bookwork entirely in lieu of fun schooling.  Oh, there are just so many ways to organize homeschool days and weeks.  I certainly encourage you to do what works with the flow of your family!  To give you some ideas, here are some of the times I've written about scheduling: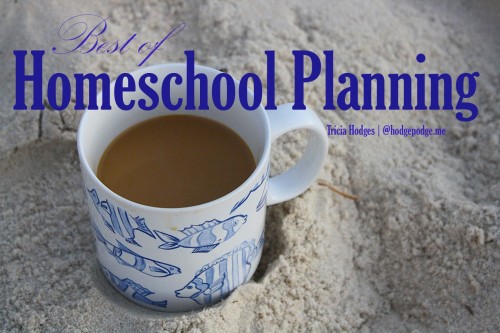 Tricia at Hodgepodge
Homeschool Planning at Hodgepodge – everything from:
my Annual Planning and Goal Setting habit to
weekly homeschool planning meeting for multiple ages (with our planners at the ready!)
how to plan individual time with multiple ages
planning and dreaming for the new year
how to plan simple afternoon art projects
how to plan Tapestry of Grace for multiple ages and levels
prep for a new homeschool semester
a five day series on 'Return of the Routine'
Homeschooling at Hodgepodge – 100+ Helpful Homeschool Habits – morning room time, afternoon quiet time and all those habits that are the bones and shape of our days.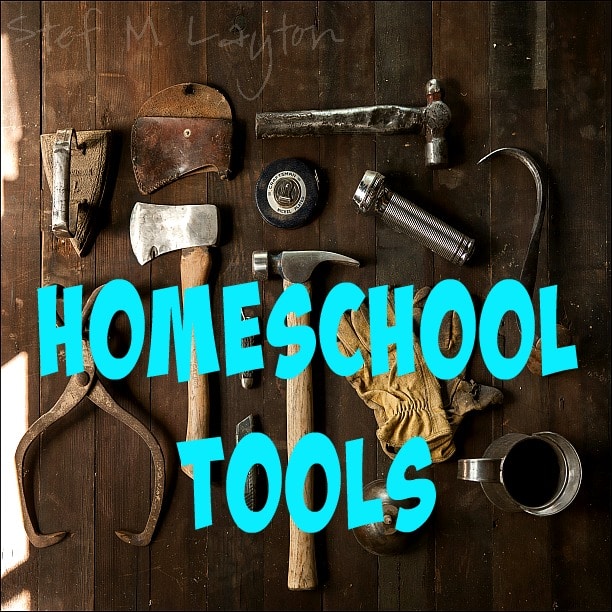 Stef at StefMLayton
Homeschool Tools: The Planner ~ Homeschool Tools are important and one tool that helps organize our days is the homeschool planner. If you're new to homeschooling or the different types of homeschool planners, I share three different types: digital, hard copy, and database. The best thing to remember about any type of planner: it does not control you!
Kortney at One Deep Drawer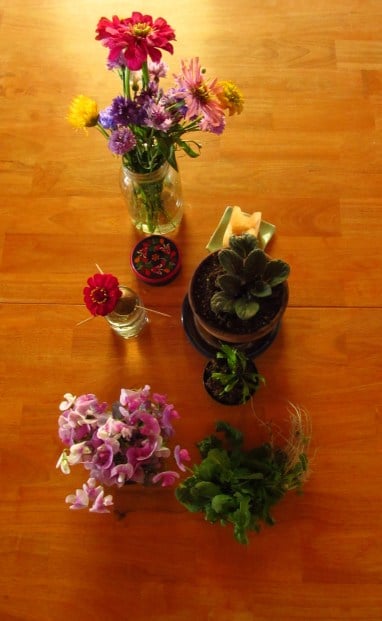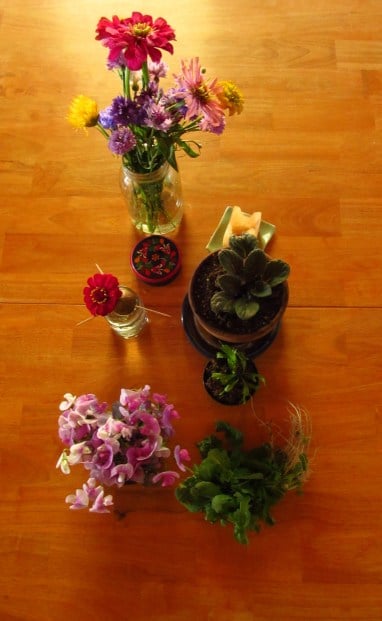 Planning–for homeschool or otherwise–has not come naturally to me. For most of my life I could make a list or simply jot things down.
But as we added children to our family and eventually began to homeschool, my responsibilities began to grow.  I needed a way to organize my time better.
Over the past few years, I've tried different systems on for size…and then tweaked them.  The tools need to fit the job!
Here are some of my systems and tweaks:
Meredith at Sweetness and Light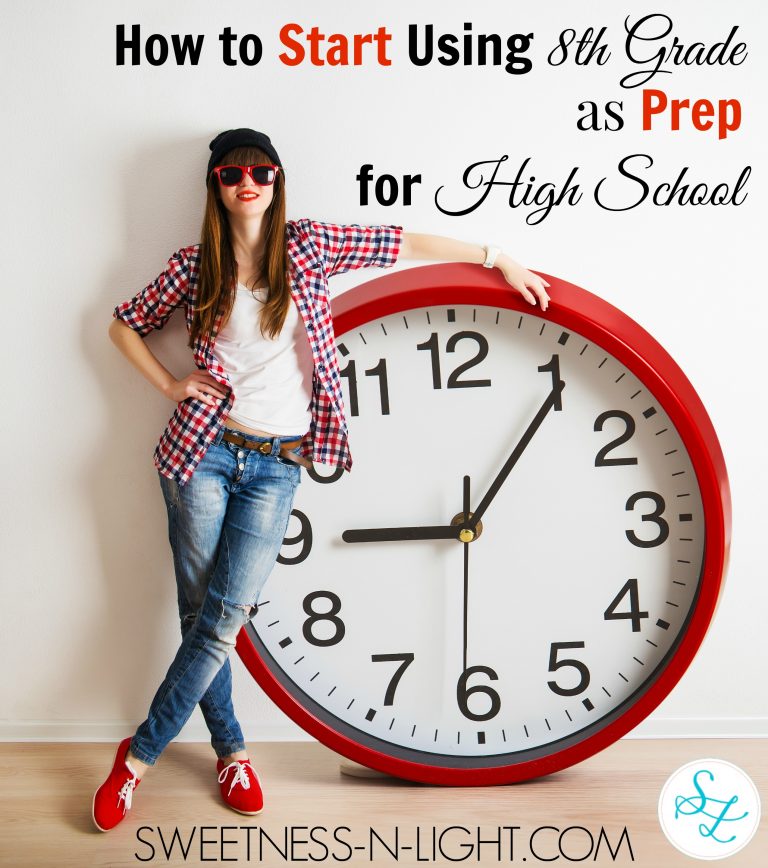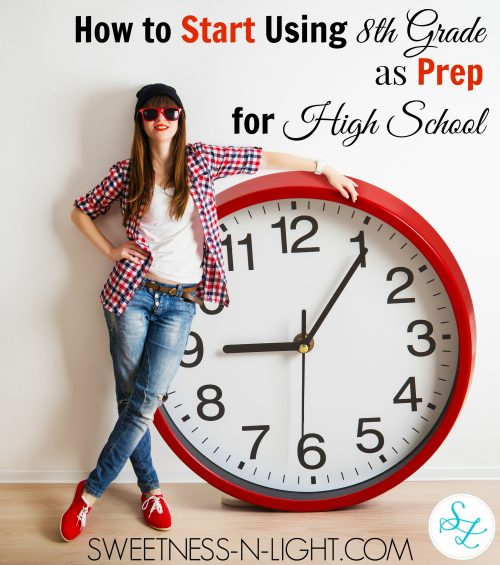 How to Start Using 8th Grade as Prep for High School – Are you homeschooling a middle school student right now? I am schooling my third middle schooler, in fact he's working through his last year as a middle schooler, 8th grade. Yep. Next year is HIGH SCHOOL!! Learn more in this post.
How to Make Your Homeschool Schedule Work – Do you love to plan, and organize and schedule? I certainly do, but what happens if your brilliant planning and organizing and scheduling DOESN'T go according to plan?? What then?
Charting a Course of Study from High School to College – What steps are you taking to ensure a solid course of study from high school and beyond? I think you'll like this post if you have a college bound student.
How to Help Your Teen Stay on Track – lots of good information for those that are easily distracted or are just not motivated. Be involved!!
How to Keep Records in High School – The key to successful record keeping for the high school years lies in starting with the very first day of high school. Yep, that's right – begin your high schooler's transcript on the very first day of school, or even before if you'd like.
Student Planner: Organization With A Plan in Place – These easy to use student planners were created by homeschool moms for homeschool moms just like you.
My Homeschool Planning & Organization Pinterest Board – many great ideas here for getting your planning juices flowing.
Kyle @ Aspired Liiving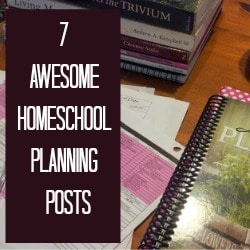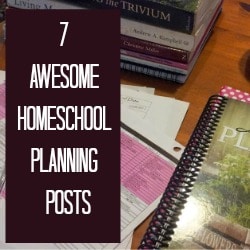 My post 7 Awesome Homeschool Planning Posts contains 7 great posts that I return to year after year to plan our homeschool year. These ideas have given me my Sundays back!
My Simplify Your Homeschool Planning – Provides tips for making your homeschool and thus your planning much simplier!
Helping Kids Take Responsibility for their Education: "A Plan in Place" Homeschool Planner has been a huge boon to our homeschool. When you are schooling 5 children they need to maintain a certain level of independence. A Plan in Place has given my children independence and me sanity.
Are you struggling to homeschool because you are considering everyone else??  Surrendering Homeschool Expecations adresses your real need as a homeschool Mama to consider you and your homeschool without the expectation others actually place on it or that we think they are placing on it. Love your unique homeschool!

A Plan in Place Homeschool Planners
Because we are home all day, every day, with kids all over the house, homeschool organization isn't  just an option, it's a necessity.  Homeschool planners are an ideal way to get – and stay! – organized.
Here are our favorite reasons for using homeschool planners:
They are incredibly easy to use.
They take up much less space than many other systems.
They serve as a permanent record of each school year.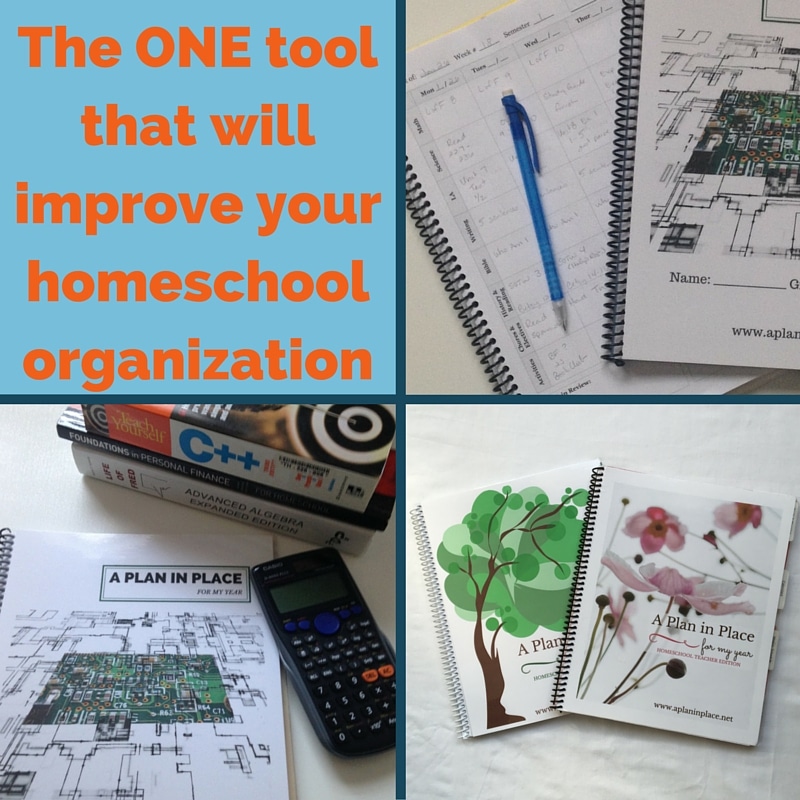 However, each homeschool family is unique.  Each family has different homeschool organization needs, and your planner should reflect your needs! Standard, mass-produced planners don't always work.  Here at a Plan in Place, we offer customization that allows you to create your ideal homeschool planners.  With custom options, we will create something that will work for each one of your kids, at each stage of their homeschooling journey.  And we have a homeschool teacher edition just for you too.
The Curriculum Choice Review Team Features
Have you enjoyed this special post from our review authors? Our Curriculum Choice review team features a topic monthly. You can see all that our authors have shared on electives, math, curriculum choices and more under Review Team Features.

Be sure to SUBSCRIBE so you won't miss any reviews from our team of veteran homeschoolers!
~ Hosted by Betsy

Betsy blogs at BJ's Homeschool about high school and college and all the fun of homeschooling the early years too.  As a veteran homeschooler and the mom of a college student and homeschool grad, Betsy also offers free help to homeschool families,   She is the author of Homeschooling High School with College in Mind.
-originally published June 2016