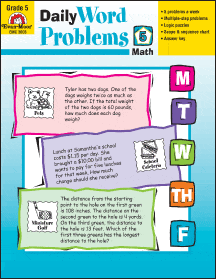 The one area that our family tended to not work heavily on was word problems for math. It always seemed to be put in the back of the line with adding, subtracting and multiplying up at top priority. That was until I came across Evan Moor "Daily Word Problems" for Math.
Reading of course needs to be in place in order to really tackle the concept of word problems but once that is firmly established, this curriculum really helps.
Broken up into 5 problems a week with one and two step problems. This curriculum has really helped my oldest son learn how to read and understand math through words. At first he didn't understand how sentences could turn into a math problem and was very intimidated by this concept.
Now, with the help of Evan Moor he doesn't feel overwhelmed like he did with other curriculum that gave problems after problems each day. This only tackles a problem a day allowing him to master it, feel confident and then move on.
This book series will help sharpen your child's problem solving skills, one problem at a time every day for 36 weeks. Each week's problems are on the same theme. For instance one week is on the presidents and this gives them one problem a day for five days with that same theme.
This book series is in grades 1-6. Includes a scope and sequence chart and an answer key.
You can learn more about Evan Moor by going to their website @ www.evan-moor.com.
Written by Lynn Pitts, mom of 3, from Big Sky Country Montana. You can read more about her life at
Learning by Living
.