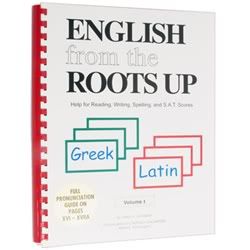 We've implemented a new foreign language/vocabulary plan this year that's working quite well! Every school day after Bible reading we have some sort of skill drill – math flashcards, quick math or logic games, and Greek & Latin roots.
Twice a week, using English from the Roots Up by Joegil Lundquist, we are learning one new root word and reviewing all we have already learned. This is resulting in an amazing Greek/Latin connection to words we use everyday and boosting my children's ability to break apart new vocabulary words for meaning. (Talk about a great way to boost spelling skills AND future ACT/SAT scores!)
Here's how the program works in a nutshell…
Your children create a notecard that includes the daily root on one side and the definition and derivations on the back. Don't worry, all the information is included in the guide for you – your children simply copy the information from the guide to their notecard. (This is the author's preferred method. HOWEVER, I chose to cheat and purchase the prepared notecards. In our extremely busy life, preparing the notecards seemed like busy work. On the other hand, I see the author's point that actually writing the information makes a bigger impression on the kiddos.)
Then you simply go over the information on the cards using the short and simple teaching notes provided in the guide. Make whatever connections you can with English and possibly any other languages like Spanish or French that you are studying.
Finally, use the previous cards as flashcards to review roots, meanings, and derivatives.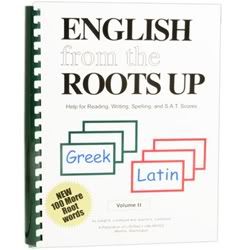 A pronunciation key and the Greek alphabet are included for your convenience at the beginning of the book.
In only about 5-10 minutes twice a week, my children are really adding onto their understanding of vocabulary, word parts and spelling! I'm using the curriculum with a 5th grader and an 8th grader, but the author has used it with children as early as 2nd grade.
I'd love to hear about your experiences with English from the Roots Up!
-Written by Cindy, eclectically Charlotte Mason mom of 3. You can find her blogging at Our Journey Westward and view her nature study curriculum at Shining Dawn Books.